Cities: Skylines Bike Lanes (How To Get Them & Are They Worth It?)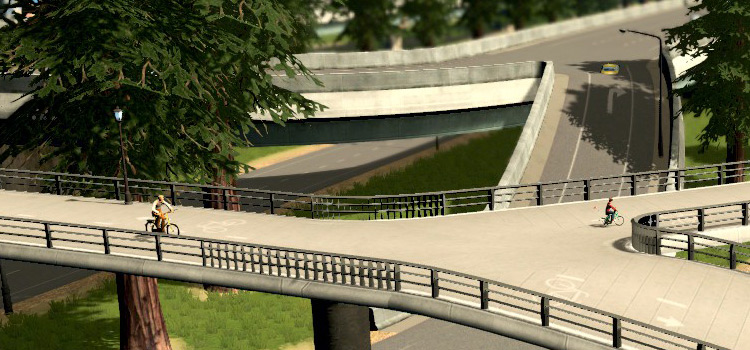 Bike paths and roads with bike lanes are an often-overlooked feature from the After Dark DLC.
Although cyclists can use the regular sidewalks and pedestrian paths that come with the vanilla game, they can travel much faster on dedicated bike lanes and paths. This shortens the cyclists' travel time, making it a much more attractive mode of travel. Your citizens are willing to bike very long distances to their destination.
And since these bike paths and road types aren't expensive, they're a worthwhile option for encouraging your citizens to bike, thereby reducing the volume of cars on your roads.
Pair these paths and bike-friendly roads with the Encourage Biking policy (which doesn't cost anything), and you'll have more bikes and fewer cars driving through your city.
Building Bike Paths
You'll find bike paths in the Paths tab of the Landscaping menu, alongside the regular pedestrian paths.
The Landscaping menu is unlocked at the Tiny Town population milestone.
You build bike paths in the same way you would your pedestrian paths: by clicking at the starting point and then at the end point, to build a line in between them.
The ends of the bike paths will automatically connect to any sidewalks they are built close to, enabling cyclists to ride from the sidewalks onto them and vice versa.
Bike paths can also be elevated or made into tunnels. This is a great way to use them, as this can allow cyclists to bypass multiple road intersections, cutting their travel time even shorter.
Road Types with Bicycle Lanes
Apart from the standalone bicycle paths, After Dark also provides several road types with dedicated bike lanes. These are unlocked at the Busy Town population milestone.
They cost the same as the regular roads of the same size, so it's definitely worth putting them in place.
In the build menu, roads with bike lanes are indicated by strips of pale green, outlined with white, along the sides.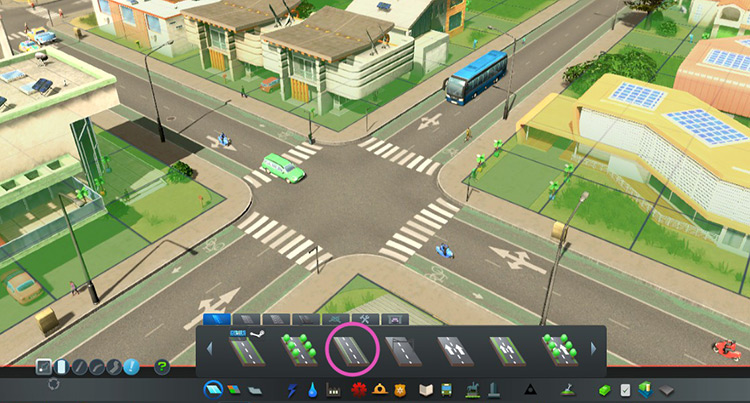 | Road Type | Build Cost | Upkeep cost |
| --- | --- | --- |
| Two-Lane Road with Bicycle Lanes | 40/cell | 0.32/cell |
| Four-Lane Road with Bicycle Lanes | 60/cell | 0.80/cell |
| Six-Lane Road with Bicycle Lanes | 90/cell | 0.96/cell |
Encourage Biking
To make better use of your dedicated bike paths and roads with bike lanes, it's a good idea to implement the Encourage Biking Policy. Enacting this policy won't cost you anything.
Guide Navigation
Cities: Skylines

Cities: Skylines Bike Lanes (How To Get Them & Are They Worth It?)