How To Get Skyscrapers in Cities: Skylines (Zone Level-Up Guide)
With the exception of several very tall unique buildings, skyscrapers and highrises aren't something that you can directly build in Cities: Skylines. Instead, they "grow" when your high-density residential, commercial, or office zones reach their maximum level (5 for commercial and residential, 3 for office).
Upgrading your residential, commercial, and office buildings to their max levels involves doing the following:
Making sure basic utilities are available
Providing plenty of services
Educating the citizens
Keep away any polluting or noisy buildings
Raising land value with parks and nicer roads
Note: European-themed maps don't allow skyscrapers to grow. (The buildings can still reach the same max levels but they won't be visually as tall.) You can see which theme each map uses on the new game screen (circled below):
Task #1: Make Sure Basic Services Are Available
For your zoned buildings to level up, they absolutely must have their basic needs met.
This means electricity, water, and sewage must all be working properly.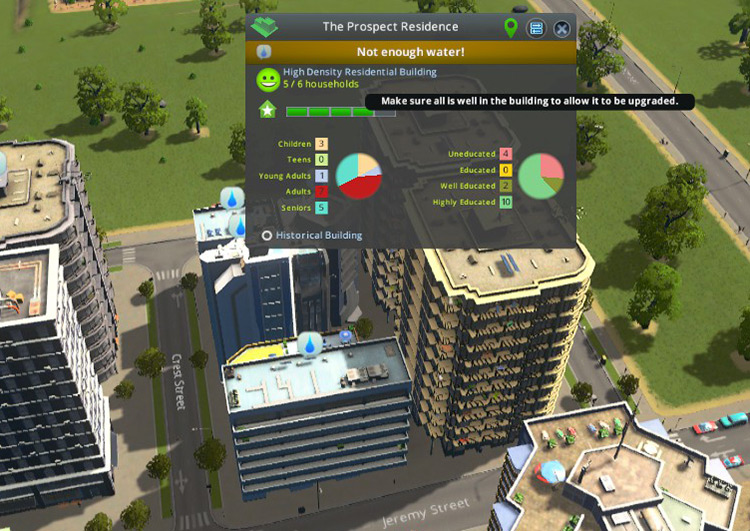 Task #2: Provide Plenty of Services
A big part of leveling up your buildings is providing them with different services.
Here's a rundown of the services you'll need your zones to be covered by, and the most basic building for each:
SCROLL
Service
Building
Milestone to Unlock
Build Cost (₡)
Fire
Fire house
Worthy Village
₡12,000
Police
Police station
Worthy Village
₡12,000
Healthcare
Medical clinic
Little Hamlet
₡10,000
Deathcare
Cemetery
or Crematorium
Boom Town
Big City
₡8,000
₡25,000
As you progress through the milestones and have more money in your coffers, you can opt to build fire stations, police headquarters and hospitals.
These provide the same services with a much larger area of coverage and with larger fleets of service vehicles.
On top of your basic medical clinics, health boosting facilities like eldercare and child care help as well.
Public transport options like bus routes and metro lines also boost your citizens' happiness and improve their access to parks and educational facilities.
Task #3: Educate Your Citizens
Educating citizens goes a long way in leveling up your buildings.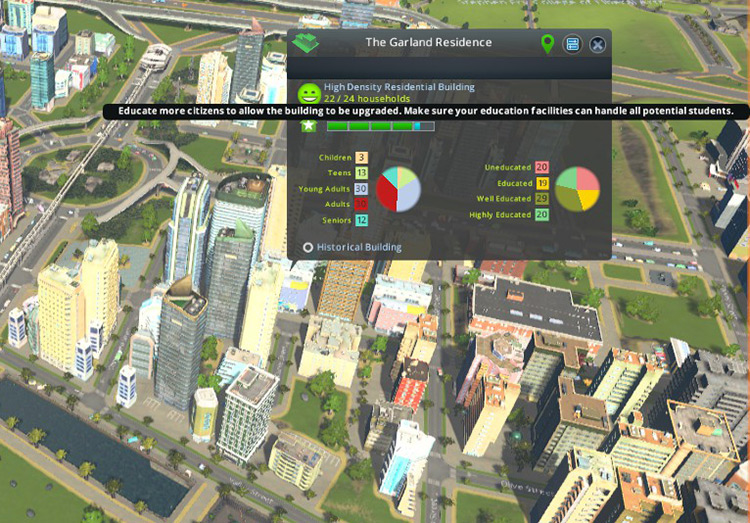 Residential zones benefit directly from having access to nearby schools and universities, and from their residents becoming educated.
Meanwhile, commercial and office zones require a certain number of educated (elementary), well-educated (high school), and highly educated (university) workers to fill jobs. This is especially true the more they level up.
Tip: Commercial and office zones won't be able to upgrade if they're understaffed.
Try to make sure residences have access to all levels of education (elementary, high school, and university), as well as libraries. Make sure there is sufficient student capacity in the city.
Take note that your citizens will need time to go to school and graduate. So in some cases it may take a while, after placing these educational facilities, before you can reap its benefits in terms of building levels.
Task #4: Distance Your Polluting or Noisy Buildings
Having any polluting or overly noisy buildings nearby will prevent zoned buildings from leveling up, because the pollution/noise will lower the land value (in fact your residents may complain if it gets bad enough).
You can check the land value by clicking the dollar sign on the info view toolbar.
Garbage facilities, industry zones, and oil or coal power plants produce noise and pollution that lower land value.
Some attractions also lower the land value purely because of noise.
Task #5: Raise Land Value with Parks & Decorative Roads
You can actually raise your land value by making the place more beautiful.
Parks and plazas are a reliable way to boost land value. Custom park areas made with the Parklife DLC count toward this as well.
Using road types with trees and grass also increases land value, so use those if you can afford it.
Bonus Tip: How To Unlock & Construct Tall Unique Buildings
If you really want a standout skyscraper in your city without having to wait for the zoned ones to grow, you may want to look at unlocking certain unique buildings instead.
These can be a challenge to unlock, as well as fairly pricey, but they add a lot of visual interest to your city!
SCROLL
| Unique Building | Level | Milestone to Unlock | Build Cost (₡) | Unlock Requirement |
| --- | --- | --- | --- | --- |
| Transport tower | 2 | Tiny Town | ₡60,000 | 1,000 weekly public transport passengers |
| Colossal Order Offices | 3 | Boom Town | ₡70,000 | Education at ₡20,000/week for 10 weeks |
| Observation Tower | 5 | Big Town | ₡120,000 | 300 weekly tourist visits |
| High interest tower | 5 | Big Town | ₡125,000 | Have ₡2,000 in debt |
| Sea-and-sky scraper | 6 | Small City | ₡20,000 | Build a Cargo Harbor and Passenger Harbor |
Guide Navigation
Cities: Skylines

How To Get Skyscrapers in Cities: Skylines (Zone Level-Up Guide)