Cities: Skylines Stock Exchange Guide (Tips + All Building Levels)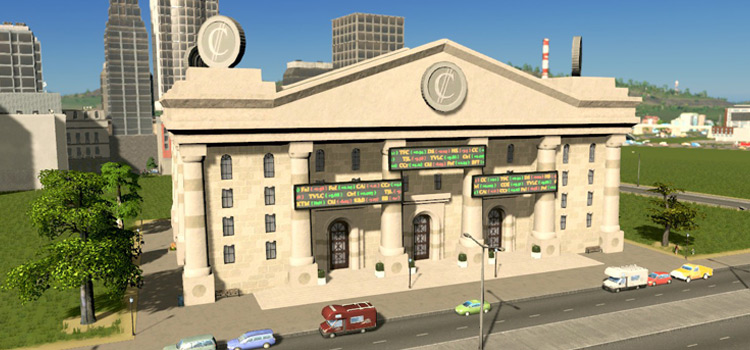 Stock Exchange
DLC
Financial Districts
Building Type
Unique Building
Level/Category
Financial Buildings
Build Cost
₡60,000
Upkeep Cost
₡960/week
Milestone Required
Big Town
Entertainment
90
Noise Pollution
25
Visitor Capacity
100
The Stock Exchange is a financial unique building that comes with Cities: Skylines Financial Districts DLC.
It is the key feature of Financial Districts, as it unlocks the Investments gameplay mechanic.
It also stands out from other unique buildings in that you can level up your Stock Exchange by earning through investments. Leveling it up allows you to unlock several other unique buildings, banks, as well as district bonuses.
In this guide we'll show you how to build your Stock Exchange, how to profit from stocks, how to level up your Stock Exchange, and how to use the Financial Offices district specialization.
How To Build the Stock Exchange
Unlocking the Stock Exchange simply requires you to reach the Big Town milestone.
Once that milestone is reached, you'll be able to build the Stock Exchange from the Financial Buildings tab of the Unique Buildings menu.
The Level 1 Stock Exchange costs only 60,000 to build.
Then you'll have to spend more money to get the subsequent upgrades.
Tip: the Stock Exchange has a tax bonus effect on nearby offices with the Financial Offices specialization. This bonus rate increases as the Stock Exchange building levels up.
How To Invest in Stocks
The main difference that Financial Districts makes on gameplay is that it introduces the investments mechanic, which allows you to buy and sell stocks.
Here's how it works:
Clicking on your stock exchange building and then the "Manage Investments" button will bring up the Investments screen.
You can also access it by clicking on the Economy Panel and clicking on the Investments tab.
Buying Stocks
The left side of the panel will show you a list of the companies currently selling stocks.
There you'll see the name of the company and the current price per share. Share prices rise and fall with each in-game day.
You'll also see the Change Rate, which is how the current value has changed from the previous day.
A positive (green) number indicates a rise in value, while a negative (red) number indicates a fall.
Also, hovering over each item in the list will show you a graph of how the price has been trending recently.
You can click the "Buy" button on a listing to bring up the Invest In panel. From there you'll be able to specify the number of stocks you want to buy from that particular company.
There's also a short description of each company so you can learn what sort of businesses you're investing in.
This panel will also show you the same graph of recent share value.
Selling Stocks
Once you've purchased stocks from a company, it will show up on the right hand side panel.
Each list item on that panel will show you the following info:
The company name
Your total initial investment
The number of shares you own
The current value of your shares
How much you'll gain or lose if you were to sell all of those shares on that day
To sell any of your stocks, just click on the item's "Sell" button.
This will bring up a panel that lets you select how many shares you want to sell.
Making a Profit
To make money with your Stock Exchange, you'll need to buy low and sell high (easy, right?)
Share prices fluctuate on a day-to-day basis, so it's all about timing.
Fortunately, the Investments panel lets you easily see the information you need to act fast when the opportunity arises.
Tip #1: Always Check the Graph
The Change Rate shows you how the price has gone up or down from the previous day. However, it doesn't really inform you of whether that's a good price historically.
In other words, the share price for one company might have fallen that day, making it seem like an attractive prospect. However you might see from the graph that it's still a relatively high price compared to how it was in past weeks.
So it may be better to put off buying until the price has dropped down some more.
In the example below, Greasy Gasoline shows a negative change rate, meaning its price has fallen.
But the graph shows its price isn't really that low compared to how it has been in recent history.
So it's probably best for us to wait until its value falls even lower before we buy some more (if we want to get in as cheap as possible).
Remember, you can quickly check the graph of any stock by hovering over each listing to help you decide.
Tip #2: Keep Your Eye on the Gain/Loss
Selling is an even easier decision.
That's because on the right side panel, you can instantly see how much you'll gain or lose in total if you were to sell all your shares of a company on that day.
This number is also color coded:
Green means you'll make money
Red means you'll lose money
Easy!
So just keep your eye on that figure and be ready to sell when a nice profit is to be made.
Tip #3: Be Quick with the Pause Button
Since stock prices can fluctuate wildly from day to day, you'll want to be ready to buy or sell when there's a good opportunity.
You wouldn't want to miss out on a nice chunk of profit simply by not acting fast enough, and having the share value fall back down before you could sell!
For this, you can use the game's Pause button to your advantage.
Whenever you spot a chance to buy low or sell high, immediately pause the game.
Tip: Hit the spacebar to quickly pause or unpause.
That way you can check the graphs, or make adjustments to the invest/sell panel, at your leisure with the game paused – then you don't have to worry about the price changing before you've made a decision.
Leveling Up Your Stock Exchange
A newly built Stock Exchange is level 1. You can upgrade all the way to level 5 by hitting specific investment profit milestones.
But there's one important thing to note:
All the money you make from your investments goes towards your progress for leveling up, but losing money from investments will not set you back on your progress.
You can check your progress towards each level by clicking on your Stock Exchange building.
Each time you reach a target, an Upgrade button becomes available in that panel, allowing you to upgrade to the next level (at a cost).
All Stock Exchange Levels
Each level upgrade also unlocks additional buildings, and slightly increases the tax bonus that you get from nearby financial office specialized buildings.
Unlocking Level 2
To unlock level 2 you'll need to earn ₡50,000 from investments then spend ₡15,000 for the upgrade.
Level 2 unlocks both the Bronze Cow and Bronze Panda, as well as the Small Bank, and raises the financial offices tax bonus to 3%.
Unlocking Level 3
To unlock level 3 you'll need to earn ₡250,000 from investments then spend ₡30,000 for the upgrade fee.
A Level 3 Stock Exchange unlocks the Elevated Plaza and the Large Bank. It also brings the financial offices tax bonus to 4%.
Unlocking Level 4
To unlock level 4 you'll need to earn ₡750,000 from investments then spend ₡60,000 for the upgrade.
A Level 4 Stock Exchange unlocks the Underground Garden Plaza and the Skyscraper Bank. It also raises the financial offices tax bonus to 5%.
Unlocking Level 5
To unlock the final level of your Stock Exchange, you'll need to earn ₡1,500,000 (1.5 million) profit from your all-time investments. You'll also need to spend ₡120,000 to upgrade.
Level 5 unlocks the International Trade Building, and it raises your financial offices tax bonus to a maximum of 6%.
Financial Offices Specialization
Financial Office is a type of specialization introduced with the Financial Districts DLC.
Financial office buildings pay more in taxes compared to generic offices (and even more when they are near a Stock Exchange building.)
These buildings also have their own set of assets, giving them a distinct look.
Here's how to build them:
Step 1: Paint a District
Go to Districts and Areas, and use the Paint District tool to mark out the part of the map you want to use.
Step 2: Select Financial Office
Go to the Office Specializations tab and select Financial Office Buildings.
Step 3: Click on the District
Click on your district to apply the specialization.
Step 4: Build Offices
Now you can just build roads and zone offices as you normally would.
All office buildings that grow within that district will be financial offices.
Note: You can create this specialized district on top of existing buildings in your city. If you do this, then any existing non-specialized office buildings will be torn down to make way for new financial offices.
Guide Navigation
Cities: Skylines

Cities: Skylines Stock Exchange Guide (Tips + All Building Levels)