The Highest-Rated Video Game From Every Country
Played that new Estonian video game that everyone's talking about?
Okay, so it's not exactly new, but games studio ZA/UM developed their detective RPG Disco Elysium while "living in a freezing squat in Estonia, blankets nailed to the walls to attempt to stave off the -20C Winter temperatures." And although the game was an international hit, its fantasy world reflects the roots and experiences of its Baltic development team: "Our generation is very much formed by the collapse of the Soviet Union, of the '90s Tallinn and Estonia, which was a gruesome time," art director Aleksander Rostov told GamesRadar.
Alongside hits such as Poland's Cyberpunk 2077 and, of course, Sweden's Minecraft, Disco Elysium exemplifies the growing role of countries beyond the U.S. and Japan in shaping the video game landscape.
More diverse voices in games development can only be a good thing for gamers, so Guide Strats decided to see the lay of the land ahead of other big-name international releases such as Redfall (France) and Avatar: Frontiers of Pandora (developed in Malmö) — by uncovering the top-rated video game developed in every country around the world.
What We Did
To find the highest-rated video game in each country, Guide Strats analyzed the details of 20,000 video games — identifying each game's country of development and its Metascore on Metacritic.com. To earn its place on the map, a country needed to have developed a game with a Metascore of at least 40.
Key Findings
The Legend of Zelda: Ocarina of Time, developed by Nintendo in Japan, is the world's highest-rated game, with a score of 99 on Metacritic.
Europe's highest-rated game is Grand Theft Auto IV, developed by Rockstar North in Scotland, UK (98).
Tony Hawk's Pro Skater 2, developed by Neversoft Entertainment, is the highest-rated game in the U.S. (98).
The World's Top-Rated Game was Developed in Japan by Nintendo
While the obvious big players of the U.S. and Japan hold two of the top three spots in the world, Guide Strats were able to identify 66 countries that have developed games with high ratings on Metacritic. The top-rated of all is The Legend of Zelda: Ocarina of Time, developed by Nintendo in Japan in the late 1990s. "At that time I found it interesting to make things that no one understood, that didn't exist before," says the game's producer, Shigeru Miyamoto.
The four countries with the top-scoring games are in four separate continents: Asia, Europe, North America and Oceania. But every continent is represented. Africa's console hero is Ubisoft Casablanca, which developed Rayman Origins. Sadly, Ubisoft closed its Moroccan operation in 2016. South Africa's QCF Design is a small studio that makes board games, educational content… and critically acclaimed video games like Desktop Dungeons. PC Gamer describes it as "bite-sized, colorful chunks of randomly generated adventure" and "the perfect casual roguelike experience."
Uruguayan Mobile Fantasy is Latin America's Top Video Game
Tony Hawk's Pro Skater 2 is the highest-rated game in the U.S. and the Americas. It was developed by Neversoft in Woodland Hills, California, shortly after the company was acquired by Activision. THPS2 sold over two million copies in the U.S. alone, making it the best-selling action sports video game of all time. What's curious about the game's popularity is that it occupies a very particular cultural niche (American skateboarding). While the game is popular in Japan, the Japanese take on the skateboarding genre is far more… well, Japanese.
Latin America's highest-rated game is Kingdom Rush, developed by Uruguay's Ironhide Game Studio — known for their cartoonish mobile fantasy games. "We were the first [in Uruguay] to be successful with our own project. Before this, only work-for-hire was done in Uruguay," says Ironhide's project manager, Gabriel Artus. "Ironhide may have inspired more people to pursue their own projects. Within all our problems, as a region, we have an advantage, and that is that costs are much lower while we continue to sell our stuff in U.S. dollars."
Liberty City was Built in Edinburgh, Scotland
Have you ever been to Edinburgh? It's where Rockstar North developed Grand Theft Auto IV, and it's not a lot like Liberty City. Of course, Liberty is based in New York. So, to conjure that flavor in Rockstar's Scottish studio, they videoed a bunch of NYC neighborhoods and played them on loop in the office, "so while they worked they could look up and there was New York," says the company's president, Dan Houser. And then, there were the research teams. "It's not just getting the roads laid out sensibly, which we do, or picking all the landmarks — it's also the more subtle details of dirt or lighting. We had people out photographing on rooftops on time-lapse cameras so we could get the lighting as close as we can."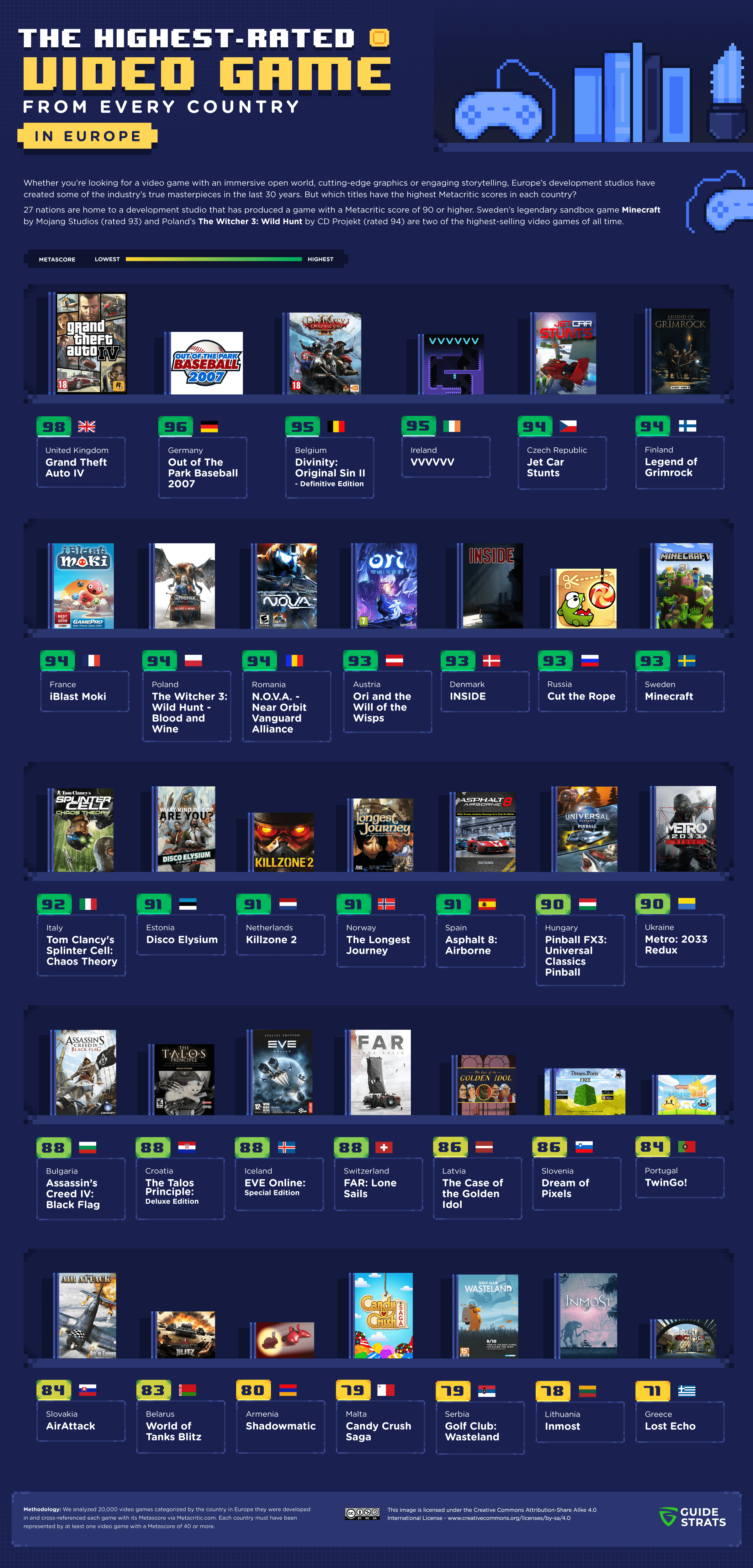 Grand Theft Auto was developed by a small indie company, though by the time of GTA4, they were operating under a larger umbrella group. Finland's top game, however, was developed and financed by a four-person team in the southern city of Espoo. "We rent a small basement and got some old beat-up computers up and running and basically just hammered Grimrock out of them," explains creature modeler Juho Salila.
Hong Kong Capitalism Simulator is Big Business
Japan's The Legend of Zelda: Ocarina of Time takes the crown in this region, but there are some curious culturally-specific runners-up. Capitalism II is the "business simulation that gives you the power to win the competition in the free market, with complex business strategies that might make you millions, or even billions!" It remains Hong Kong's most highly-rated game despite being released in 2001 — and its website is a true step back in time.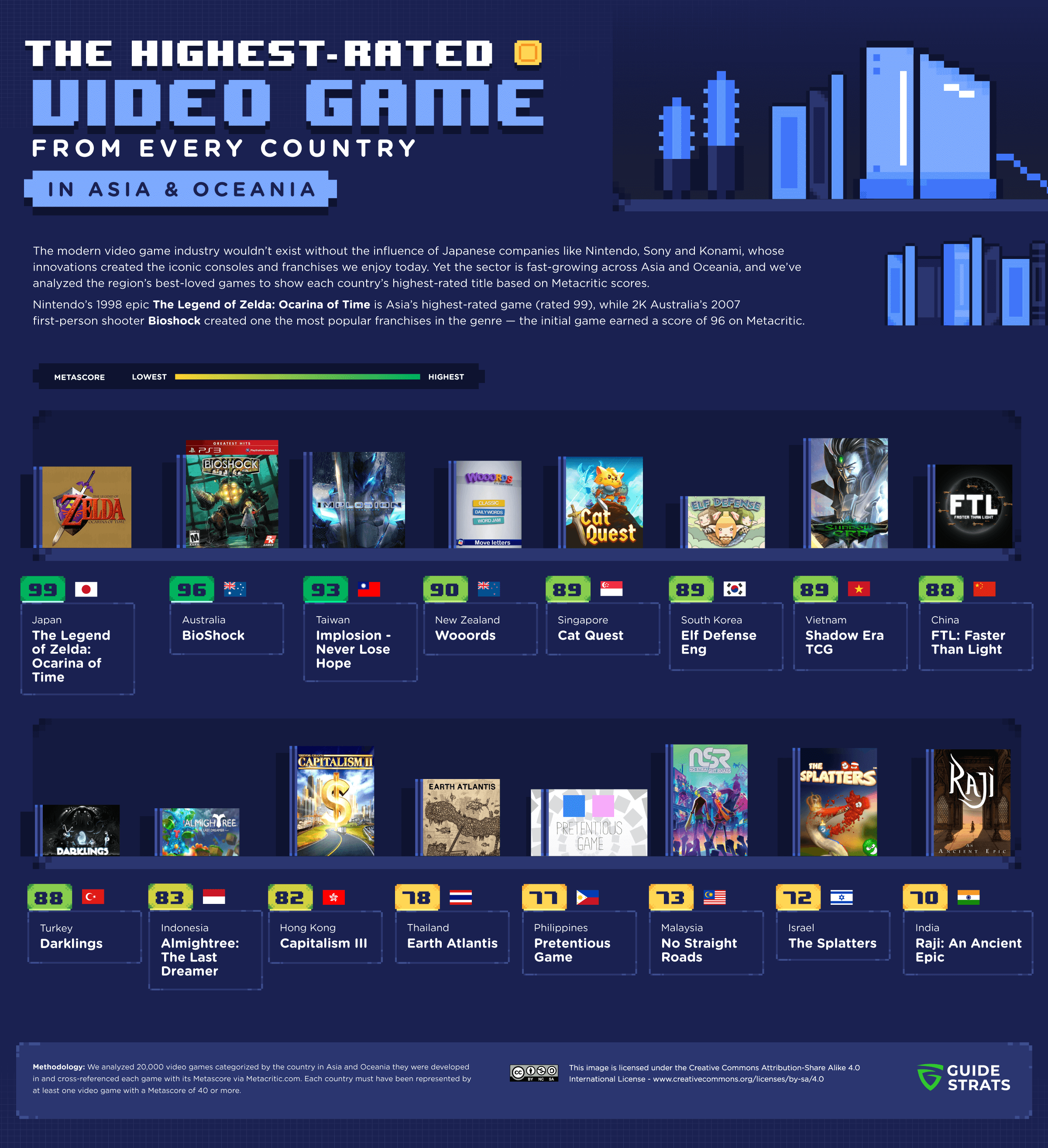 Despite the name, Raji: An Ancient Epic is a more recent hit. Nodding Heads Games developed India's best game in the city of Pune, releasing it for Nintendo Switch in 2020. Raji is inspired by "Indian mythologies such as Mahabharata and Ramayana, and by the medieval architecture of Rajasthan." Vice says it "may very well be India's first prestige game: the one that finally lives up to the nascent industry's promise and establishes gaming as a vital cultural frontier."
Where Might the Next Big Game Come From?
While experts are divided on whether the AI revolution will do away with games developers altogether, the fact is that it will make certain creative tasks cheaper and quicker – and more doable for small indie developers with gaps in their skills and budget. Hopefully, this will mean more games from countries and demographics whose voices gaming culture rarely hears. Meanwhile, reviews and aggregated scores like those on Metacritic ensure the best games get seen and played, no matter where they come from.
Thank goodness for the rich international gaming culture, thank goodness for the internet for telling which games are best, and thank goodness for online guides on how to play them. Right?!
METHODOLOGY & SOURCES
To discover the highest-rated video game developed from every country, we analyzed a seed list of 20,000 video games categorized by the country they were developed in and cross-referenced each game with its Metascore via Metacritic.com.
We manually verified the developers behind each country's 'highest-rated video game' to ensure it was the developers and not the publishers or other departments that were associated with the video game.
Each country must have been represented by at least one video game with a Metascore of 40 or more; otherwise, it was not included in our final rankings. Video games with a Metascore of 39 or less are considered to have "generally unfavorable reviews" or "overwhelming dislike." This threshold reduced our final sample of countries to 66.
Please note: In cases where a country developed two video games with an equal highest-ranking Metascore, we opted for the video game with the highest popularity — using 'number of reviews' as a proxy for popularity.
In cases where a video game is known to have developers working from more than one country, we opted for the country that was considered as lead developer or overseeing development, such as the Rockstar North team who oversaw the development of Grand Theft Auto IV in Edinburgh, the United Kingdom.
The data is correct as of April 2023.