Where To Get TM22 SolarBeam in Pokémon Black & White
TM22 SolarBeam is located in the southeast corner of Pinwheel Forest. You can find Pinwheel Forest just west of Nacrene City.
The path towards the SolarBeam TM will initially be blocked by an NPC during the early game, but it becomes accessible after you receive the Quake Badge in Driftveil City.
You'll also receive HM02 Fly after defeating the Driftveil City Gym, which makes backtracking to Pinwheel Forest much easier.
TM22 SolarBeam Location (Step-by-Step)
Step 1: Starting at the Nacrene City Pokémon Center, head north towards the road behind the Center.
Step 2: Then head west on this road above the Pokémon Center.
Step 3: Continue west through the city, passing the outdoor patio.
Step 4: Turn and head north to follow the road, then keep walking west past the NPC.
Step 5: The end of this road leads directly to Pinwheel Forest. Enter the forest when you see an opening in the trees at the end of the road.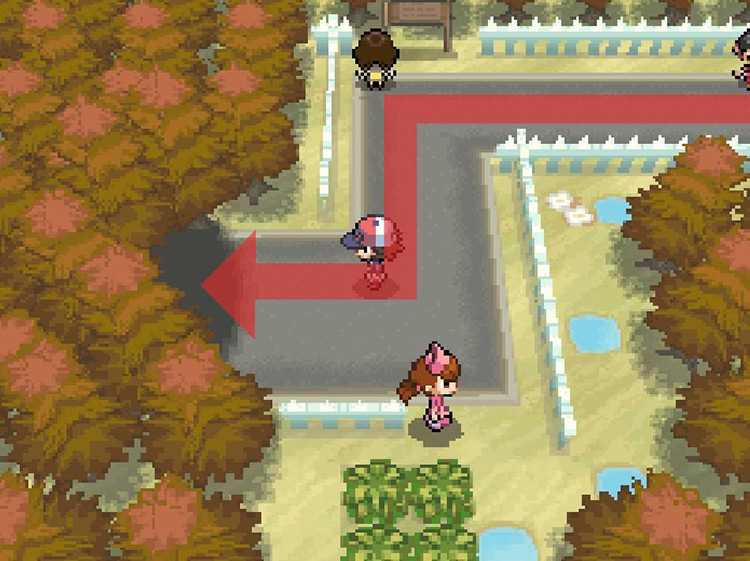 Step 6: After entering Pinwheel Forest, follow the path north.
Step 7: The path north leads to two small footbridges. Continue north over either bridge.
Step 8: Turn east at the end of the bridge and pass through a small gap in the white picket fence on the right-hand side.
Step 9: Keep going east here and climb down the set of stairs towards the tall grass.
Step 10: After passing through the tall grass, follow the path over to the east.
Step 11: Directly south will be another small set of stairs. Head down these stairs and through the tall grass.
Step 12: Climb the next three small sets of stairs ahead, going east the entire time. This will lead you into another small patch of grass.
Step 13: TM22 Solar Beam is in a Poké Ball in this patch of grass. You'll find it on the ground when you go down one more small flight of stairs (pictured below).
SolarBeam Details + Uses
SolarBeam Move Details
Type
Grass
Category
Special
Power
120
Accuracy
90
PP
10
SolarBeam is a Grass-type Special Attack with great K.O. potential.
The move typically takes two turns to inflict damage, but there is a method to transform SolarBeam into a one-turn attack.
Most players typically use SolarBeam in tandem with the move Sunny Day, which creates harsh sunlight conditions in battle. Under these conditions, SolarBeam doesn't require a charge.
Sunny Day lasts for five turns, which gives you a window to use SolarBeam for five consecutive uses.
The best Pokémon to teach Solar Beam to are Grass and Fire types.
Fire types benefit from the use of Sunny Day, which also boosts the power of Fire-type attacks by +50%.
Or when used by a Grass-type Pokémon, SolarBeam's base Power becomes 180 thanks to STAB (Same-type attack bonus).
As a Special move, TM22 is best taught to Pokémon with strong Special Attack. Fire types typically have much stronger Special Attack than Grass types, so don't hesitate to teach the SolarBeam/Sunny Day combo to your favorite Fire-type Pokémon. Chandelure and Volcarona are both great fits.
As for Grass-type users, Tangrowth and Maractus can both dominate with SolarBeam.
Guide Navigation
Pokémon BW

Where To Get TM22 SolarBeam in Pokémon Black & White