Where To Get TM27 Return in Pokémon Crystal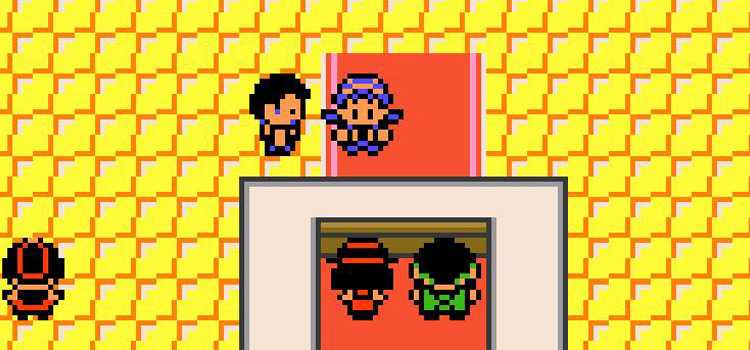 TM21 Frustration
#
Location
Repeatable?
1
Goldenrod Department Store. Find the woman in a red dress behind the counter on 5F and show her a Pokémon with high happiness (Sundays only).
Yes
You will get TM27 Return from a woman wearing a red hat in the Goldenrod City Department Store as a reward for showing her a happy Pokémon with high friendship.
She will show up at the counter on the fifth floor (5F) when it's a Sunday in-game.
Note: You can't get TM27 Return on the same week you get TM21 Frustration.
Prerequisites
The woman in Goldenrod City's Department Store (known as the Friendship Rater) won't give you TM27 Return if your Pokémon doesn't appear happy in your care.
Happiness here refers to Friendship, a hidden stat representing your relationship with your Pokémon.
Ways of making a Pokémon happier include:
Leveling up.
Using healing items in battle.
Winning battles.
Walking (there's a chance of raising your party's friendship every 512 steps).
Using items that permanently raise stats (Calcium, Zinc, Protein, HP Up, etc).
You can also take your Pokémon to the Haircut Brothers in Goldenrod City's Underground to raise their happiness.
If you've taken good care of your starter Pokémon, they should have enough Friendship (at least 200) to get TM27 Return by the time you beat Whitney at the local Gym.
Getting TM27 Return (Step-by-Step)
Step 1: Wait until Sunday.
Step 2: Head to Goldenrod City Department Store.
Step 3: Take the elevator to the Fifth Floor (5F).
Once inside the elevator, choose "5F" on the controls in the upper right corner.
Step 4: Exit the elevator when the screen stops shaking. Then talk to the woman (Friendship Rater) at the counter.
She'll evaluate the happiness/friendship level of whatever Pokémon is leading your party. That's the one that comes out to battle first.
Tip: Your Starter Pokémon (Cyndaquil, Chikorita, Totodile) will likely be the one with the highest Friendship level for most players.
Step 5: Receive TM27 Return from the Friendship Rater.
Tip: This process can be repeated once every Sunday for more copies of TM27 Return.
TM27 Return Details + Uses
Return Move Details
Type
Normal
Category
Physical
Power
1-102 (rises with happiness/friendship)
Accuracy
100%
PP
20 (max.32)
Return's usefulness lies in how powerful it can get if your Pokémon loves you deeply.
At its maximum potential of 102, Return is comparable to Earthquake, Thunderbolt, Ice Beam, and Flamethrower – some of the most powerful moves in the game.
Tip: The most straightforward way of raising your Pokémon's Friendship is to take them on an adventure where you defeat many foes. Just make sure they don't faint!
Almost every Pokémon can learn Return, but there are some exceptions. These are:
Weedle
Kakuna
Caterpie
Metapod
Magikarp
Ditto
Smeargle
Wobbuffet
Tyrogue
Ideally, you'd teach it to a Normal-type Pokémon with a high base Attack to benefit from the same-type attack bonus (STAB).
Here are some great candidates in Pokémon Crystal:
| Pokémon | Location |
| --- | --- |
| Snorlax | Blocking Route 11 |
| Kangashkan | Rock Tunnel (Morning, Day) |
| Ursaring | Dark Cave (Blackthorn side), Mt. Silver |
| Tauros | Route 38 and 39 (Morning, Day) |
Guide Navigation