Where To Get HM02 Fly in Pokémon FRLG
In Pokémon FireRed and LeafGreen, you'll get HM02 Fly from a girl who can be found in a blue-roofed building located west of Celadon City.
In order to reach this building, you need to use HM01 Cut to cut down the tree near the sleeping Snorlax just to the west of Celadon. But you do not need to wake up the Snorlax or enter Cycling Road to reach the HM02 NPC.
Prerequisites
Before you can get HM02, there are a few things you need to do first:
Get HM01 Cut from the S.S. Anne Captain
Defeat Misty and obtain the Cascade Badge so you can use Cut
There is a tree blocking a path that you will need to cut down with HM01.
After you get that HM, you need to be able to use Cut, which means you must defeat Misty and obtain her Cascade Badge.
Getting To Celadon City
To reach Celadon City we have to hit up Lavender Town.
Unfortunately, there's no easy way to get to Lavender Town. Our only option is to go through a cave known as Rock Tunnel.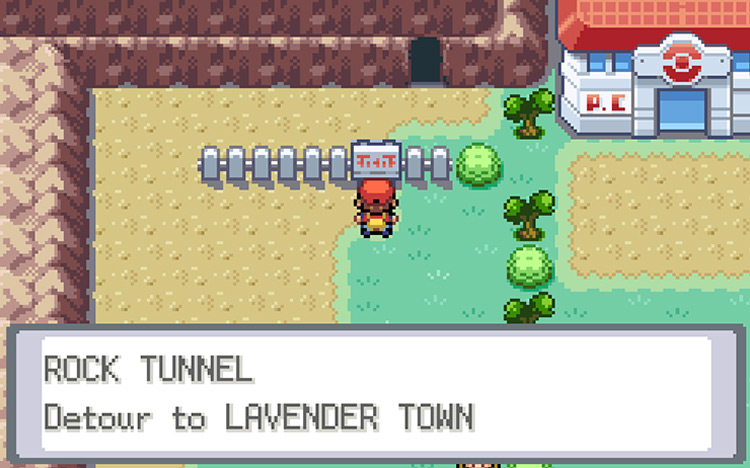 So we have to make our way to Rock Tunnel, which is to the right of Cerulean City.
There are a lot of hills on this route that you can accidentally jump down, but don't worry. There are no hills that will cause you to get stuck or make you restart.
Step 1: Navigating Rock Tunnel to Lavender Town
At the end of Route 10, there's a Pokémon Center and an entrance to Rock Tunnel. I recommend healing up first because this trip can be a doozy.
After your Pokémon are ready, walk inside of Rock Tunnel.
It will be pitch black with only a small circle of light around your character. If you brought HM05 Flash, now's the time to use it.
Step 2: Underground Path to Celadon City
After you finally make it out of Rock Tunnel, simply head south until you reach Lavender Town.
Once you're in Lavender Town, head west onto Route 8.
Stick on Route 8 all the way to the end (you may have to battle a few trainers). At the end of the Route you will see one large building and one little building. We can't cross through the large one yet, so head into the little building.
This is the Underground Path that leads to Celadon City.
Getting HM02 Fly (West of Celadon City)
Once you've made it to Celadon City, head to the west onto Route 16.
You will see a sleeping Snorlax blocking your path to the left, and a tree that can be cut down above you.
Cut down the tree, then enter the new area and keep heading left. Then walk into the building at the end of the path.
We can cross through this guard building – and on the other side there will be a tiny house with a blue roof.
Head inside of this house and talk to the girl with the pink shirt. She'll ask you not to tell anyone she's there and then give you HM02 Fly, which you can then teach to your Pokémon.
Note: you'll need to have the Thunder Badge from Vermilion City before you can use Fly outside of battle.
Guide Navigation