Where To Get the Itemfinder in Pokémon FRLG
You'll get the Itemfinder from one of Professor Oak's Aides in a gate directly east of Vermilion City, but only after you've caught at least 30 Pokémon. You can find the Aide standing on the top floor of the gate connector located all the way on the eastern side of Route 11 (just go east from Vermilion City to reach it).
Note that the requirement of having 30 caught Pokémon does include evolved forms of Pokémon as well.
Prerequisites
You'll run into many of Oak's Aides are waiting for you throughout the game, and almost all of them are going to check whether you've caught a certain number of Pokémon before giving you a reward.
The ItemFinder is one of these rewards.
Here are the only prerequisites you'll need to complete for the Itemfinder:
Be able to reach Vermilion City (have the first 2 gym badges)
Catch/evolve 30 unique Pokémon
If you can reach Vermilion City and Route 11, and if you've caught enough Pokémon, then you're good to go!
Getting the ItemFinder (Step-by-Step)
If you've caught 30 Pokémon, then simply make your way to Route 11 through Vermilion City by heading east out of the city.
Note: you can also get here by going south from Lavender Town onto Route 12.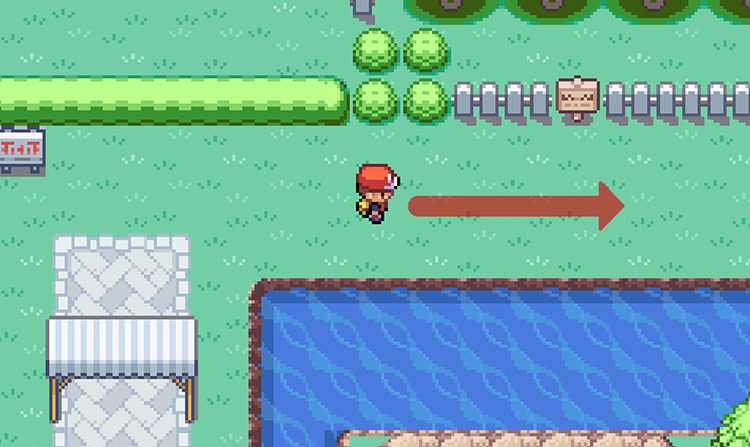 Keep going east passing Diglett's Cave and just go as far to the east as you can.
Walk until you see the brick gate connector building that connects Route 11 and Route 12, then head inside.
Once you're inside, there's a staircase in the bottom-right corner of the building.
Head to that staircase and walk up the stairs to the top floor.
Once you're upstairs, you can find one of Oak's Aides waiting at a table on the left side of the room. Walk up and talk to him.
If you haven't caught 30 different species of Pokémon, Oak's Aide will tell you to come back later for your reward.
If you have caught 30 Pokémon, then Oak's Aide will reward you with the ItemFinder.
How To Use the ItemFinder
There are many hidden items littered in various locations in Pokémon FireRed and LeafGreen.
These items are invisible so they're simply sitting on tiles, waiting to be picked up. But you can't really do that unless you know all of their exact locations, or unless you have the ItemFinder.
So here's how to find these secret items in the overworld:
Once you have the ItemFinder, you can start using it by opening your Bag and clicking the "Use" button.
If there is a hidden Item nearby, a row of arrows will appear on the screen pointing away from your character sprite, and pointing towards the direction of the hidden Item.
You can continually use the ItemFinder over & over like a game of Marco Polo until you triangulate the hidden Item.
Once you know which tile is holding the Item, just face that tile and press A.
Guide Navigation