Where To Get the Old Rod in Pokémon FireRed & LeafGreen
You'll get the Old Rod by talking to a Fisherman NPC in his house in Vermilion City. The fisherman's house is located directly to the left of the Pokémon Center, and you have access to it immediately once you reach Vermilion.
The Fisherman will ask if you like to fish, and if you answer "Yes" then he will give you the Old Rod.
Prerequisites
The Old Rod is pretty much a given in Pokémon FireRed and LeafGreen, so there's not many real "prerequisites". You just have to be far enough in the story to access Vermilion City.
So technically the prerequisite is quite simple: get the first two gym badges.
Once you get the S.S. Ticket from Bill and defeat Misty, you can enter Vermilion City (where the S.S. Anne is located). Then you can pick up the Old Rod.
Getting the Old Rod
Once you enter Vermilion City, make your way to the left of the Pokémon Center. You'll see a small house with a bright orange roof. This is the Fisherman's house where you'll get the Old Rod.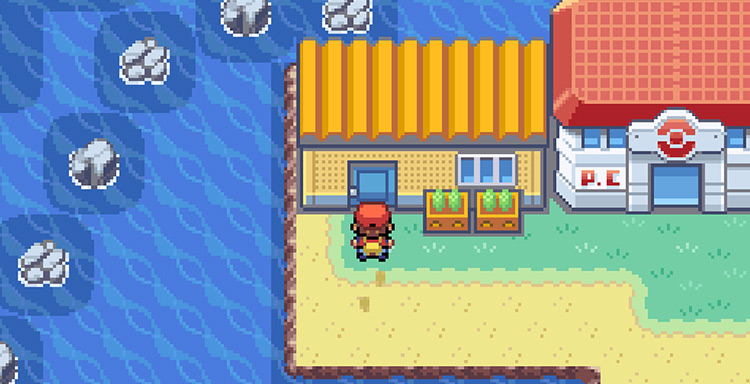 When you enter the house, you'll see the Fisherman just sitting at a table.
Simply walk up and talk to him, and when he asks if you like to fish, say "Yes".
The Fisherman will ramble on a little bit about fishing, then he'll hand over the Old Rod, and then ramble a little more.
Once he's done talking you'll be able to check the Key Items in your Bag and start using the Old Rod right away.
Using the Old Rod
To use the Old Rod, simply:
Stand in front of water
Open up your Bag and go to Key Items
Select the Old Rod and choose "Use"
I like to Register my Old Rod up until I get the Bicycle, or until getting a better fishing rod.
You can register your Old Rod selecting it and choosing "Register" from your bag.
This will let you use the Old Rod simply by pressing Select when you're looking at a body of water.
No matter how you use the Old Rod, once you start fishing you will see a bunch of dots in a dialog box.
After a short delay, either you will catch nothing, or another dialog box will pop up saying something is on the hook!
When this happens, just press A to reel the Pokémon in and begin a Wild Pokémon battle.
Best Old Rod Fishing Spots
The Old Rod is quite different from the Good Rod and Super Rod because it can only catch Magikarp.
No matter where you use the Old Rod, only Level 5-10 Magikarp will bite.
So there aren't really any "best spots" for this Rod – basically anywhere with water in FRLG is a worthy fishing spot.
If you'd like to catch stronger fish Pokémon, you'll need to wait until you get the Good Rod and the Super Rod later in your playthrough.
Guide Navigation
Pokémon FRLG

Where To Get the Old Rod in Pokémon FireRed & LeafGreen