Where To Get the Sun Stone in Pokémon FRLG
Sun Stone
#
Location
Repeatable?
1
Ruin Valley—Behind a strength boulder puzzle in the southeastern corner of the area.
No
There is only one Sun Stone in Pokémon FireRed & LeafGreen, and it's located in Ruin Valley. This is an area on Six Island within the Sevii Islands. So you will need the Rainbow Pass from Celio to access this area.
You'll also need a Pokémon that can use Strength, because the Sun Stone is hidden behind a small boulder puzzle.
There is no other way to acquire other Sun Stones in the game (aside from trading).
Prerequisites
Before you can visit Six Island you must first obtain the Rainbow Pass from Celio.
To obtain the Rainbow Pass, these are the specific requirements:
You must have beaten the Elite 4 and Champion
You must have gotten the National Pokedex from Prof. Oak.
You must have completed Celio's quest to find the Ruby and gave it to him.
After completing these, Celio will upgrade your Tri-Pass to a Rainbow Pass. Six Island should now be available as an option by ferry.
Sun Stone Location (Step-by-Step)
First be sure to bring a Pokémon that knows HM04 Strength. There is also a trainer battle along the way, so heal and be ready for that too.
Step 1: Go to Vermilion City and ride the Seagallop ferry to Six Island.
Step 2: Once you arrive at Six Island, head towards the Pokecenter & then turn east.
Step 3: Continue east until you enter the Water Path, then head south.
Step 4: Keep going south until you see cliff with steps. Go up the stairs that you'll see to your left, beat the trainer, and then continue moving south.
Step 5: When you reach the bottom, move west.
Step 6: Continue west into Ruin Valley, then turn south when you see a patch of grass (pictured below).
Step 7: Keep going south. Eventually you'll reach an overworld item hidden behind some boulders.
You will need a Pokémon that knows HM04 Strength to move the boulders.
Step 8: Push the first top boulder to the right.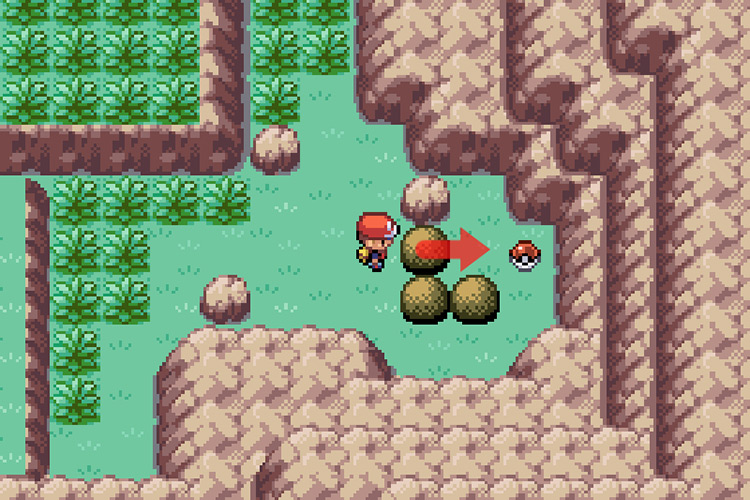 Step 9: Push the second boulder downward.
Step 10: Push the third boulder to the right.
Step 11: Finally, push the first boulder again, this time pushing it upwards.
Step 12: You can now pick up the Sun Stone.
Guide Navigation