Where To Get TM20 Safeguard in Pokémon FRLG
TM20 Safeguard
#
Location
Repeatable?
1
Rooftop of Celadon City Department Store – Give the thirsty pink-haired NPC a Soda Pop
No
You get TM20 as a gift from the pink-haired NPC pacing the rooftop of the Celadon City Department Store. You have to give her a Soda Pop from the vending machine, and afterwards she will give you TM20 as a thank you present.
You're able to do this as soon as you reach Celadon City. You can get here right after earning your Thunder Badge from Vermilion City and making it through the Rock Tunnel.
TM20 Safeguard Location (Step-by-Step)
Step 1: Starting at the Celadon City entrance, head west past the Pokémon Center.
Step 2: Continue west through the city and pass the trainer and the Poliwhirl.
Step 3: Continue heading west through the city towards the Trainer Tips sign.
Step 4: Enter the large building just ahead with double doors – this is the city's Department Store.
Step 5: After entering the store, head up past the service desk to reach the back wall.
Step 6: At the back wall you'll find an elevator. Take the elevator up to the 5th floor.
Step 7: Now on the 5th floor, take the stairs on your left to go up to the rooftop.
Step 8: Once on the roof, head towards the orange vending machines.
Step 9: Purchase a Soda Pop from the vending machine for $300 Pokédollars.
Step 10: After buying the Soda Pop, speak to the little girl NPC with pink hair that's pacing around the roof.
Step 11: She will tell you that she's thirsty and will ask for something to drink.
Step 12: Offer her the Soda Pop from your bag.
Step 13: After she takes the Soda Pop, she will give you TM20 Safeguard as a gift.
Note that this is the only way to acquire the Safeguard TM in FireRed & LeafGreen.
TM20 Safeguard Details + Uses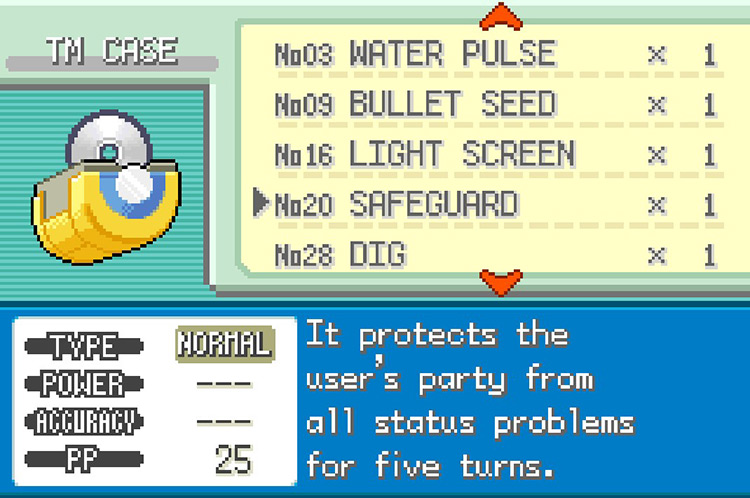 Safeguard Move Details
Type
Normal
Category
Status
Power
–
Accuracy
–
PP
25
TM20 Safeguard is a Normal-type Status move that prevents the user and its party from acquiring any new status conditions.
While this can be helpful as a defensive play, Safeguard cannot cure existing conditions that you're already afflicted with.
Safeguard is a great move to use against Stallers, or against Pokémon that depend upon status-inflicting moves. This strategy calls for draining an opponent's HP slowly with conditions like poison or burn.
But there aren't too many NPC trainers who play like this in a normal playthrough of FR/LG, so generally it's more worthwhile to sell the Safeguard TM for money rather than teaching it to one of your Pokémon.
Guide Navigation