Viridian Gym & The 8th Badge: Pokémon FRLG Walkthrough Part 14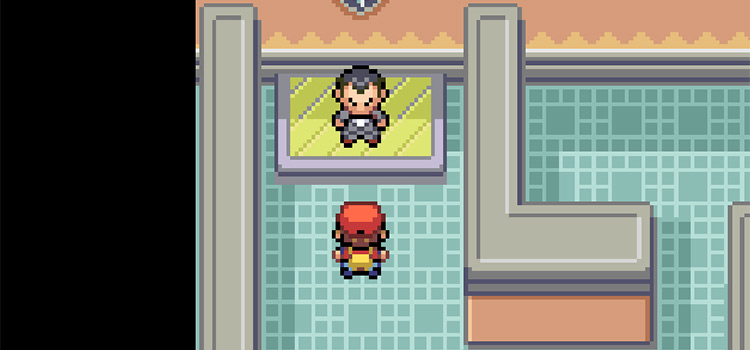 Quick Guide
Head to Viridian City
Stop by the Viridian City Pokémon Center to set your checkpoint
Defeat Giovanni in the Viridian City Gym and prepare to take on Victory Road
Traveling Back To Viridian
Now that we're back from the Sevii Islands, we have to make our way from Cinnabar Island to Viridian City.
There are two options here, and which option you choose will depend on your Pokémon.
Option 1: We can Surf north from Cinnabar Island to Pallet Town, and then continue north all the way to Viridian City.
Option 2: Or we can just fly straight to Viridian City from Cinnabar Island using HM02 Fly.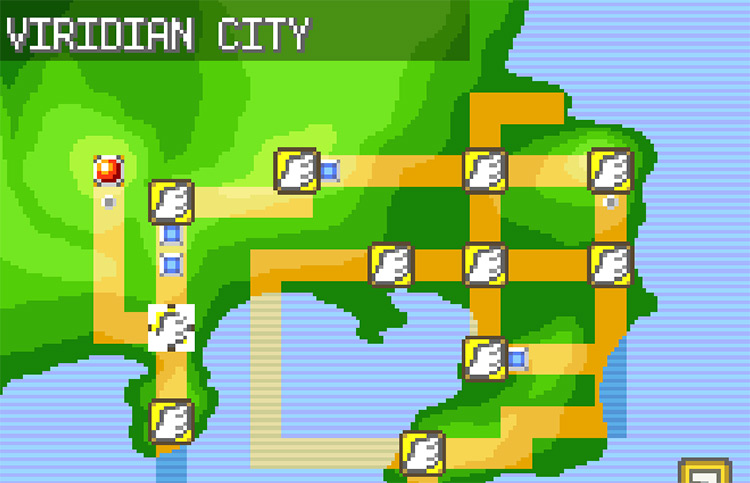 The quickest and easiest option is going to be using Fly. If you don't have a Pokémon in your party that can learn Fly, then you can stop by the Pokémon Center and make a quick substitution.
Just make sure to switch back to the Pokémon you want before taking on the final Gym in Viridian City.
The Viridian City Gym
Once you're in Viridian, head to the north-east side of town.
If you remember when we were here at the beginning of the game, we weren't allowed inside the Gym because the leader was gone.
Well he's back now.
Before you head inside, I recommend stopping by the Pokémon Center in Viridian and healing your Pokémon. Even if they're full HP, this will set Viridian City as your spawn point in case you lose a battle in the Gym.
Now we can walk right in like we own the place.
The trainers in the Viridian Gym are going to use mostly Ground, Fighting, and Poison Type Pokémon (Oddly similar to Team Rocket Pokémon, hmm…). This means Water-types, Psychic-types, and Flying-type Pokémon are really going to shine in this Gym.
Viridian Gym Maze Puzzle (Step-by-Step)
There's also a bit of a puzzle to this Gym.
No matter what, you'll have to defeat a few trainers, but our step-by-step guide below is the smoothest way through the Gym:
Step 1: From the entrance, head north past the three trainers in the center.
Step 2: Continue past the 3 trainers in the center and then battle the purple-haired trainer.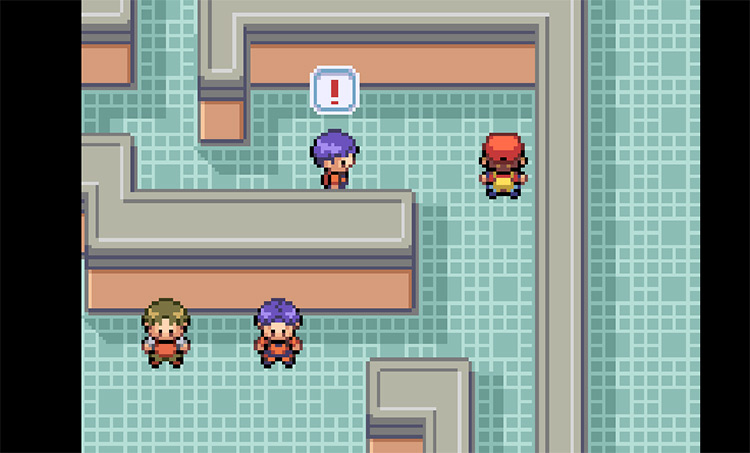 Step 3: Continue through the corridor to the west and defeat the Karate trainer (we want him to walk towards us so we can slip behind him).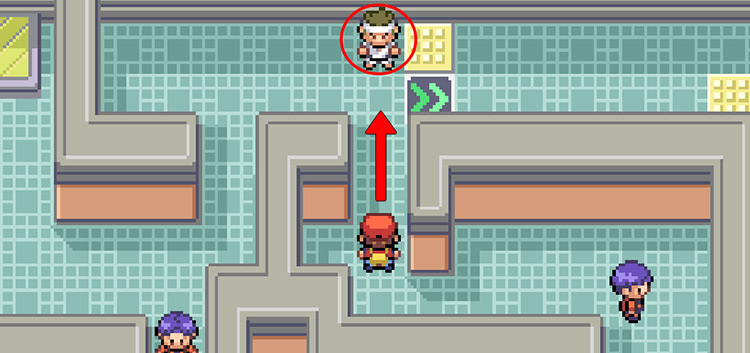 Step 4: Walk back to the Gym entrance and take the arrow pad on the right.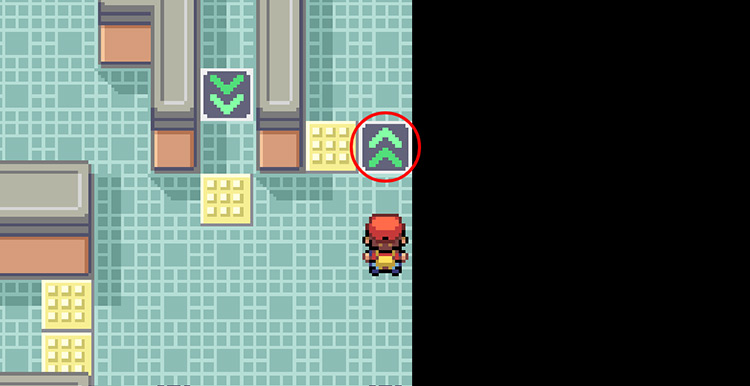 Step 5: After landing on a yellow pad, take the left-pointing arrow pad located above where you're standing.
This will send you left, and with the Karate trainer gone, you can now keep moving left.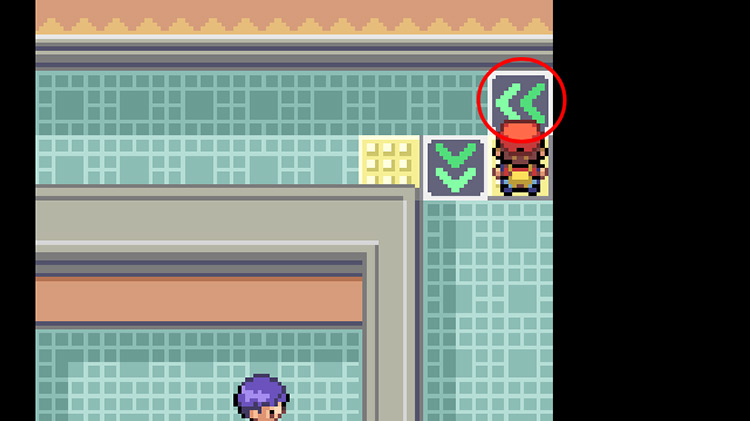 Step 6: After taking the final arrow pad, we can walk over to the left and challenge Giovanni, the Viridian City Gym Leader.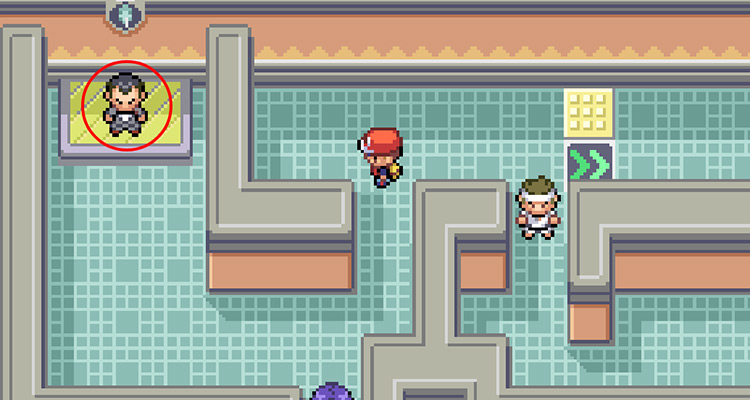 Make sure your Pokémon are nice and healthy because this will be the toughest Gym yet.
Note: You can always go back through and defeat some of the trainers we skipped if you don't think your Pokémon are up to snuff.
Battling Giovanni
Giovanni has some tough high level Pokémon. They're all over level 40, and his trusty Rhyhorn even hits the lv 50 mark.
But every single one of Giovanni's Pokémon are Ground-Type Pokémon. So if you have a Water-Type move, you'll be good to go.
| Pokémon | Level |
| --- | --- |
| Rhyhorn | 45 |
| Dugtrio | 42 |
| Nidoking | 45 |
| Nidoqueen | 44 |
| Rhyhorn | 50 |
After defeating Giovanni, he'll give you the Earth Badge, which will let you challenge the Pokémon League.
He'll also give you the TM for Earthquake (TM26), which is an extremely strong Ground-Type move, so I highly recommend teaching it to one of your Pokémon!
Now that we have all of the Gym Badges, we can make our way through Victory Road and head to the Indigo Plateau where we can finally challenge the Elite Four.
Guide Navigation
Pokémon FRLG

Viridian Gym & The 8th Badge: Pokémon FRLG Walkthrough Part 14