How To Beat E4 Lance: Pokémon FRLG Walkthrough Part 19
Quick Guide
Four out of five of Lance's Pokémon are weak against Ice type moves, so try to have a healthy Ice type Pokémon or a Pokémon that knows Ice Beam.
Start with an Electric Type Pokémon to take out Lance's Gyarados
Make sure you have an answer for Aerodactyl. It could potentially KO your Ice type, which would be bad because we need an Ice type for Lance's Dragonairs and his Dragonite
Once Gyarados and Aerodactyl are down, we can make quick work of Lance's Dragon type Pokémon with either Ice type or Dragon type moves.
Ice type moves will deal 4x damage against Lance's Dragonite, making them especially strong. However, Dragon type moves will do the same as well.
Key Pokémon Types (Team Build)
Ice type Pokémon are going to absolutely run through Lance in this battle.
He is a Dragon type trainer, and four out of five of his Pokémon are Dragon types, which are weak to Ice and Dragon type moves.
So a powerful Ice Beam is likely to take out all of Lance's Pokémon, sans Gyarados.
You're also going to want a healthy Electric type Pokémon for Lance's Gyarados. It's a Flying / Water type, which is what we call quad-weak to Electric type moves (Electric type moves do 4x damage to Gyarados).
Finally, a hard-hitting Dragon type Pokémon is a great choice against Lance if you don't have any Ice options. Dragon is weak to Dragon, though, so your Dragon type Pokémon will also be at risk.
If you can hit Lance before he hits you, then you'll be able to quickly sweep his team.
Lance's Pokémon
| Pokémon | Level | Type |
| --- | --- | --- |
| Gyarados | 56 | Water / Flying |
| Dragonair | 54 | Dragon |
| Dragonair | 54 | Dragon |
| Aerodactyl | 58 | Rock / Flying |
| Dragonite | 60 | Dragon / Flying |
As you can see, Lance is the Dragon Pokémon king. This is why Ice types are so strong against him.
A hard hitting Ice type move will make quick work of his two Dragonairs, his Aerodactyl, and even quicker work of his ace-in-the-hole (Dragonite).
You'll still need to have something in your party to take care of his Gyarados since Ice moves won't do any extra damage against it.
An Electric type move is going to absolutely destroy Gyarados, though, since Electric moves are strong against Water and Flying Pokémon.
How To Beat Lance
Lance is going to use two moves throughout the entire battle: Outrage and Hyper Beam.
Both of these moves are extremely powerful and will do a huge amount of damage.
The good news is that they both also have pretty big downsides.
Hyper Beam is a Normal type attack that hits like a truck. You'll probably see this move used mostly by Lance's Gyarados, but his other Pokémon know it as well so be ready for it.
While Hyper Beam does a lot of damage (when it's not hitting a tank like Snorlax), the Pokémon that uses it needs to take the next turn to recharge, essentially skipping their turn.
Handling Lance's Gyarados
Gyarados has a couple other moves in its arsenal that it'll bust out depending on which Pokémon you use.
Gyarados knows two Dragon type moves, which sounds bad if you want to use a Dragon type Pokémon against it – but really we don't need to worry much.
The first move is Dragon Rage, which is a very misleading name. Dragon Rage will do 40 damage no matter what. So don't be afraid to use your Dragon type Pokémon against Gyarados. It should be fine, just make sure not to let its HP fall in range of a Hyper Beam KO.
The second Dragon type move is Twister, which is a Dragon type with a small chance to make the enemy flinch. This can do a little more damage than Dragon Rage, but there's still not a lot to worry about
With that being said, if you can't beat Gyarados in one or two moves, I'd recommend not using a Dragon type Pokémon.
An Electric type is going to be the best option, since a powerful Electric move will one-shot this Gyarados.
Handling Lance's Aerodactyl
After taking down Gyarados, you're most likely either going to face Dragonair or Aerodactyl.
I'll cover Aerodactyl first.
Aerodactyl is a Rock and Flying type Pokémon. This means you won't be able to use an Electric move on it like you could with Gyarados.
Instead, an Ice, Water, or Grass type Pokémon will do the trick. Be careful using an Ice type, since Ice type Pokémon are weak to Rock and we're going to need that Ice for Lance's Dragon types.
Most of the time, Aerodactyl is going to be using Hyper Beam just like Gyarados.
After Aerodactyl uses Hyper Beam, you'll have an entire turn to switch out Pokémon, use items, etc so make sure to take advantage of it.
Handling Lance's Dragonaires & Dragonite
Now we can talk about Lance's bread and butter Dragon type Pokémon.
Lance has two Dragonairs and a Dragonite.
All three of these Pokémon know the move Outrage, which is a powerful Dragon type attack.
Outrage is a really strong Dragon type move, but it has a unique downside. When a Pokémon uses Outrage, it is stuck using the move for two or three turns (similar to the move Rollout).
Afterwards, the Pokémon will fall into a confusion due to fatigue.
So if you can withstand a couple of hits from Outrage, Lance's Pokémon will do your job for you.
Lance will probably send out his Dragonairs before he sends out his Dragonite, but fighting all three Pokémon will feel very similar.
They'll all use Outrage, but his Dragonairs may throw a Thunderwave at you for good measure.
However, it should be extremely easy to hit his Dragonairs with either an Ice type move or a Dragon type move to make super quick work of them. They don't have a lot of HP and are just one single type, so take your pick of which move you use.
Lance's Dragonair, on the other hand, is dual-typed.
The good news is that both types are weak to Ice attacks. So if you have a Pokémon that knows Ice Beam or Blizzard, you definitely want them healthy for the Dragonite fight.
Alternatively, you could use a Dragon type Pokémon against Lance's Dragonite. Just remember, it knows Outrage, so there's a good chance it'll KO your Dragon Pokémon before you can KO it.
There's also a really good chance he'll use a Full Restore after, so stay on your toes.
My Recommended Strategy
Our strategy here should be to start with an Electric type Pokémon, take care of Gyarados, and then see what Lance throws out next.
If you have an Ice type Pokémon, you need to keep it healthy.
If Lance throws out Aerodactyl, you should throw out a Pokémon that knows some Water or Grass type moves (in my case I used a Snorlax that knows Surf).
Once Aerodactyl is down, all bets are off.
Send out your Ice type Pokémon and go to town on Lance's Dragon types. If you don't have an Ice type Pokémon (like me) then a Dragon type will do – but it probably won't survive the entire fight.
I pretty much took care of Gyarados and Aerodactyl, sent my Dragonite in, and spammed Outrage. This one-shotted Lance's Dragonairs and did a hefty amount of damage to his Dragonite.
I still had to finish off Dragonite with my Charizard, but at that point I had the battle in the bag.
I'd stick with hard hitting moves against Lance.
You don't really want to fight a battle of attrition because his Pokémon know Safeguard, which will completely negate any major status effects you try to inflict.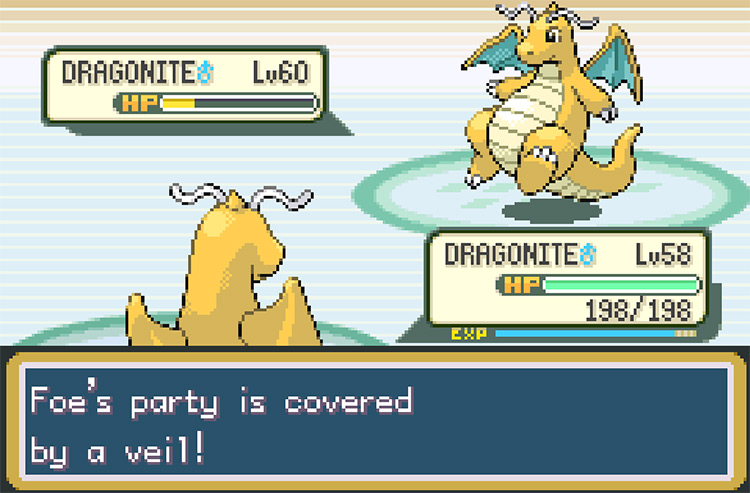 So just spam your hard hitting moves and try to KO Lance's Pokémon as fast as possible.
You don't have to get fancy, you just have to hit hard!
After you defeat Lance, pat yourself on the back – because you'll be the new Pokémon League Champion! We finally did it, congratulations! It was a hard fought journey but we're finally at the end.
Just kidding, of course.
Our Rival was just a little bit faster than us, and defeated the Elite Four just before we arrived.
This means if we truly want to be the Champion, we have one more fight left to beat the game.
Guide Navigation
Pokémon FRLG

How To Beat E4 Lance: Pokémon FRLG Walkthrough Part 19