Where Do You Get EXP Share in Pokémon HG/SS?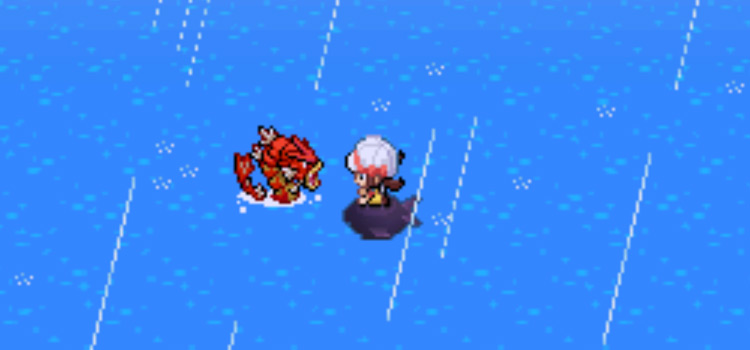 In Pokémon HeartGold & SoulSilver, you can get the EXP Share as early as your 4th gym badge. Just get the Red Scale from defeating the shiny Red Gyarados at Lake of Rage, and take it to Mr. Pokémon on Route 30. He will give you an EXP Share in exchange for the Red Scale.
Then you can train your team more efficiently for the rest of the game.
You can also get additional EXP Shares by winning the Pokémon Lottery Corner in Goldenrod City, but this will take a lot of good luck and patience.
We'll run through both methods in more detail below.
Method 1: Defeating Red Gyarados
This is the only reliable way to get your hands on an EXP share early in the game.
First, you'll need to have beaten Gym Leader Morty to earn your 4th badge, and have received the HM03 Surf by saving the Kimono Girls in Ecruteak City from the Team Rocket Grunt.
After that, make your way to Mahogany Town, to the east of Ecruteak City.
Once you arrive in Mahogany Town, you'll want to take the north exit to Route 43 and head toward the Lake of Rage.
The way to the Lake of Rage is easy, just keep heading north on Route 43.
You'll encounter some trainers and wild Pokémon along the way.
However, avoid entering the building in the picture below. If you do, Team Rocket Grunts will steal some of your money!
Once you reach the Lake of Rage, you should see an oddly-colored Gyarados swimming about on the waters.
This Gyarados is shiny. Shiny Pokémon have special alternate colors and usually only appear very rarely in the wild (a 1 in 8192 chance, to be exact), but Red Gyarados will always be shiny.
Red Gyarados will also always be at Level 30. A non-damaging status effect (like Paralyze or Sleep) or a Pokémon that knows False Swipe might also be helpful if you want to catch it.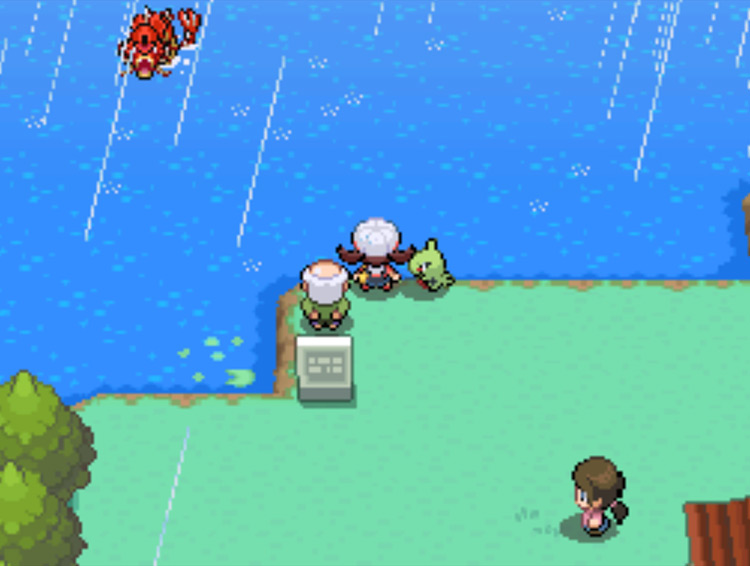 To battle Red Gyarados, simply Surf onto the lake and 'talk' to it by pressing A.
Tip: Save beforehand, in case you mistakenly knock it out when you wanted to catch it.
Whether you capture or defeat Red Gyarados, you'll pick up a Red Scale after the battle.
Now you'll have to head back to Mr. Pokémon.
Remember him? He's the one whose house on Route 30 you visited on your very first task after receiving your starter Pokémon. Here's how to get there:
If you've already beaten the 5th gym and unlocked Fly, simply Fly to Cherrygrove City and head north.
If you don't have fly, retrace your steps to Ecruteak City. Then go to Violet City via the shortcut you opened up after defeating Sudowoodo. From Violet City you can easily reach Route 30 to the east.
After that, it's just a short walk to Mr. Pokémon's house on Route 30.
Head inside and talk to him.
He'll offer to trade your Red Scale for an EXP Share.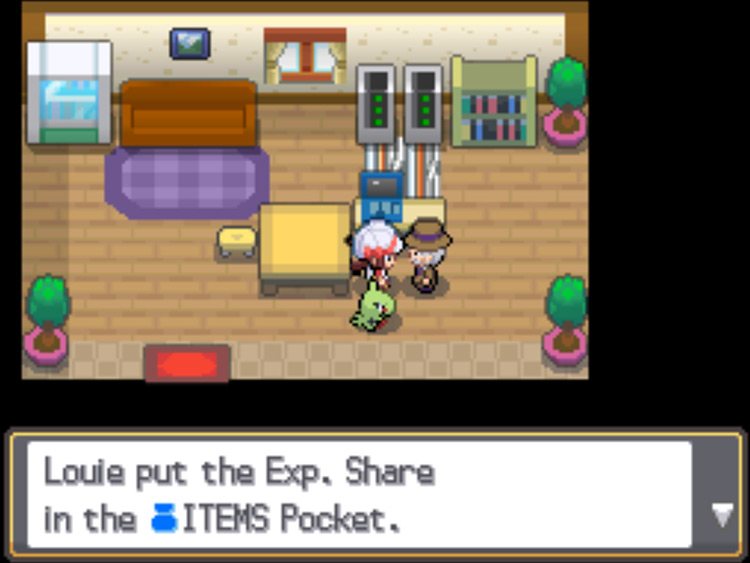 Congratulations, you can now train weak Pokémon in a totally hassle-free way!
Bear in mind, you can only get one EXP Share this way. If you want more then you'll have to try your luck at the in-game lottery.
Method 2: Winning At The Pokémon Lottery Corner
The second method for acquiring EXP Shares is available as soon as you reach Goldenrod City.
So technically, you could get one before your 3rd badge – but only if you're extremely lucky.
That's because the Pokémon Lottery Corner works by generating a random number. If that number matches the ID number of any of your Pokémon, you'll win a prize. So the only way to increase your chances of winning is by catching lots of Pokémon.
Don't worry though, you can try your luck once each day.
To play, head to Goldenrod Radio Tower.
Once you're inside, talk to Felicity, the lady behind the desk as soon as you enter.
To win an EXP Share, three digits from one of your Pokémon's ID must match the drawn number for that day. This process is completely random, so there's not much you can do except play regularly.
Aside from getting an EXP Share, other prizes include:
An Ultra Ball, for one digit matched
A PP UP, for two digits matched
A Max Revive, for four digits matched
A Master Ball, for five digits matched
Good luck, and don't forget you can play again each new day!
Guide Navigation