Where To Get Heart Scales in Pokémon HGSS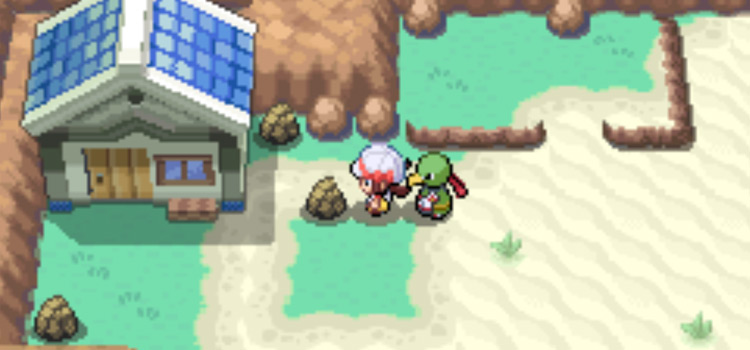 There are 7 ways to get Heart Scales in Pokémon HeartGold and SoulSilver. The simplest methods for farming Heart Scales are either breaking rocks using Rock Smash to get them, or buying Heart Scales at the Pokéathlon Dome with 1,000 AP.
Below is a table listing all of your options for acquiring heart scales, listed in order from easiest to most time-consuming:
All Heart Scale Locations
Method
How Often?
1
Hidden on the ground on Route 32
Once-only
2
Hidden on the ground in Vermilion City
Once-only
3
Occasionally found when using Rock Smash on breakable rocks
Repeatable
4
Found by Pokémon over level 51 with the Pickup ability
Repeatable
5
On sale for 1,000 points at the Pokéathlon Dome on Wednesdays and Sundays
Repeatable
6
Held by wild Luvdisc during their swarm on Route 27
Repeatable
7
Using the Pokéwalker's Dowsing Machine on the Beautiful Beach, Warm Beach, Stormy Beach, and Quiet Cave courses
Repeatable
Each of these methods has its advantages and disadvantages. We'll run through each one below in more detail.
Heart Scales act as currency for the Move Reminder in Blackthorn City. For each scale, he will teach your Pokémon a move it had previously forgotten.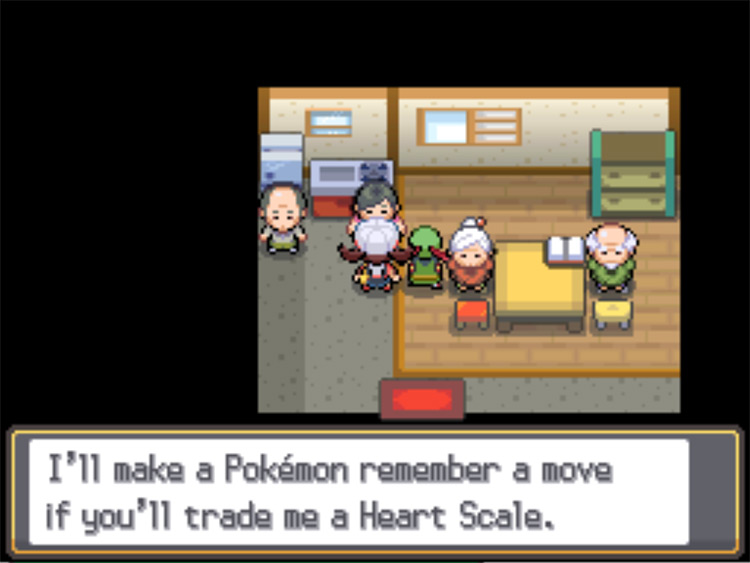 You'll need at least one Heart Scale to fill your Pokédex, as Piloswine evolves into Mamoswine when it re-learns Ancient Power. You'll need more if you want to edit the movesets of your other Pokémon.
Luckily, all that ever stands between you and a hoard of Heart Scales is a little repetition and/or luck.
Method 1: The Heart Scale On Route 32
The earliest and easiest Heart Scale is hidden on Route 32.
You'll need Surf to get to it, but you'll already have this by the time you reach Blackthorn City anyway.
First, fly to Violet City.
Once you're there, take the south exit down onto Route 32.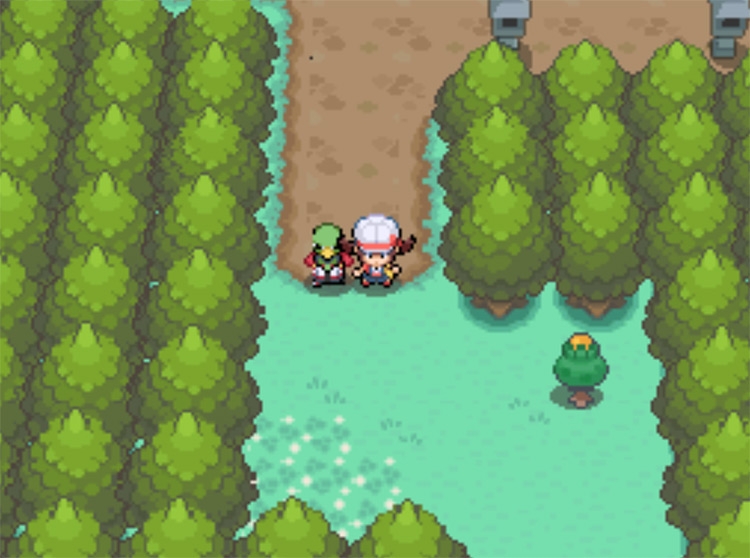 Carry on down the route, sticking to the right until you reach the area with surfable water, boardwalks, and fishermen.
Use Surf once you reach the following point.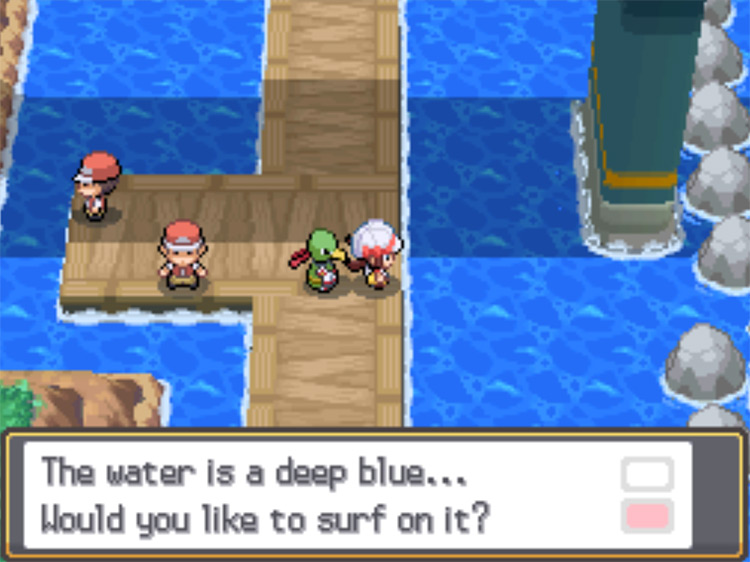 Then, simply Surf to the right and press 'A' on the boulder pictured below.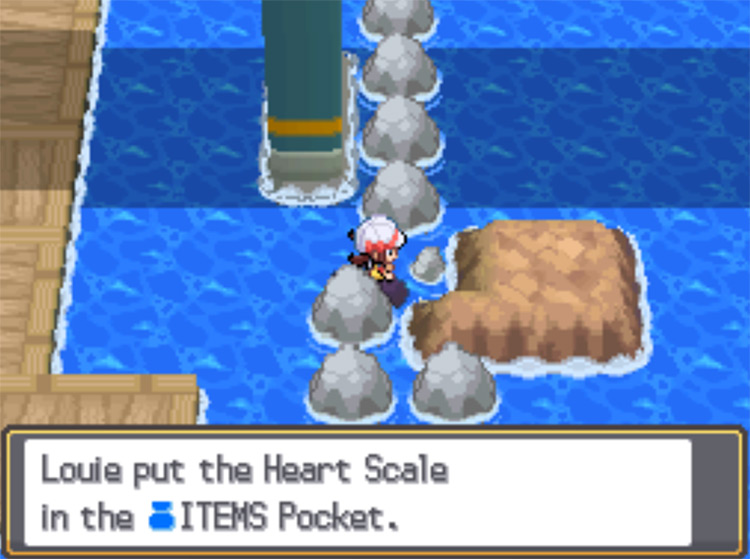 You can only get one Heart Scale this way, as the item never respawns.
Method 2: The Heart Scale In Vermilion City
The next easy-to-get Heart Scale is much further along in the game, in Vermilion City.
To reach this point, you'll need to have beaten the Elite Four and traveled to Kanto. You'll also need a Pokémon with Surf in your party.
Once you're in Vermillion City, head down to the waterfront and use Surf just to the right of the gym.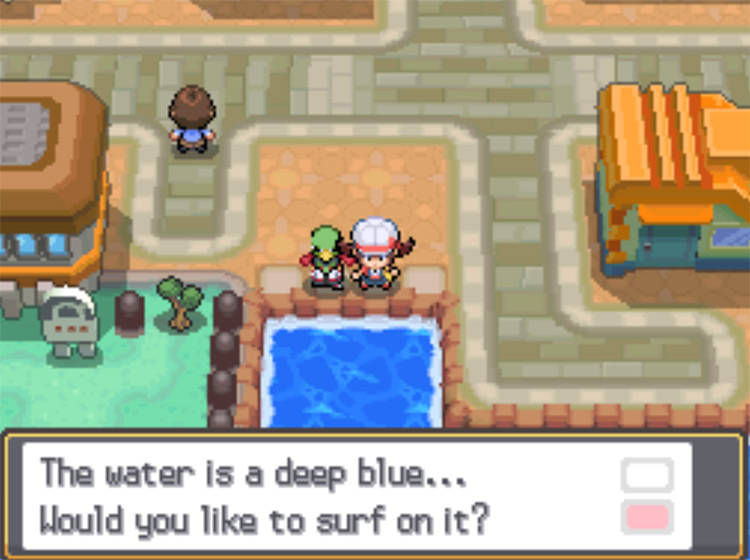 Surf immediately to the right until you reach the boats pictured below.
Press 'A' on the middle of the lower one to pick up your Heart Scale.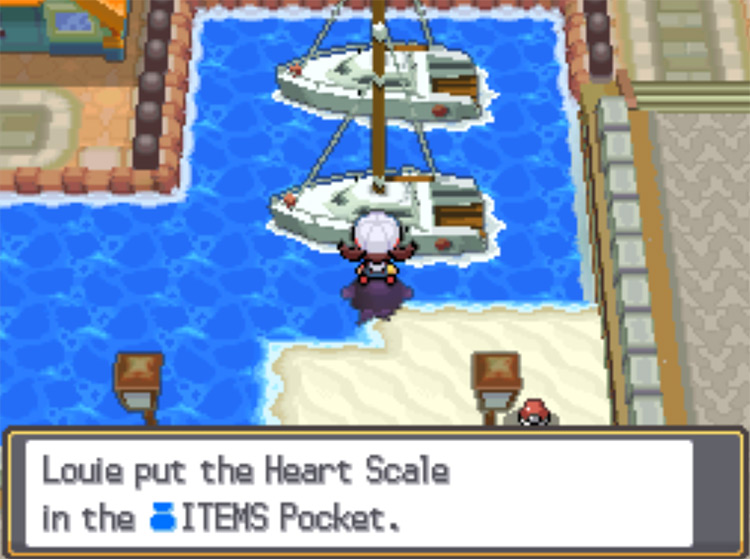 Like the Heart Scale on Route 32, this is a one-time find.
Method 3: Finding Heart Scales by Smashing Rocks
Whenever a Pokémon uses Rock Smash to destroy a breakable rock in the overworld, you have a chance of finding an item.
Heart Scales are one of these items, along with Revives, Max Ethers, Star Pieces, and colored shards. They're quite rare though, so you might have to break a few rocks before you find one.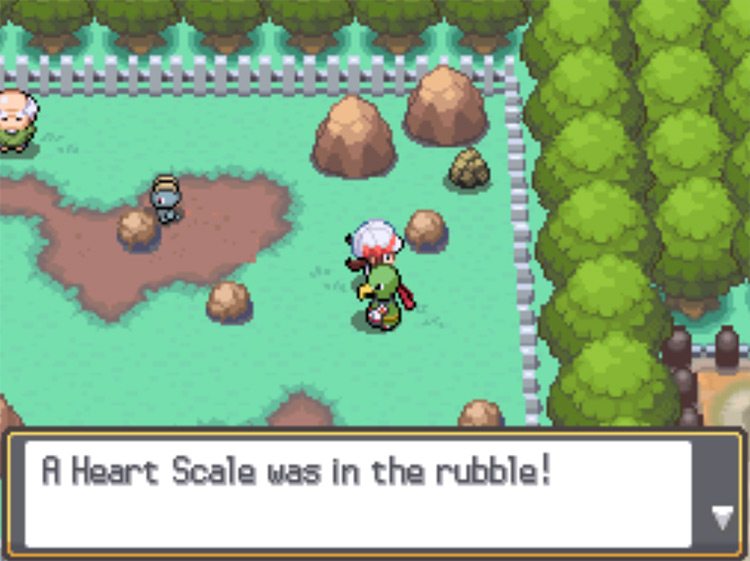 The chances of each rock containing a Heart Scale are totally random, and all rocks except those in the Ruins of Alph and Cliff Cave have a chance of dropping them.
Some of the best locations to grind for Heart Scales in this way are Cianwood City and Vermilion City, as they contain multiple rocks and nearby houses to make them respawn.
Once you've smashed all the rocks in the area, simply go inside a building or cave. When you emerge, all the rocks will have respawned.
Method 4: Using a Level 51+ Pokémon with the Pickup Ability
Pokémon with the ability Pickup have a 10% chance of gaining a held item after winning any battle – even if they did not take part.
Once they reach level 51, this list of items includes Heart Scales.
Your Pickup Pokémon's level after this point impacts the chance of finding a Heart Scale. The probability brackets work like this:
Level 51-70, 4% of all found items
Level 71-100, 10% of all found items
The following Pokémon get the ability Pickup:
Meowth, found on Routes 5, 6, 7, 8, 38, and 39 (SoulSilver only)
Aipom, found by using Headbutt on trees in Azalea Town, Mt. Silver, and Routes 28, 33, 42, 44, 45, and 46
Teddiursa, found on Route 45 and Mt. Silver (SoulSilver only)
Phanpy, found on Route 45 and Mt. Silver (HeartGold only)
Zigzagoon, found in Sprout Tower, Bell Tower, and Burned Tower while playing the Hoenn Sound radio station, the Plains area of the Safari Zone after adding 15 Forest Blocks, and the Savannah area of the Safari Zone after adding 10 Forest Blocks
You can have up to 6 Pokémon in your party all with the Pickup ability farming Heart Scales (along with other rare items, like evolution stones, Rare Candies, and Leftovers) at once.
This can be a very effective method, if you've got the time to invest.
Method 5: Buying Heart Scales At The Pokéathlon Dome
After you've beaten Gym Leader Whitney in Goldenrod City and earned your 3rd badge, you can buy Heart Scales by winning minigames in the Pokéathlon Dome.
The Pokéathlon Dome is located at the top of Route 35, through this building.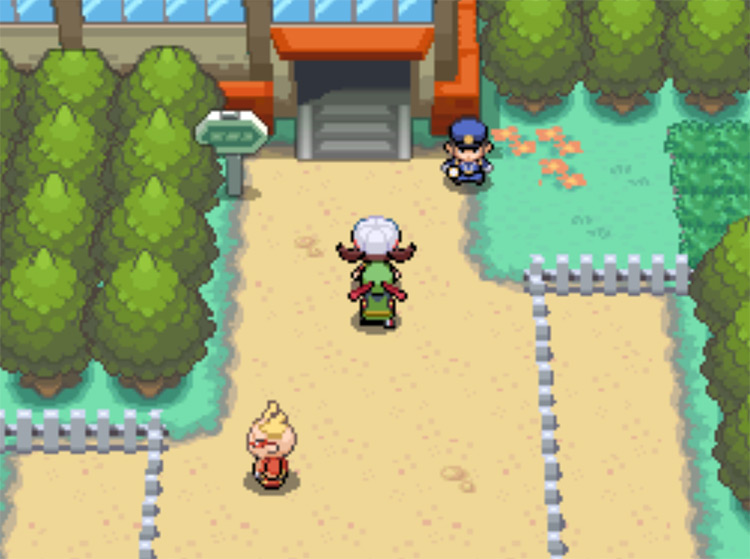 Once you're inside, take the left door and follow the path up to the Dome itself.
You can play minigames with your Pokémon here to earn Athlete Points.
A single Heart Scale costs 1,000 points (AP).
There is really no set best-earning minigame for AP, and it all depends on your playstyle and available Pokémon. Try them all to find your winning combination.
Once you have 1,000 points, come back on a Wednesday or a Sunday. The Athlete Shop, located in the top right-hand corner of the Pokéathlon Dome, will sell them on these days.
Method 6: Stealing Heart Scales Held by Swarming Luvdisc
This method of farming Heart Scales requires you to have beaten the Elite Four and received the National Pokédex from Professor Oak in Olivine City.
It also requires the waiting game of getting Luvdisc as your swarm Pokémon for the day. But, once you do, it is easily the most lucrative way of farming Heart Scales.
Once you've unlocked the National Pokédex, different Pokémon swarms will occur each day. You can find out which Pokémon is swarming and where by listening to Professor Oak's Pokémon Talk show on your Pokégear Radio.
When it is Luvdisc's turn to swarm, they will make up 60% of all the wild encounters while surfing on Route 27, immediately to the east of New Bark Town.
Each Luvdisc has a 50% chance of carrying a Heart Scale.
You can then farm many Heart Scales by catching wild Luvdisc or using the move Thief to steal their held item.
In fact, there are two ways to make your Heart Scale farming even more efficient.
First, if you open the battle with a Pokémon with the ability Compoundeyes at the head of your party, the chances of the held Heart Scale double to 100%.
Pokémon with the ability Compoundeyes include:
Alternatively, if you bring a Pokémon with the ability Frisk, you'll be alerted to the presence of a wild Pokémon's held item. This way you can save time on empty-handed Luvdisc.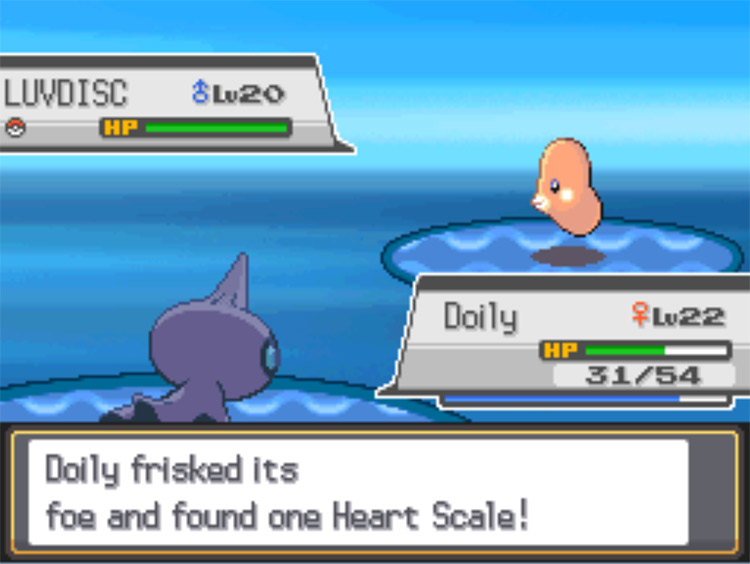 Pokémon with the ability Frisk include:
Method 7: Using The Pokéwalker's Dowsing Machine
If you're lucky enough to have a copy of HeartGold or SoulSilver with the additional Pokéwalker accessory, you can find Heart Scales with this too.
Heart Scales can be found by using the Pokéwalker's Dowsing Machine on the following courses, after taking the following number of real-life steps:
Beautiful Beach, after taking 2,000+ steps
Warm Beach, after taking 3,000+ steps
Stormy Beach, after taking 800+ steps
Quiet Cave, after taking 2,500+ steps
Bear in mind that you'll need to have unlocked the National Pokédex for all courses apart from Beautiful Beach.
Guide Navigation