Where To Get The Soothe Bell in Pokémon HGSS
All Soothe Bell Locations
Method
How Often?
1
In the National Park, behind an opening in the northeastern fence.
Once-only
2
An in-game trade with Jasmine in the Olivine Gym. Give her any Pokémon and she'll trade you a Steelix holding a Soothe Bell.
Once-only
The earliest Soothe Bell to get can be found in the National Park. It's an overworld item that's located behind a fence in the North-Eastern section of the Park.
There's also an in-game trade with Jasmine that will give you a Steelix named Rusty holding a 2nd Soothe Bell, but this can only happen after you rematch her in battle. This trade happens at the Olivine Gym, and this is the only other method of getting a Soothe Bell in the game.
Note that there are no repeatable in-game methods (other than trading from another game).
The Soothe Bell is a held item that doubles the rate at which a Pokémon grows friendly towards you. It can be useful for evolving Pokémon that require a certain level of friendship to evolve, such as Togepi or Golbat.
Soothe Bell Location (Step-by-Step)
Step 1: Starting in Goldenrod City, take the North exit to Route 35.
Step 2: Continue north until you reach the orange building which leads to National Park. After entering the building, take the North exit.
Step 3: Once you're inside National park, head towards the north-eastern corner until you reach the point pictured below.
Step through the gap in the fence and head East, and then South.
You will find the Soothe Bell on the ground at the end of this path.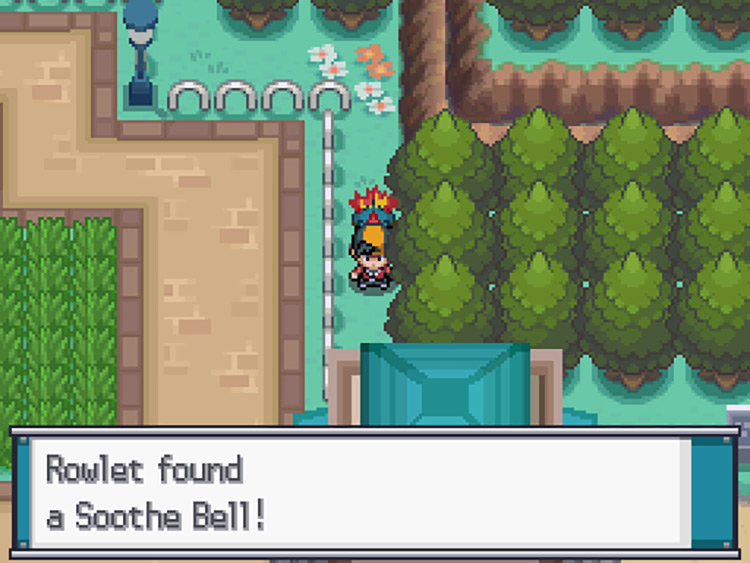 How the Soothe Bell Works
The Soothe Bell is a hold item that doubles the rate at which a Pokémon's happiness stat increases.
Happiness is a hidden stat that can be increased through actions such as walking with your Pokémon or using them in battles. Catching a Pokémon in a luxury ball will also double the rate at which their happiness increases.
Increasing a Pokémon's happiness can also give you an advantage in battle. For example, the move 'Return' increases in power based on the user's happiness stat. At the maximum level of happiness, it has a base power of 104.
Certain Pokémon also require a high happiness level to evolve. They evolve by reaching a certain level of happiness and then leveling up once (either through battle or a rare candy).
Below you can find a list of all Pokémon that evolve through happiness in Pokémon HG/SS:
| Lower Stage | Evolved Stage |
| --- | --- |
| Eevee | Espeon (During Daytime) |
| Eevee | Umbreon (During Nighttime) |
| Chansey | Blissey |
| Golbat | Crobat |
| Togepi | Togetic |
| Pichu | Pikachu |
| Cleffa | Clefairy |
| Igglybuff | Jigglypuff |
| Azuril | Marill |
| Budew | Roselia (During Daytime) |
| Buneary | Lopunny |
| Chingling | Chimecho (Nighttime) |
| Munchlax | Snorlax |
| Riolu | Lucario (During Daytime) |
Guide Navigation