How To Get the Super Rod in Pokémon ORAS
You can get the Super Rod by talking to a Fisherman at his house in Mossdeep City. You'll find his house up a flight of stairs just east of the Poké Mart.
But to reach Mossdeep City you must pass through Route 124 (east of Lilycove). So you'll at least need the Balance Badge to use Surf outside of battle.
The Super Rod is the best fishing rod you can get in the game. It yields the highest level of aquatic Pokémon you can catch through fishing in OR/AS.
Super Rod Location (Step-by-Step)
As soon as you gain access to Mossdeep City, you can head to the Fisherman's house to get the Super Rod. You can find his house in the northeastern part of the city.
Step 1: Starting at the Mossdeep Pokémon Center, head east until you reach the corner by the Mart.
Step 2: From there, follow this path going southeast until you find a set of stairs going up.
Step 3: Walk up the stairs and follow the northwest path.
Step 4: Keep walking and you'll quickly see the Fisherman's house on your left.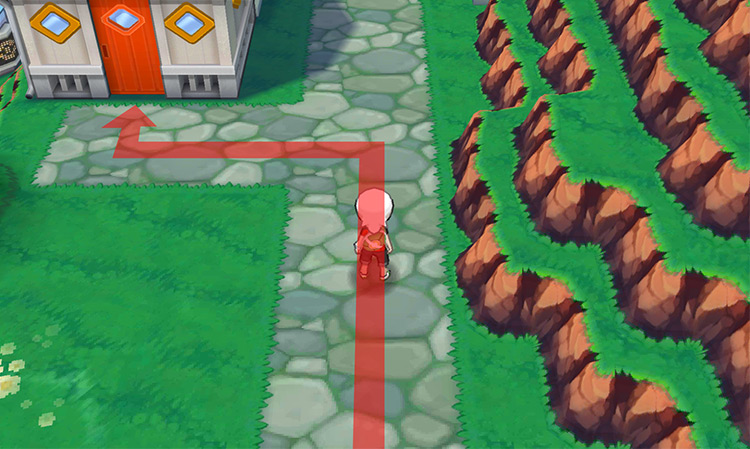 Step 5: Speak to the Fisherman inside to obtain the Super Rod.
Getting to Mossdeep City (Optional)
In case you haven't been to Mossdeep City yet, it's an island found on the eastern side of Route 124. Before you can pass through Route 124, you need to accomplish the following tasks:
Fight Team Aqua/Magma on Mt. Pyre
Follow Team Aqua/Magma to Slateport City Harbor
Defeat the admin in the Team Aqua/Magma Hideout in Lilycove City
If you try to surf to Mossdeep any earlier in the game, you'll notice that the path to Route 124 in Lilycove City is blocked by Wailmers – preventing you from passing through.
Once you've finished everything in the main story listed above, the path to Route 124 will be cleared.
Here's how to reach Mossdeep City from there:
Step 1: Start at the eastern shore of Lilycove City, then head east on Route 124 using Surf.
Step 2: On Route 124, head directly east past the Swimmers until you land on Mossdeep City's shore.
You'll find Mossdeep City at the end of Route 124 (pictured below).
Pokémon Obtainable with the Super Rod
With the Super Rod, you can catch higher-level water-type Pokémon compared to the Old Rod and the Good Rod.
You'll also be able to find more unique species of Pokémon as well, so it's absolutely worth getting this Rod as soon as you reach Mossdeep.
At this stage of the game, you can catch the following Pokémon using the Super Rod:
Pokémon
Locations
Corphish

Petalburg City
Route 102, 117, 123

Crawdaunt
Magikarp
Wailmer

Dewford Town
Slateport City
Sea Mauville
Lilycove City
Mossdeep City
Routes 103, 105, 106, 107, 108, 109, 110, 115, 122, 124

Barboach

Meteor Falls
Routes 111, 114, 120

Carvanha
Sharpedo
Feebas
Staryu

Lilycove City
Team Aqua/Magma Hideout
Guide Navigation