Where To Get the Tyranitarite in Pokémon ORAS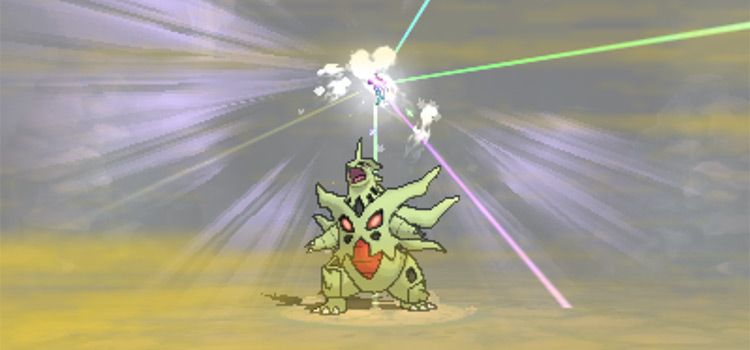 Tyranitar's Mega Stone (Tyranitarite) can be found in Jagged Pass. This is the path south of Mt. Chimney's crater. You'll specifically find the Mega Stone way down at the southern end of the Jagged Pass area.
However, you can only find the Tyranitarite there after you defeat/catch Kyogre or Groudon in the Cave of Origin.
Tyranitarite Location (Step-by-Step)
Most Mega Stones, including Tyranitar's Mega Stone, are only obtainable after you defeat/catch Kyogre or Groudon in Sootopolis City; more specifically, in the Cave of Origin.
This major event happens right before you're able to challenge the eighth and final Gym.
The Tyranitarite can be found near the southernmost part of Jagged Pass. This is the path that connects Mt. Chimney and Route 112. Jagged Pass is also the only way to reach Lavaridge Town on foot.
Tip: While the Acro Bike makes traversing Jagged Pass easier, you won't need it to get Tyranitar's Mega Stone.
So after you defeat or catch Kyogre or Groudon, you can immediately fly over to Jagged Pass to get the Tyranitarite.
Step 1: Follow the path heading south to reach the lower levels of Jagged Pass.
Step 2: Go down the ledges, then go down the left slope up ahead (just after the set of stairs).
Step 3: Keep heading south and you'll eventually see two more slopes to choose from. Go down the rightmost slope.
Step 4: Then you'll hit a small patch of grass. Instead of going down a ledge there, follow the path over to the right.
Step 5: Walk past the single patch of grass to your right, then jump down the ledge right beside the big pine tree. This should put you directly to the right of the grass patch.
Now interact with the sparkling item on the ground next to this grass to obtain the Tyranitarite.
Is Mega Tyranitar Good?
Mega Stones like the Tyranitarite are held items that allow certain Pokémon to Mega Evolve. This grants them a massive boost to their base stats.
Most Mega Evolutions also change the Pokémon's ability, which lasts until the battle concludes.
When Tyranitar Mega Evolves into Mega Tyranitar, it changes its ability to Sand Stream, which summons a sandstorm for five turns. This ability will not trigger again if a sandstorm is already active before you Mega Evolved.
Mega Tyranitar's excellent Attack stat and powerful Same Type Attack Bonus (STAB) moves like Crunch and Stone Edge make it a threatening wallbreaker.
It's also bulky enough to withstand a couple of hits, thanks to its high defensive stats.
Tip: Sand Stream allows Mega Tyranitar to support sand teams as well. Sweepers like Garchomp and Excadrill greatly benefit from the sandstorm, making them fantastic partners for Mega Tyranitar in Double Battles.
Guide Navigation