How To Get the Bicycle in Pokémon Platinum
You'll obtain the Bicycle from Rad Rickshaw's Cycle Shop in Eterna City after you defeat Commander Jupiter in the Team Galactic Eterna Building.
To access the Team Galactic Eterna Building, you'll need to use HM01 Cut. Then if you enter and climb up to the 4th floor, you'll have to battle Commander Jupiter and take back some Pokémon she stole.
After winning the battle, go speak to Rad Rickshaw inside his shop and he'll give you the Bicycle as thanks for rescuing his Clefairy.
Getting the Bicycle (Step-by-Step)
Rad Rickshaw's Cycle Shop is found in Eterna City, but you won't be able to find Rad at first.
If you speak to the kid inside the Cycle Shop, he will inform you that the manager has gone to the Team Galactic Eterna Building and hasn't returned for a while.
The Team Galactic Eterna Building can be found on the northern edge of town—it's a large, blue-and-white structure with a big Saturn-like yellow ring encircling it.
The entrance is blocked by some trees, which you can chop down using the Hidden Move Cut.
Note: To use Cut outside of battle, you must first have defeated Eterna City's Gym Leader, Gardenia, and received the Forest Badge from her. If you haven't defeated Gardenia yet, you can find in-depth information on doing so in our guide here.
Accessing the Team Galactic Eterna Building
Once you possess the Forest Badge, you can teach a Pokémon Cut with HM01.
Then head north to the Team Galactic Eterna Building.
Use Cut on one of the three trees barring your path, then enter the front door.
The way this building is set up is a bit like a maze.
On each floor is a pair of ascending staircases, but only one staircase on each floor will lead to the correct path; the others will lead to dead ends, and/or battles with Team Galactic Grunts.
It's easy to figure out which staircases are the correct ones, since Team Galactic has placed posters near each of them.
That said, you have a boss battle coming up, and it's recommended that you choose the "incorrect" staircases first – that way you can battle the Grunts and get some easy EXP. You can also find some useful items in these rooms.
When you're ready to make your way up the building and find Rad Rickshaw, start by climbing the right-hand staircase on the ground floor.
On the next floor, the left-hand staircase is the correct one.
On the third floor, head down the long hallway on the south side.
Then, take the left-hand staircase (second-to-the-end) and head to the fourth and final floor.
The top floor is more hi-tech and futuristic-looking than the others.
Here, turn the corner and make your way down the hall.
At the end of the hallway you will see Rad Rickshaw arguing with Commander Jupiter, who is surrounded by stolen Pokémon.
Save your game, then speak with Jupiter. It turns out that Team Galactic has kidnapped Eterna City's Pokémon, including Rad Rickshaw's Clefairy, for some unclear nefarious purpose.
After a brief conversation, a battle with Commander Jupiter will commence.
Battling Galactic Commander Jupiter
SCROLL
Commander Jupiter's Team
Pokémon
Level
EXP Gained
Money Earned
Zubat
21
243
1840
Skuntank
23
1029
Commander Jupiter's Zubat is nothing to worry about—take it out by using Rock-, Electric-, or Psychic-type attacks.
Her Skuntank, on the other hand, is a monster.
It has tons of HP, a high Attack stat, and can move surprisingly fast. It only has one actual attack—Night Slash—but it can rip your team to shreds if you're not ready for it. And as a Poison/Dark dual-type, Skuntank's only weakness is Ground.
If you have a good Rock- or Ground-type Pokémon, you will have a much better chance against Skuntank.
If not, trying to lay some status moves on it can help.

Paralyzing Skuntank with a move like Stun Spore will prevent it from acting first during a turn, and possibly keep it from acting altogether.
A Pokémon with the move Disable can take Night Slash out of play for several turns, preventing Skuntank from doing any real damage.
It might take a little trial and error, depending on which Pokémon you've raised up to this point. If you're having issues, grinding for a few levels outside is always an option.
After the battle, Commander Jupiter will leave and Rad Rickshaw will thank you profusely for rescuing his Clefairy.
Before making his exit, he will invite you to stop by his Cycle Shop for a reward.
Now let's leave the building the way you came.
Once outside, head south on the main street, passing the Pokémon Center.
Note: If you currently have six Pokémon in your party, drop one off at the Pokémon Center before you head to the Cycle Shop. You will need an empty slot for the next step.
If you continue south, you will notice a building with a blue-and-white striped awning in front and several bicycles outside. This is Rad Rickshaw's shop.
Before you have a chance to enter, Cynthia will show up again and ask you to take a Pokémon Egg from her.
You need an empty slot in your party to accept, and Cynthia will not let you enter the Cycle Shop until you say yes.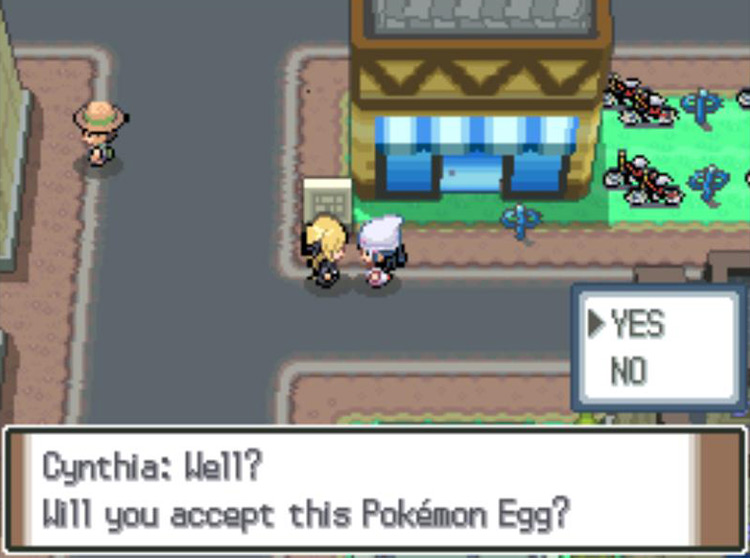 Once you have taken the Egg, you can finally enter the Cycle Shop.
Speak with Rad Rickshaw at the front counter, and he will give you a Bicycle, free of charge.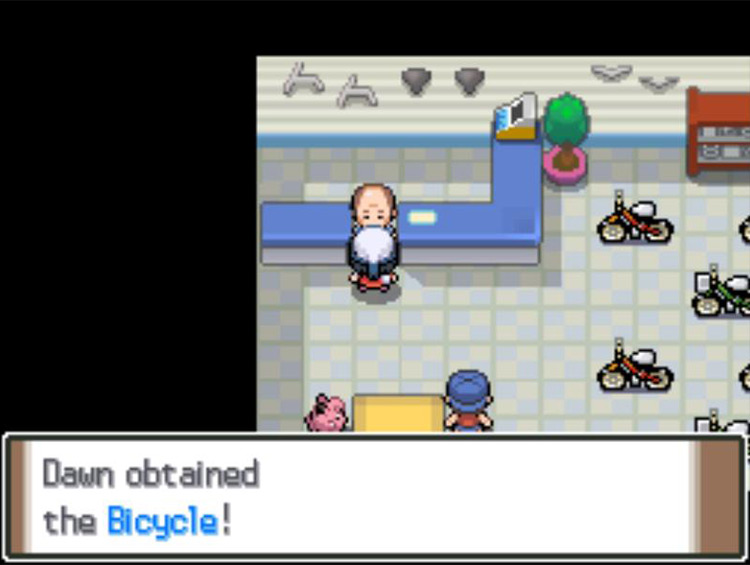 How To Use the Bicycle
First, you might want to set the Bicycle to the Y-hotkey now, since you will probably use it more than any other Key Item in the game.
The primary function of the Bicycle, is to speed up transportation.
Simply use the Bicycle as an item, and you will increase your speed several times that which is achievable by the Running Shoes alone.
This Bicycle is different from those of previous games, though, because it has adjustable gears.
By pressing the B button while riding, you can go between:
Third-gear, which is slower but steadier
And Fourth gear, which is ultra-fast but harder to control.
Certain terrain types require the Bicycle to traverse.
For instance, the muddy slopes you find all over Sinnoh can only be scaled by riding a Bicycle in fourth gear.
To make it all the way up the slopes, you first have to start riding at a distance.
If you hit the slope while at maximum speed, the momentum will propel you to the top.
The Bicycle is also necessary to cross fallen logs, which you will find in greater abundance later in the game.
Another useful feature of the Bicycle is its use in hatching Pokémon Eggs.
How long a Pokémon Egg takes to hatch depends on the distance you travel while keeping it in your party. So if you wanted to, you could ride the Bicycle in circles while in fourth gear and hatch Eggs with incredible frequency.
Accessing Cycling Road
At the point in the game when you first get the Bicycle, it's incredibly useful because it opens up Route 206's Cycling Road.
This will lead to the next area in your playthrough that needs to be explored.
To access Cycling Road, leave Eterna City via the gate at the southern entrance.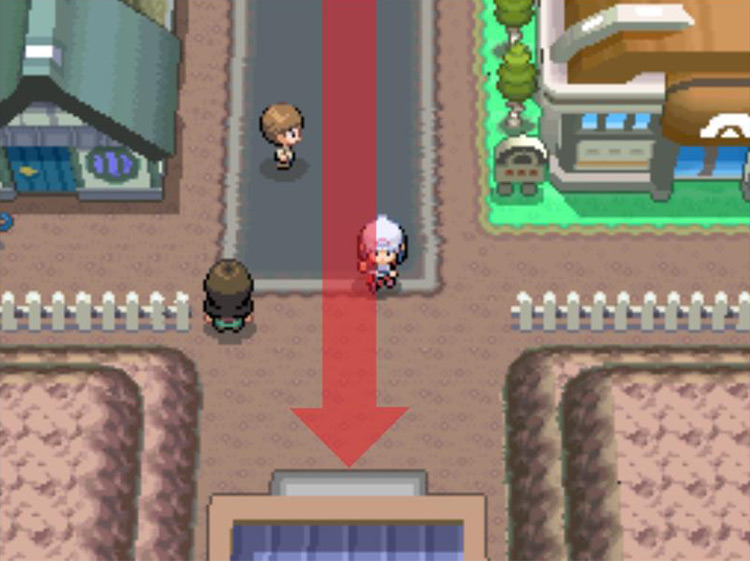 The attendants inside the gate wouldn't let you through before, since you didn't have a Bicycle. Now you can pass freely.
Taking this road will place you at the base of Mt. Coronet, which will lead you to your next destination: Hearthome City.
Guide Navigation