How To Get the Good Rod in Pokémon Platinum
You can get the Good Rod from a fisherman NPC on Route 209, which is just a short walk east from Hearthome City's southeast gate.
The Good Rod is the second-most effective of three fishing rod Key Items in Platinum. It's able to catch a much larger variety of Pokémon than the Old Rod, which can only catch Magikarp.
Good Rod Location (Step-by-Step)
The Good Rod is acquired from a Fisherman NPC on Route 209. You will only be able to reach this location after defeating Gym Leader Fantina and receiving the Relic Badge from her.
If you have obtained the Relic Badge, then we'll need to head toward Hearthome City's southeast entrance gate.
To get there from the Hearthome Pokémon Center, head east on the main street.
When you reach the Gym on the east side of town, turn to the south.
Head south for as far as you can go.
Then turn to the west to get around the white picket fence, and turn south again when you're in front of the Pokémon Fan Club building.
Travel south following this path until you reach a gray concrete road on the right.
Turn east to follow this road and leave town through the gate.
When you emerge on the other side of the gate, you will be on Route 209.
Moving in a straight line to the east will bring you directly to a Fisherman NPC.
Speak with him, and he will give you the Good Rod at no cost.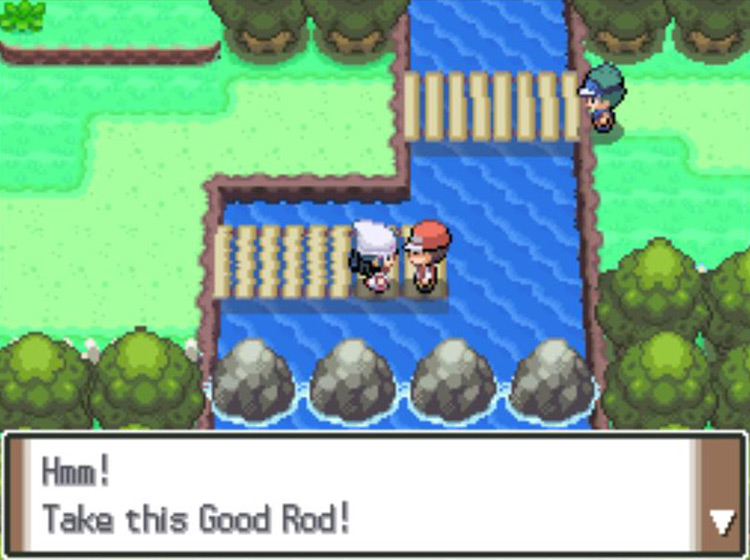 Using the Good Rod
While the Old Rod could only catch low-level Magikarp, the Good Rod can catch a wider variety of Pokémon – and at a higher level.
You use the Good Rod just like you use the Old Rod.
If you plan to do a lot of fishing, you might want to set the Good Rod to the Y hotkey to save you from having to open your menu every time you use it.
To cast the Super Rod, simply use it while standing next to a body of water.
When you have hooked a Pokémon, an exclamation mark will appear over your head.
Quickly press the A button to reel the Pokémon in.
Then fight the battle like you would any other wild Pokémon battle.
Good Rod Pokémon List (for Platinum)
The following Pokémon can be caught with the Good Rod at various locations around the Sinnoh region:
Magikarp
Goldeen
Barboach
Finneon
Remoraid
Lumineon
Octillery
Horsea
Guide Navigation