How To Get HM03 Surf in Pokémon Platinum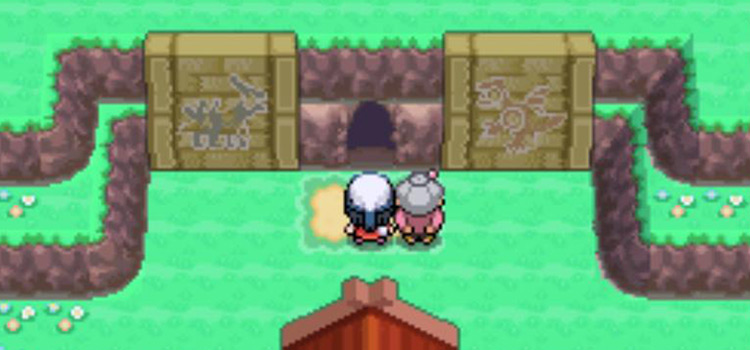 You get HM03 Surf from the Elder of Celestic Town. But this only happens after you use the Secret Potion to move the Psyducks blocking Route 210.
So to reach Celestic Town and receive Surf, the following conditions must be met:
Defeat Leader Wake in Pastoria City and receive the Fen Badge.
Catch the Grunt who set off the bomb in Pastoria Observatory and receive the Secret Potion from Cynthia.
Use the Secret Potion on the Psyduck barricading Route 210.
Defeat the Boss of Team Galactic, Cyrus, in the Celestic Ruins.
Once you've completed all these requirements, the Celestic Town Elder will give you HM03 Surf as thanks.
Surf is a Hidden Move that allows you to ride a Pokémon over bodies of water. In battle, it is a very high-powered, Water-type special attack that inflicts damage on all Pokémon in play except for the user.
Task #1: Moving the Psyduck on Route 210
If you recall, there is a pack of Psyduck blocking a path on Route 210, to the left of the café.
Once you have beaten Pastoria City's Gym Leader Crasher Wake, you can begin the chain of events necessary to remove the Psyducks.
This process will start automatically as soon as you leave Pastoria Gym after defeating Leader Wake.
Your rival will show up and inform you and Wake that a Team Galactic henchman has been hanging outside of Pastoria City's observatory, talking ominously about setting a bomb off inside it.
This enrages Wake, who dashes off to confront him.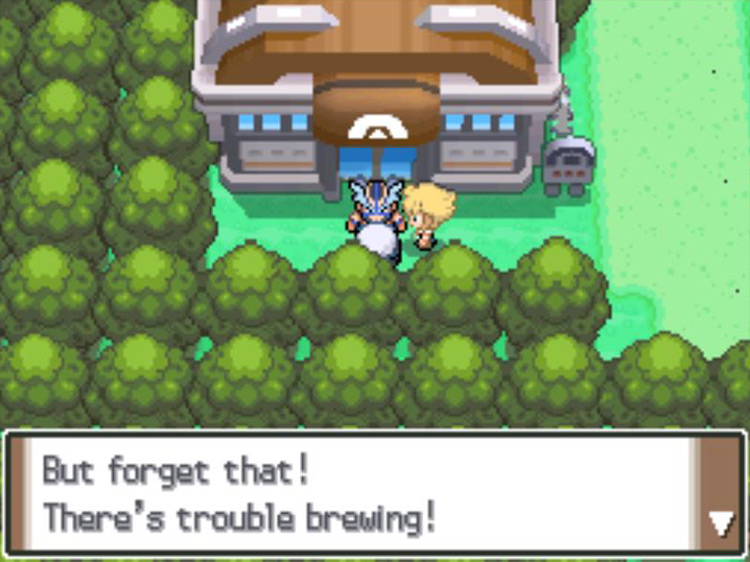 Your Pokémon are still probably weak from the battle, so heal them at the Pokémon Center, then head to the observatory at the north edge of town. Your rival and Crasher Wake will be waiting for you.
But it's too late—shortly after you arrive, a bomb inside the observatory is discharged.
The Galactic Grunt who set it off runs out of the building, and after a little banter, dashes away.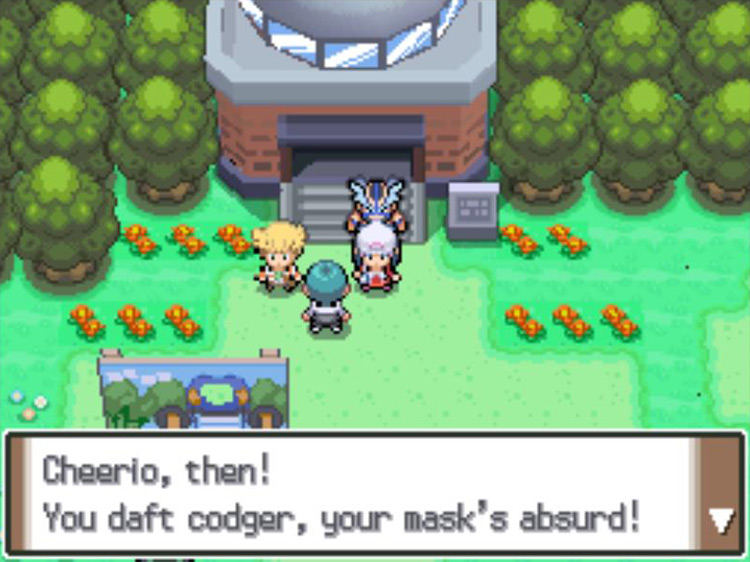 As Crasher Wake heads into the observatory to make sure no further damage is done to one of Pastoria's most important buildings, you're tasked with chasing after the Grunt.
Head east toward Pastoria's entrance gate to find the Grunt just sort of hanging around.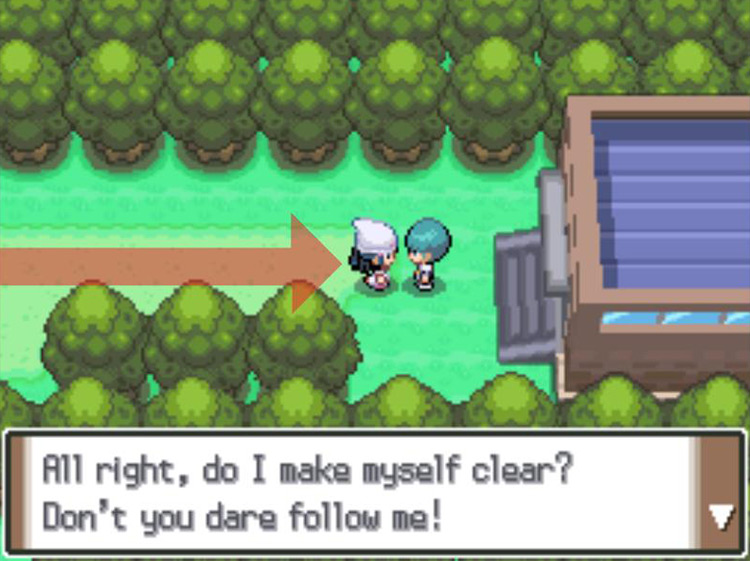 Speak with him, and he will run through the gate. Follow him through and you'll see him just on the other side. Speak with him again here.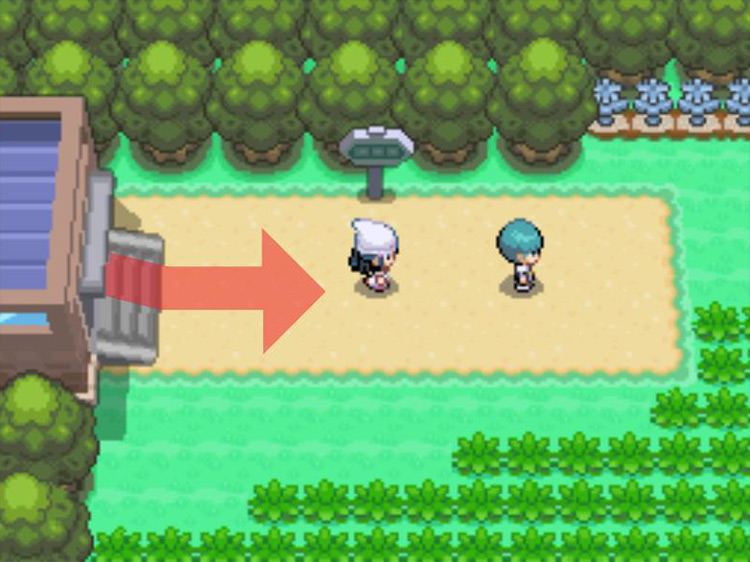 Repeat this chase/talk process a few more times. He will next head to the beach, to the southeast.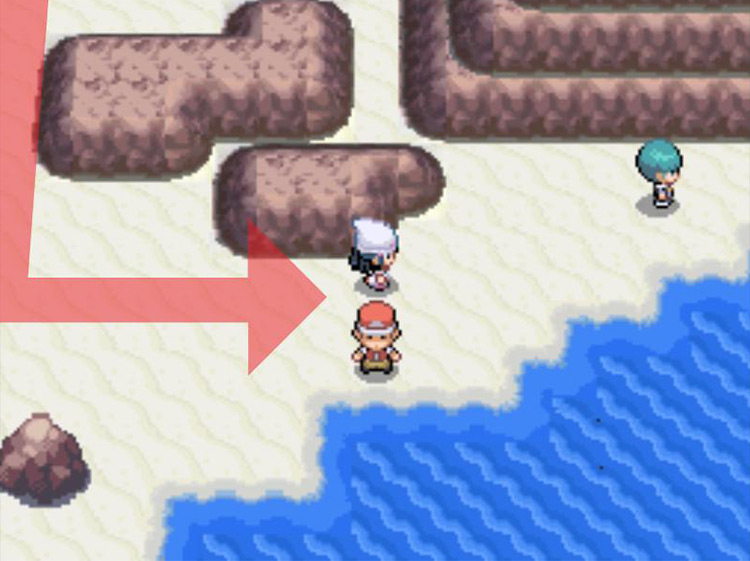 Then he will run northeast, through the Hotel Grand Lake's reception/registration building.
Find him past the building, on the northeastern part of the Hotel's complex.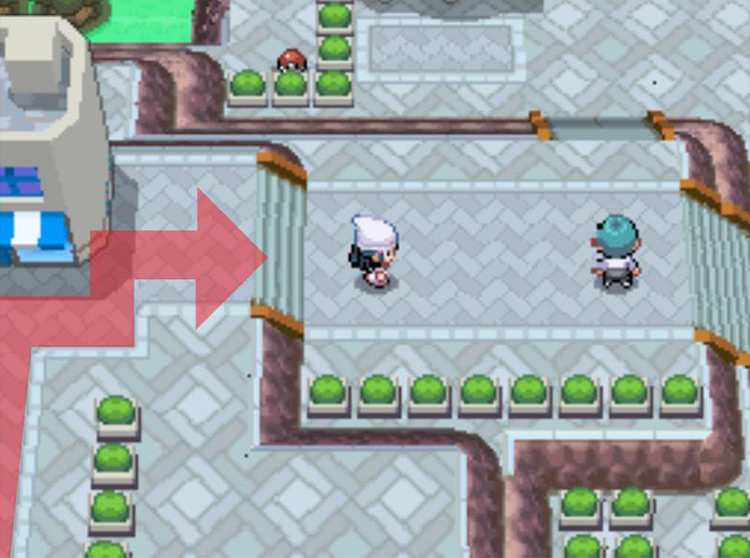 He will run down the steps to the north and stop, barely any distance at all from the last place you caught him.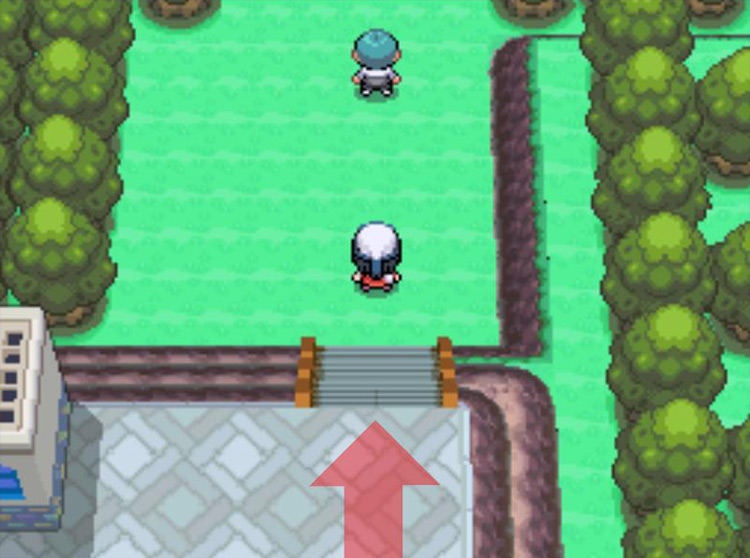 The Grunt will then complain about being too exhausted to keep running, and instead will instigate a Pokémon battle with you.
With only a level 31 Croagunk, he's as easy as all the other Grunts you've fought.
Make quick work of him, and Cynthia will show up and chat with you a bit.
She will mention the Psyduck blocking the path to Celestic Town, and hand you the item Secret Medicine, instructing you to use it on the Psyduck blockade.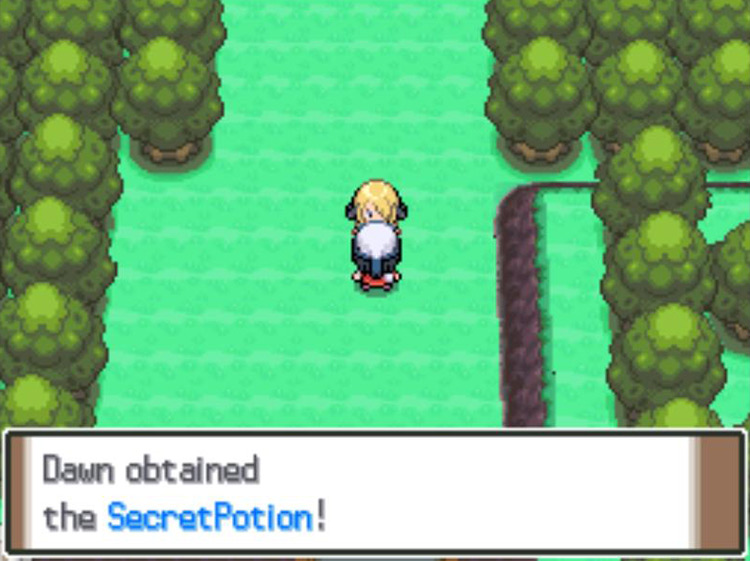 Fly back to Solaceon Town and head north until you reach the café.
Interact with the group of Psyduck, and select "Yes" when prompted to use the Secret Potion on them.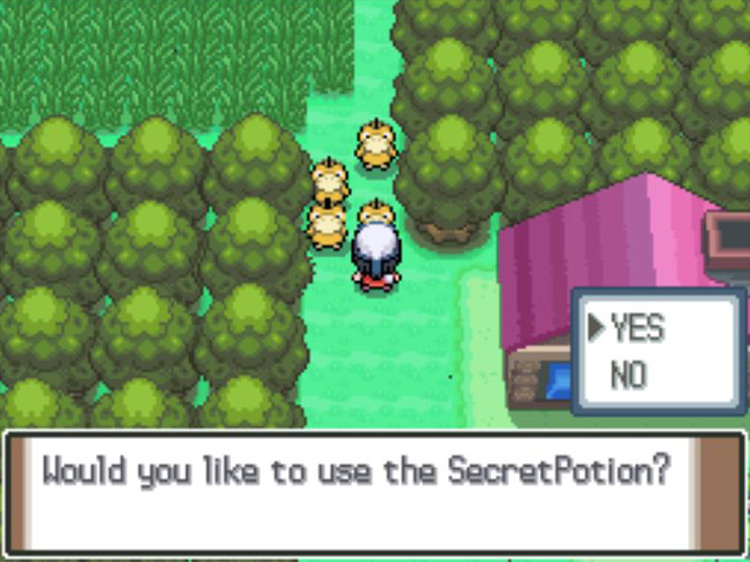 It turns out the Psyduck were all afflicted with massive headaches, which clear up as soon as they take the Potion.
They swiftly clear the area, and you're now free to head northwest to Celestic Town, home of HM03 Surf.
Task #2: Reaching Celestic Town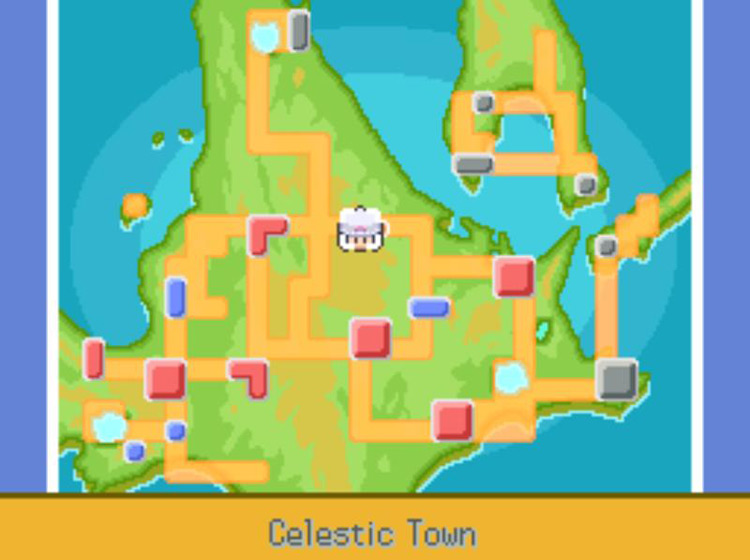 After you cure the Psyduck, Cynthia will show up again.
She will direct you to Celestic Town, and inform you that her grandmother lives there. Cynthia will hand you an Old Charm to pass to her grandmother once you arrive.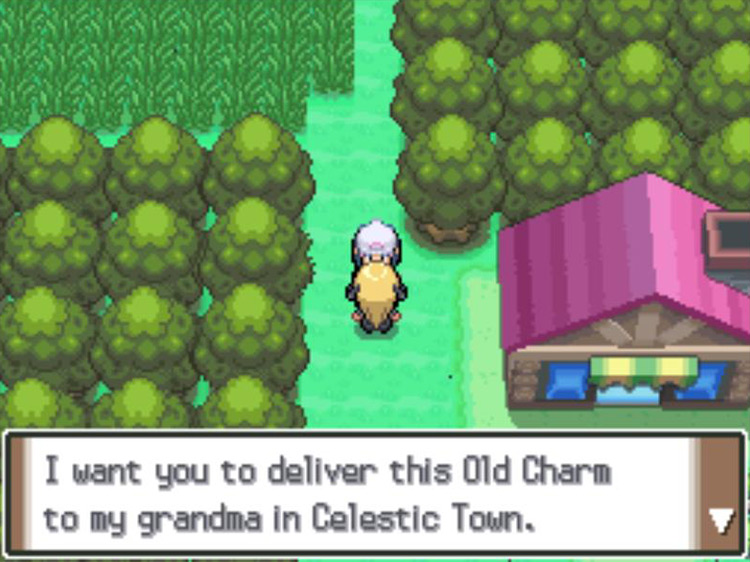 Celestic Town lies northwest of your current location where the Psyduck were cluttered together.
Before you start out, you'll want to make sure you have a Pokémon with you that knows the Hidden Move Defog. The fog will become so thick on Route 210 that it will obscure your vision and severely hinder your Pokémon's accuracy.
When you're ready, start traveling northwest, battling trainers and Pokémon when necessary.
When you arrive in Celestic Town, heal your Pokémon at the Pokémon Center, then descend the stairs to the left.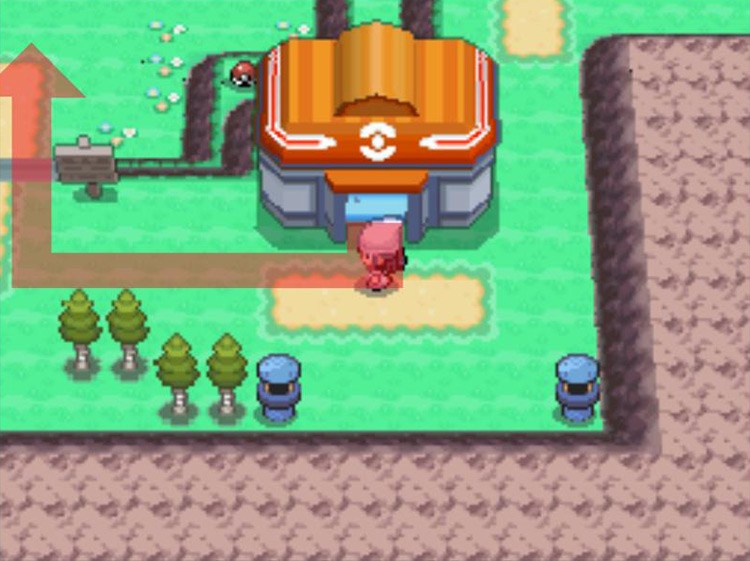 An elderly woman will stop you and mention a "weird spaceman" standing in front of the cave to the town's Ruins.
Continue down the steps and head north to find another one of Team Galactic's Grunts threatening more terrorism.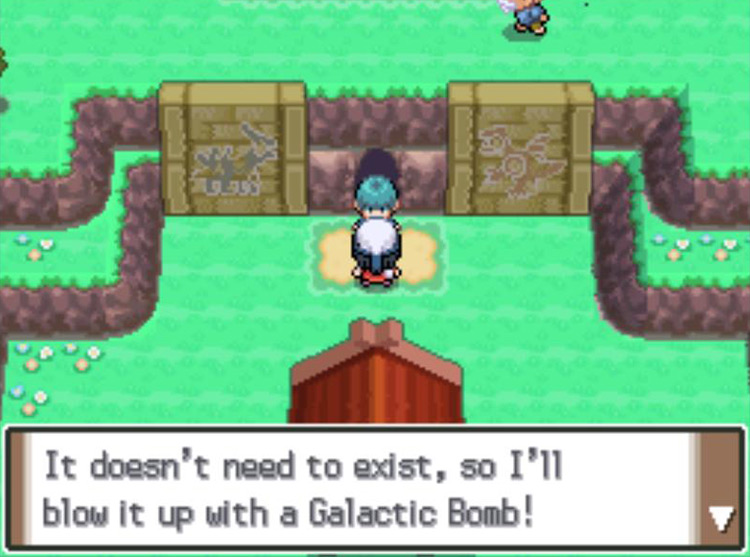 Talk with him to instigate yet another easy battle.
After you defeat him, he'll run away, and the elderly woman from before will approach and thank you.
This woman turns out to be Cynthia's grandmother, and the Elder of Celestic Town.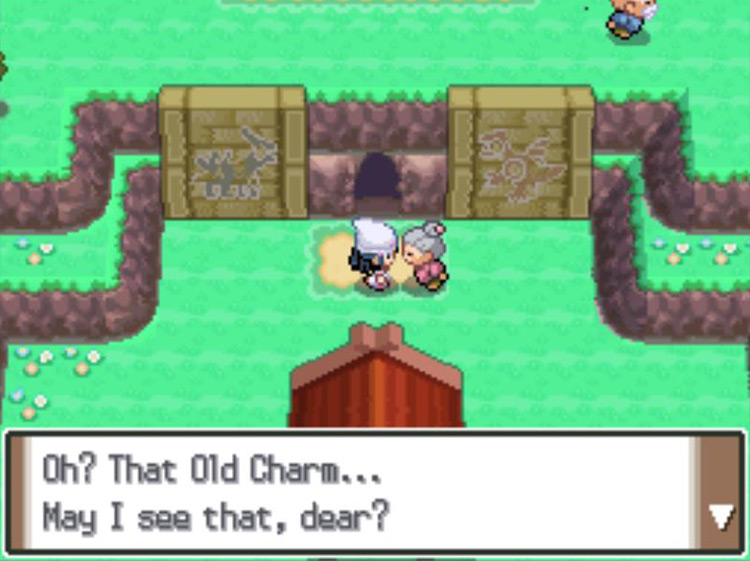 After passing the Old Charm along to her, she will encourage you to have a look around inside the cave, so head in.
The Ruins are largely just a single empty room, but there is a cave painting on the northern wall. And if you inspect it, the Elder will show up and explain what it means.
That's when a vaguely familiar blue-haired man enters the cave: Cyrus, the head of Team Galactic.
He circles around the Ruins to meet you and the Elder, and then he goes on a diatribe about his ideology, which for some reason involves destroying the cave painting you've been examining.
Choose to stop him from doing this, and the first battle with Cyrus will begin.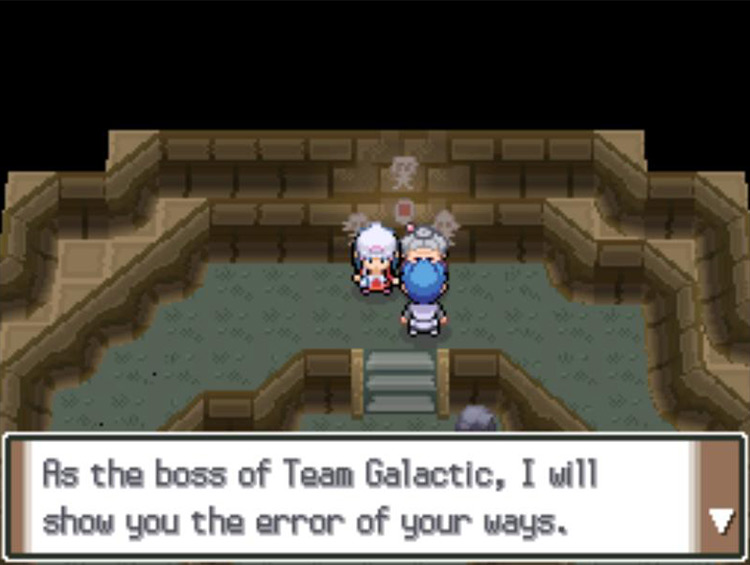 Battle with Galactic Boss Cyrus
SCROLL
Galactic Boss Cyrus
Pokémon
Level
EXP Gained
Money Earned
Sneasel
34
961
6480
Golbat
34
1245
Murkrow
36
825
Despite being the leader of an army of Pokémon trainers, Cyrus isn't too difficult in this first battle.
In fact, a single Rock-type Pokémon can easily destroy his whole team, since every one of his Pokémon has a Rock-type weakness.
Just watch out for his Golbat's abilities to poison and confuse you and you'll be fine.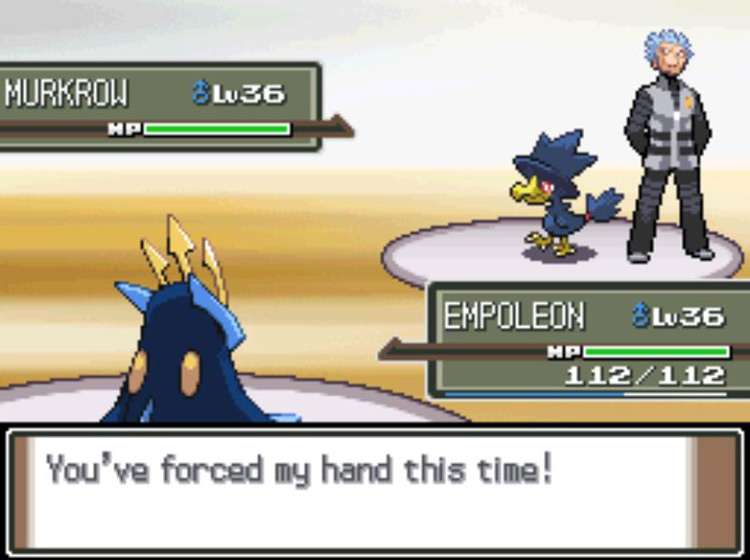 Getting HM03
After you defeat him, Cyrus will begrudgingly leave you and the Elder alone.
And to thank you for stopping part of Celestic Town's history from being destroyed, the Elder awards you HM03 Surf.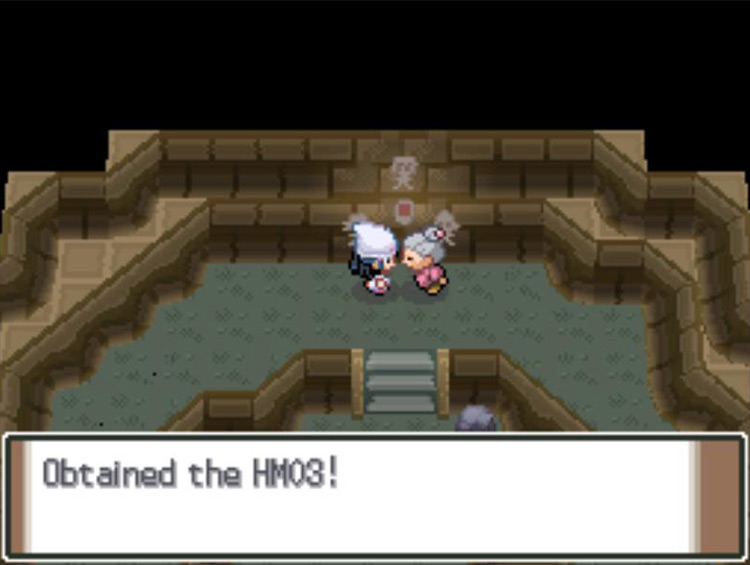 Surf Details + Uses
Using Surf in Battle
In battle, Surf is a damage-dealing, Water-type special move. It floods the battlefield with water to damage all other Pokémon in play.
Surf Move Details
Type
Water
Category
Special
Power
95
Accuracy
100
PP
15 (max. 24)
Surf has the distinction of being one of the only Hidden Moves that doubles as a decent battle move.
Surf has a very high base power of 95, and its ability to hit multiple Pokémon at once can be devastating in battle.
Bear in mind, though, that this also means you'll hit any teammates you have in a double battle. So some strategy is involved when using Surf in double battles.
Using Surf Outside of Battle
Surf is one of the most important and most often used Hidden Moves in the game.
Like Cut, Surf opens up a ton of new areas; not only is it necessary to progress the story, but you will likely find new items, TMs, and areas to explore if you use Surf on bodies of water you come across.
To use HM03 Surf outside of battle, approach a body of water and press the A button.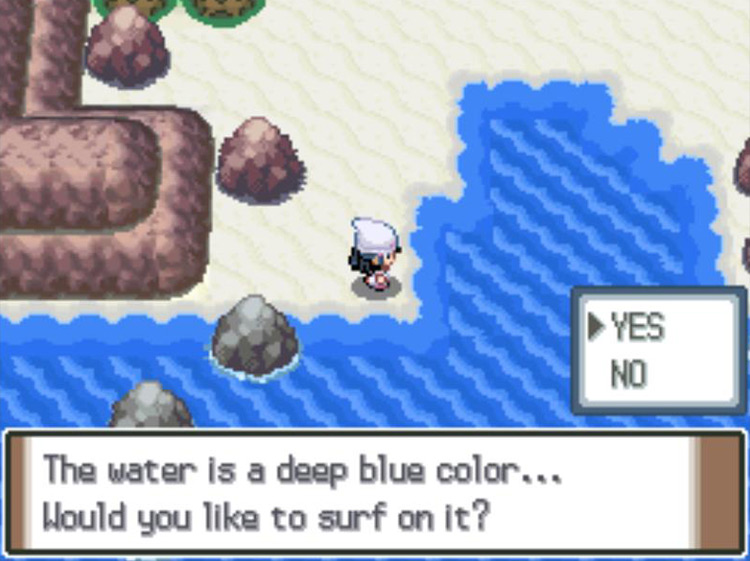 Select "Yes", and you will ride the Surfing Pokémon out onto the water.
Every body of water you passed by up until now is worth revisiting, just to Surf across it and look for hidden places and items.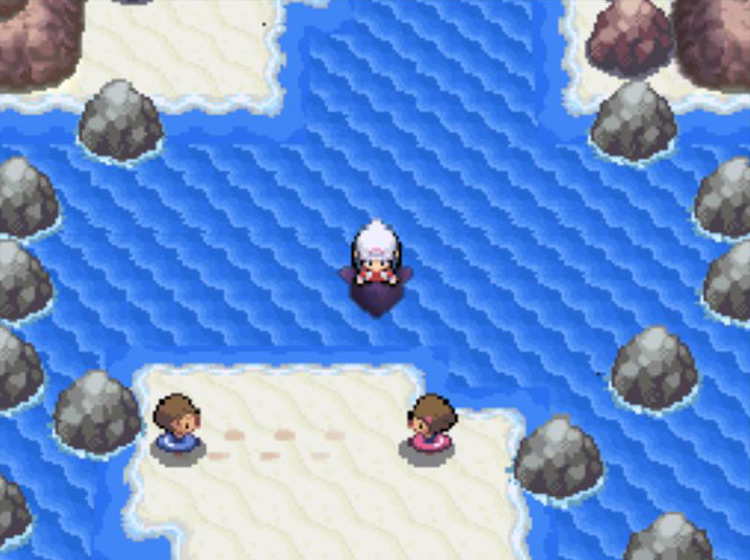 Surf also opens up the next location you need to visit to progress the story: Canalave City, which is across the water to the west of Jubilife City.
Miscellaneous facts about Surf:
If used in a Pokémon Contest in the Beauty category, Surf earns the contestant two appeal points, plus two more points if Surf is the first move used in a round.
Surf can hit a target that is in a semi-invulnerable state from using the move Dive. If it lands, it will do double damage to the Diving Pokémon.
Guide Navigation