How To Get HM04 Strength in Pokémon Platinum
HM04 Strength is found on Iron Island, which can only be accessed by taking a ship from Canalave City. You will receive HM04 from Riley during your first visit to the island.
Strength is a Hidden Move that allows you to shove heavy boulders around. In battle, it is a damage-dealing, Normal-type physical move.
To use Strength outside of battle, you must first have beaten Gym Leader Byron and received the Mine Badge from him.
HM04 Strength Location (Step-by-Step)
HM04 Strength is found on Iron Island, which lies far north of Canalave City and requires taking a ship to reach.
To locate Canalave City's harbor, first cross the drawbridge to the west of the Canalave Pokémon Center.
Once you pass the Canalave Gym, turn south.
Pass the houses, and turn right after you pass Sailor Eldritch's house.
Speak with Sailor Eldritch at the dock, and he will offer to take you to Iron Island.
Once you arrive on Iron Island, ascend the staircase to the east.
Pass the blue-roofed house here, and take the northern staircase further up the mountain.
Standing in front of the mouth of a cave is a man named Riley, an NPC who will travel through the cave with you.
When you first speak with him, he will give you HM04 Strength for free.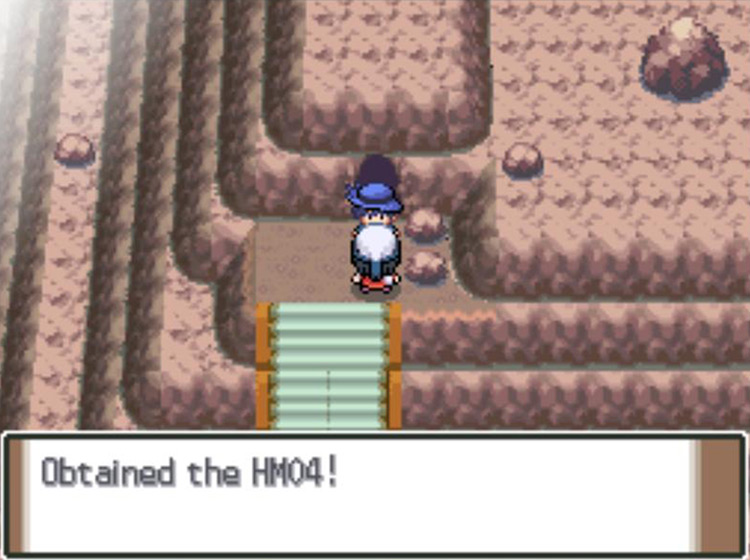 Strength Details and Uses
Using Strength in Battle
Strength is a Normal-type physical move that inflicts damage. It has no secondary effect.
Strength Move Details
Type
Normal
Category
Physical
Power
80
Accuracy
100%
PP
15 (max. 24)
With a base power of 80 and a 100% accuracy stat, Strength makes for a fairly powerful Normal-type move – but its lack of a secondary effect makes it less alluring than other moves of similar strength.
Body Slam, for instance, has a base power of 85 and a 30% chance of paralyzing the target Pokémon.
Headbutt may be weaker with its base power of 70, but it has a 30% chance of causing the opponent to flinch.
If a Normal-type move with sheer brute force is needed, a better option might be Hyper Beam or Giga Impact, both of which require two turns to use, but have a base power of 150.
Generally, Strength is a move more suited for a dedicated Hidden Move user.
Using Strength Outside of Battle
In the field, Strength is used to push heavy boulders out of the way. It requires the Mine Badge to use in this manner, so you will need to defeat Canalave City's Gym Leader first.
To activate Strength in the overworld, have a Pokémon in your party that knows Strength. Then simply interact with a boulder.
Select "Yes" when it asks if you want to use the move.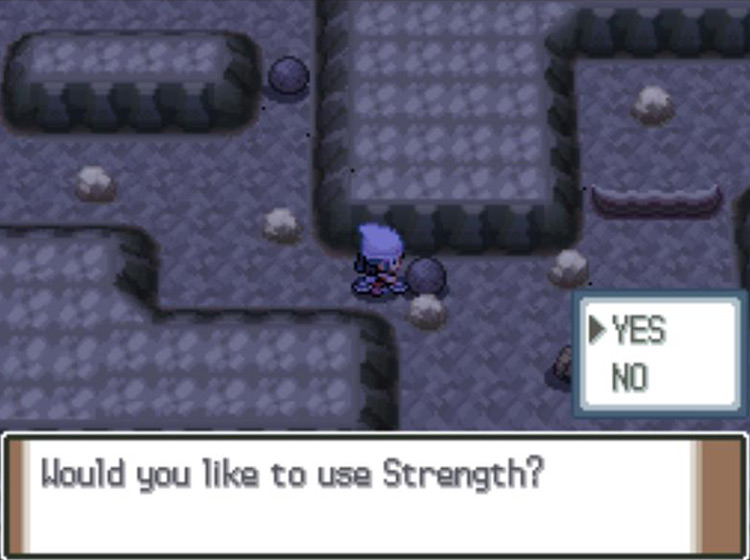 Now you will be able to push boulders aside just by walking into them.
Strength will automatically be deactivated if you leave your current area, such as by exiting a cave or taking a staircase, and any moved boulders will reset to their original positions.
Tip: If used in a Pokémon Contest, Strength will generate 3 appeal points.
Guide Navigation