How To Get TM01 Focus Punch in Pokémon Platinum
There are two ways to get TM01 Focus Punch in Pokémon Platinum:
There's one copy of TM01 in Oreburgh Gate. Getting to it requires the HMs for Rock Smash, Surf, and Strength.
Unlimited copies of TM01 can be acquired with the Pickup Ability. If a Pokémon with Pickup is between levels 71 and 90, it has a 1% chance of obtaining a copy of TM01 after every battle.
Focus Punch is a damage-inflicting Fighting-type physical move. It has very high attack power, but is slow to act, and will be interrupted if the user is attacked before it can use the move.
Getting TM01 Focus Punch (All Methods)
Method #1: Oreburgh Gate
The quickest route to TM01 Focus Punch in the Oreburgh Gate cave starts from Oreburgh City.
Make sure you have Pokémon with you that know these HMs before leaving:
When you're ready, head west on the main street from Oreburgh's Pokémon Center.
When the street pathway turns to the north, turn with it.
Take the two staircases up to Oreburgh Gate's entrance and enter the cave.
Once you're in the cave, head west through the cavern hallway, past the two trainers.
Turn down the northern hallway you'll see coming up, directly next to the Hiker NPC.
Use Rock Smash on the rock blocking the path.
Keep moving forward and then at the end of the hallway, take the stairs down to the next floor.
In the new area, take the stairs down to the south, then keep going in that direction.
Use Surf on the body of water you come across, and head west on the water.
You will soon reach another staircase when you disembark onto the land.
Descend the stairs, battling the Veteran trainer as you pass by.
Use the HM Strength to push the boulder to the left and out of your way.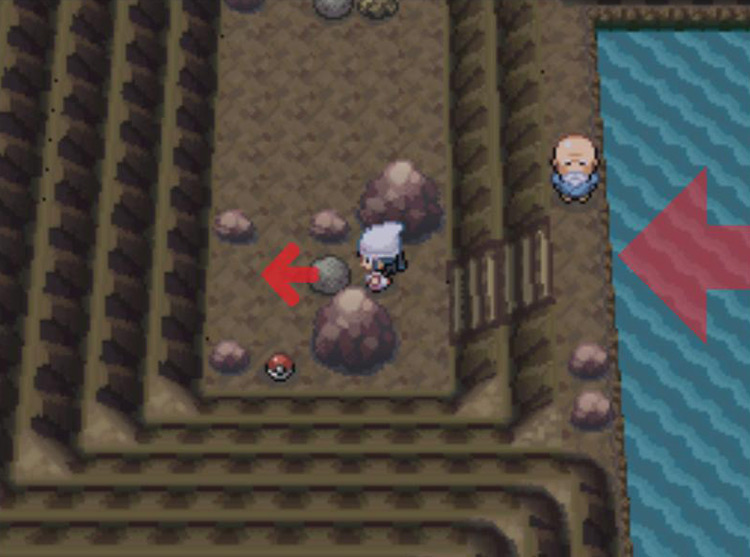 Move up to the northern end of this small chamber, then use Rock Smash and Strength to remove all obstacles in your way.
Pick up the Pokéball item here to collect TM01 Focus Punch.
Method #2: The Pickup Ability
This method of obtaining Focus Punch requires a Pokémon between levels 70 and 91 with the Pickup Ability.
A Pokémon with Pickup has a small chance of obtaining new held items after battles. Which item it picks up depends on its level; in this case, a level 70-91 Pokémon has about a 1% chance of acquiring a copy of TM01 Focus Punch after a battle.
This method is endlessly repeatable, but can take a very long time because of its low success rate.
Focus Punch Details + Uses
Focus Punch is a damage-dealing, Fighting-type physical move. It has an extremely high base power but a decreased priority, and it fails if the user is attacked before acting.
Focus Punch Move Details
Type
Fighting
Category
Physical
Power
150
Accuracy
100%
PP
20 (max. 32)
Priority
-3
As with most moves with a base power over 100, Focus Punch's glaring weakness makes using it a gamble.
Any direct attack will disrupt it, and its low priority makes this very likely to be the case, unless the opponent uses a turn to switch Pokémon or use a status move or item.
One effective strategy is to use Focus Punch from behind a substitute, where the user cannot be attacked. Another strategy would be to use the moves Spore or Yawn to put the target to sleep before using Focus Punch.
Otherwise, landing a hit with Focus Punch is largely a matter of reading your opponent and/or sheer luck.
Miscellaneous info about Focus Punch:
Focus Punch's PP is consumed even if it's interrupted by an attack.
Focus Punch will earn 1 Appeal Point if used in a Pokémon Contest, unless no other contestant has chosen the same judge, in which case it will earn 3 bonus Appeal Points.
Guide Navigation