How To Get TM14 Blizzard in Pokémon Platinum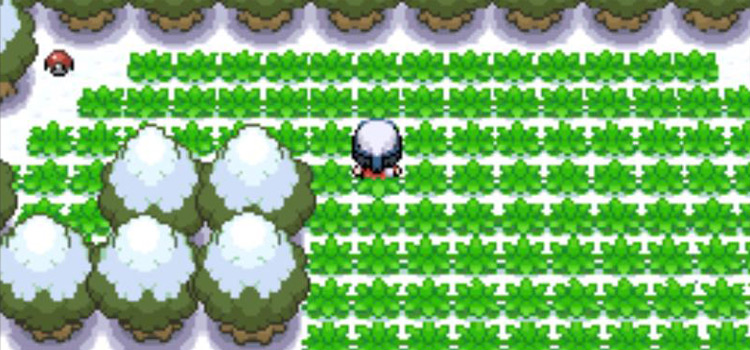 TM14 Blizzard can be found in two locations in Pokémon Platinum:
In the northeast corner of Lake Acuity. Reaching this copy of the TM requires Rock Climb and Surf.
Unlimited copies are available for purchase at the Veilstone Department Store. The Blizzard TM costs 5,500 PokéDollars each.
Blizzard is a damage-dealing Ice-type special move. It has a very high base power and a chance to freeze the opponent, but at the cost of accuracy.
TM14 Blizzard Locations
Location 1: Lake Acuity (Step-by-Step)
The earliest available copy of TM14 Blizzard is at Lake Acuity on a big patch of land in the northeast corner of the area.
Finding the TM requires Pokémon that know the Hidden Moves Surf and Rock Climb. This means you won't be able to pick it up until you defeat Snowpoint City's Gym Leader Candice and get the Icicle Badge from her.
Once you can use both Hidden Moves outside of battle, we can head to Acuity Lakefront.
Here's how to get there:
From Snowpoint City's Pokémon Center, head to the northwest.
Turn southward to pass through the break in the trees and approach the Snowpoint shipyard.
Walk down the stairs and turn west.
Ascend the staircase at Snowpoint City's western entrance, and continue traveling westward to enter Acuity Lakefront.
When the terrain opens up and starts to become overrun with tall grass, move northwest to slip through the space between the trees.
On the side of the mountain, there is a noticeably rocky section. Use Rock Climb here to scale the mountain to the top.
Enter Lake Acuity to the northwest.
Once you're inside, use Surf at the lake and surf northeast across the lake's surface.
Pass the cave and keep moving to the northeast.
In the northeastern corner of the lake is an isolated grassy clearing. Land here and head north.
Go all the way up until you hit a line of trees, then turn westward when you can.
TM14 Blizzard can be seen as a Poké Ball item in the northwestern corner of the clearing.
Location 2: The Veilstone Department Store
TM14 Blizzard can also be purchased from a clerk on the third floor of Veilstone Department Store. This is just a short walk to the northwest of Veilstone City's Pokémon Center, on the same raised strip.
Once inside the Department Store, take the elevator or escalators up to the third floor, which is dedicated to selling TMs.
Speak to the clerk behind the southwestern counter to purchase TM14 Blizzard for 5,500 PokéDollars.
Note that there is no limit on the number of times you can purchase TM14 from the Department Store.
Blizzard Details and Uses
Blizzard is a damage-dealing Ice-type special move with a high base power. It also has a 10% chance of freezing the target.
Blizzard Move Details
Type
Ice
Category
Special
Power
120
Accuracy
70%
PP
5 (max. 8)
Blizzard's impressive 110 base power is hindered by its 70% accuracy stat and low PP.
The 10% chance of freezing the opponent is almost laughable on a move that can only be used five times – especially because one or two of those times are almost guaranteed to miss.
Other Ice-type Moves
There is a debate around whether Blizzard or Ice Beam is the better Ice move.
Ice Beam's 95 base power is quite lower than Blizzard's 120 (the base power levels of both moves are lowered in later games, to 90 and 110, respectively).
But Ice Beam has 100% accuracy and double the PP, making it more reliable and versatile than Blizzard.
Ice-type Pokémon's defenses have never been one of their strong points, either. So they're arguably more at risk from the dangers of a wasted turn than other types.
This makes Ice Beam's reliability more of an asset than Blizzard's brute strength in most cases.
It should be noted that when you use Blizzard during a hailstorm — such as what you can summon by the move Hail — its accuracy jumps to 100%.
This can be a viable strategy, but it does require taking up a moveslot with Hail just to make Blizzard work better.
Miscellaneous information about Blizzard:
A copy of TM14 Blizzard can be sold for 2,750 PokéDollars.
If Blizzard is used in a Pokémon Contest, it will earn the user 2 Appeal Points, plus 2 bonus Appeal Points if the user performs first in that turn.
Guide Navigation