Where To Get TM54 False Swipe in Pokémon Platinum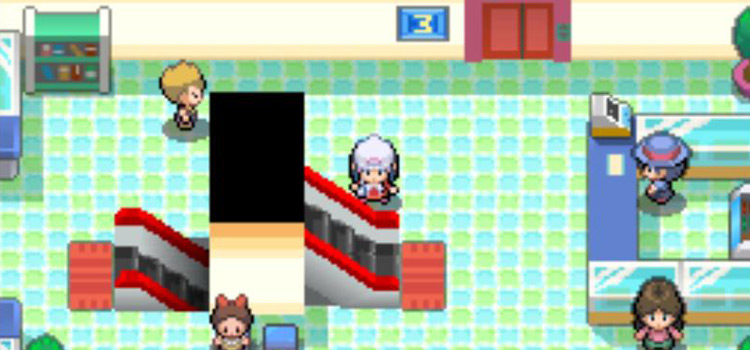 You can only get TM54 False Swipe on the third floor of the Veilstone Department Store. It costs 2000 PokéDollars, and you can purchase an unlimited number of copies.
False Swipe is a damage-dealing Normal-type physical move that always leaves the target with at least 1 HP.
This move is incapable of knocking out an opponent, making it perfect for catching wild Pokémon.
TM54 False Swipe Location
TM54 False Swipe is available for purchase from a clerk on the third floor of Veilstone Department Store, which is just a short walk to the northwest of Veilstone City's Pokémon Center.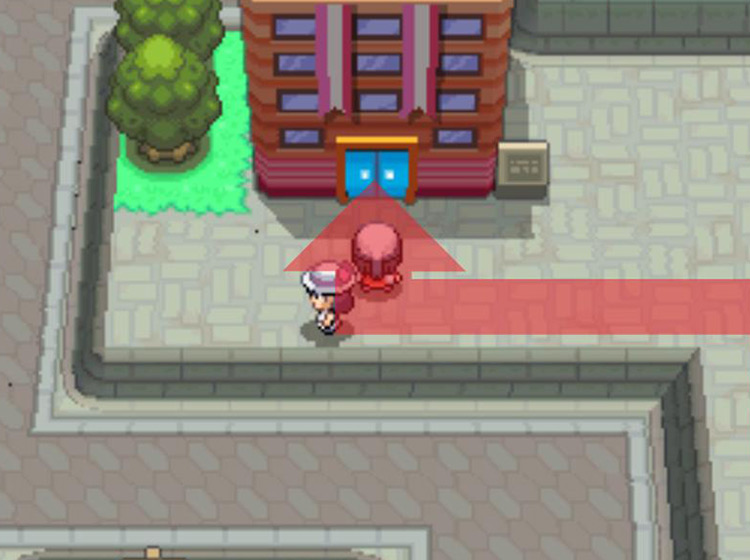 Once inside the Department Store, take the elevator or escalators to the third floor which is dedicated to selling TMs.
Speak to the clerk behind the northwest counter to purchase TM54 False Swipe for 2000 PokéDollars.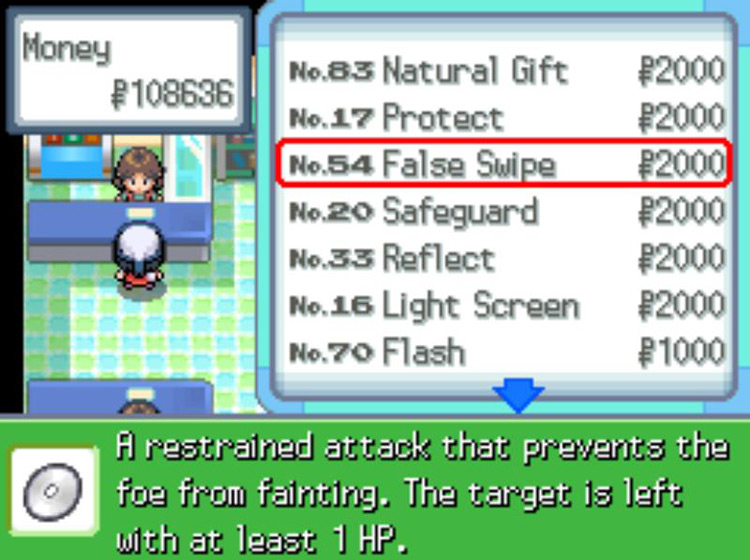 This is the only way to get TM54 False Swipe, but you can buy as many copies as you need.
False Swipe Details and Uses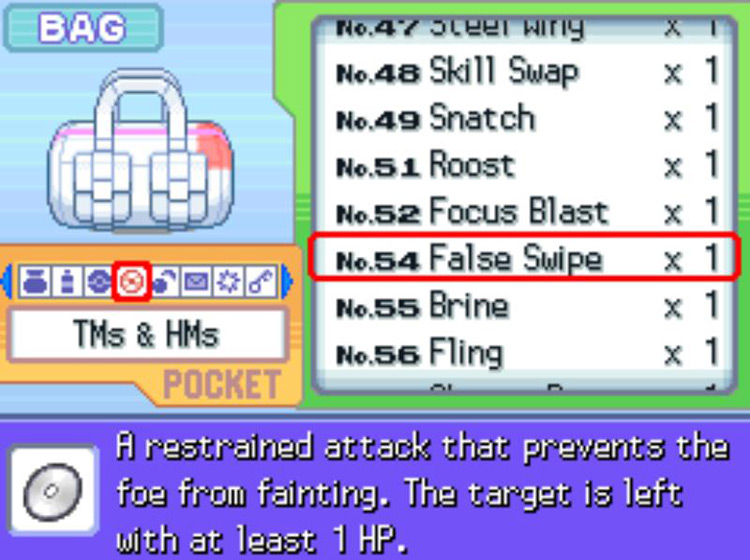 False Swipe is a damage-dealing Normal-type physical move that will always leave the target with at least 1 HP, preventing it from being knocked out.
False Swipe Move Details
Type
Normal
Category
Physical
Power
40
Accuracy
100%
PP
40 (max. 64)
False Swipe has no place in competitive play, since it has an extremely low base power stat and is incapable of knocking an opponent out. Even if the target has 1 HP remaining, False Swipe will do zero damage.
But having a dedicated False Swipe user does wonders to help you catch tricky Pokémon in a single-player playthrough of the game.
One of the first things a Pokémon game teaches you is that the probability of catching a Pokémon increases as that Pokémon's HP decreases. So leaving a wild Pokémon with a single Hit Point will guarantee you the highest odds of catching it.
But several other factors also determine a Pokémon's catch rate, including the target's status condition (whether the Pokémon is frozen, asleep, burned, paralyzed, or poisoned). Of those options, frozen and sleeping Pokémon being the easiest to catch.
So the perfect dedicated False Swipe user would be a Pokémon that can learn both False Swipe and a sleep- or freeze-inducing move. Options could include a Breloom with Spore or a Gallade with Hypnosis.
Gallade is especially handy because it can also learn Mean Look (which prevents a Pokémon from fleeing the battle) and Taunt (which keeps them from using Roar or recovery moves).
Miscellaneous Information about False Swipe:
If the opposing Pokémon is using a substitute, False Swipe is capable of destroying it (as opposed to merely leaving it with 1 HP).
If used in a Pokémon Contest, False Swipe earns the user no Appeal Points, but raises its user's score in low-Voltage conditions.
TM54 False Swipe can be resold for 1000 PokéDollars.
Guide Navigation