How To Get TM80 Rock Slide in Pokémon Platinum
You'll find TM80 Rock Slide fairly deep into Mt. Coronet. But to reach the TM you'll need to be able to use Rock Climb, Surf, and Strength outside of battle.
And this is the only way to get TM80 in Pokémon Platinum.
As for the move itself: Rock Slide is a damage-dealing Rock-type physical move that also has a 30% chance of making the target flinch.
TM80 Rock Slide Location (Step-by-Step)
You can only pick up this TM after defeating Snowpoint's Gym Leader Candice for the Icicle Badge, because this is when you will have access to Rock Climb.
Once this is accomplished, make sure you have Pokémon with these HMs in your party:
Then Fly to Oreburgh City and begin heading north from the Pokémon Center.
Head up the stairs to leave through Oreburgh's northern entrance.
Go downstairs into the pit where the Cyclist NPC is.
Then get on your Bicycle, switch to fourth gear, and ride up the muddy slope at maximum speed to get uphill.
Once you are uphill, turn eastward into the canyon.
Head eastward through the canyon, past the trainers, until you reach the entrance to Mt. Coronet.
Immediately upon entering the cave, use Surf to cross the pond to the north.
On the other side of the water, head southeast, ignoring the staircase and the ledge. Use Rock Climb on the rocky wall and climb the stairs.
Head north and then turn west in this new hallway (ignoring the staircase).
Head as far west as you can here, then turn to the south.
Use Strength on the boulder blocking your path to push it forward.
With the boulder out of the way, head up the stairs and continue northward.
Cross the bridge at the end of the path, then circle around and go down the stairs.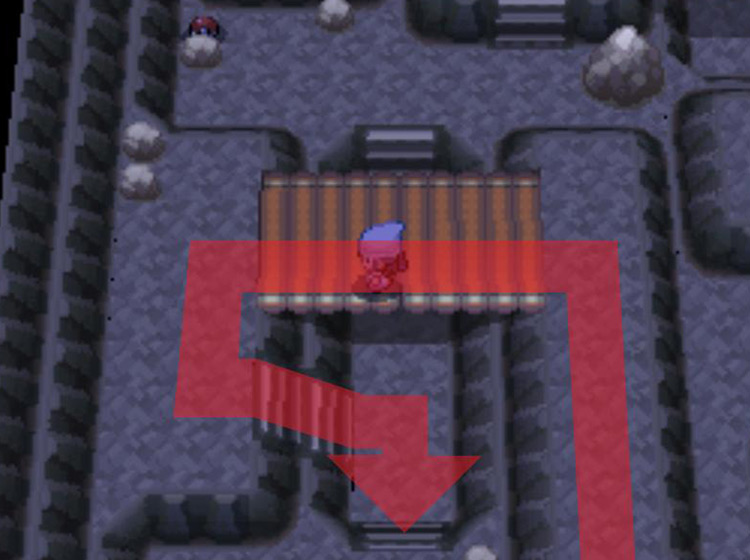 From here, head south to go up a second staircase.
Then in the new area just follow the narrow hallway down to the end to find a Poké Ball item on the ground.
Pick this up to acquire TM80 Rock Slide.
Note: This is the only copy of TM80 Rock Slide in the game, so give some thought to which Pokémon you want learning the move before you use it.
Rock Slide Details and Uses
Rock Slide is a damage-dealing Rock-type physical move. It also has a 30% chance of making the opponent flinch.
Rock Slide Move Details
Type
Rock
Category
Physical
Power
75
Accuracy
90%
PP
10 (max. 16)
Rock Slide isn't an exceptionally strong move.
And like many other Rock-type attacks, Rock Slide suffers from a lower accuracy stat.
However, Rock Slide makes up for the occasional miss and lackluster base power in two key ways.
First: flinching. The 30% chance of flinching is one reason why many people teach Rock Slide even to non-Rock Pokémon. While a 75 base power isn't impressive, having to skip turns from flinching while being bombarded with such an attack can be ruinous for entire teams.
Second: Rock Slide has the ability to hit multiple targets in double battles.
Unlike most multi-target moves like Surf and Earthquake, Rock Slide only hits opponents. And each opponent hit from Rock Slide has its own chance of flinching.
If you teach Rock Slide to a fast enough Pokémon, that Pokémon could potentially dominate a doubles match.
Whether or not Rock Slide is worth learning over Stone Edge (another Rock-type favorite) is entirely dependent on your Pokémon and strategies.
Miscellaneous info about Rock Slide:
TM80 Rock Slide can be sold for 1,500 PokéDollars.
If Rock Slide is used in a Pokémon Contest, it earns the user 3 Appeal Points.
Guide Navigation