How To Have a Child in SoS: FoMT (Growth Stages + Child Tips)
In Story of Seasons: Friends of Mineral Town, having a child is a mandatory in-game event that occurs after marriage. Even same-sex couples can have a child via the Harvest Goddess' blessing, and you can have them with each special marriage candidate as well.
Having a child is as simple as waiting for the milestone event after your marriage ceremony. For opposite-sex couples, pregnancy will occur after 30 days and the child will be born after 60 days.
For same-sex couples, the Harvest Goddess will visit you 90 days after your marriage ceremony and ask you to adopt a child.
There's no option to skip pregnancy or reject a baby, so having a child is just one of the things you'll inevitably experience in SoS: Friends of Mineral Town.
How To Get Pregnant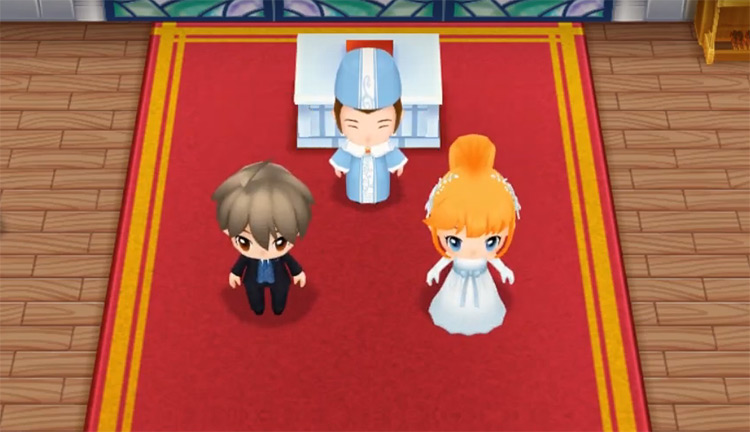 Before you can have children, you need to get married to a spouse first. So you'll need to romance someone before you can raise a baby.
You'll generally need to complete the following requirements before someone accepts your hand in marriage:
60,000 LP or a red heart level with any marriage candidate
View all heart events
Upgrade to the Big House
Purchase the Large Bed
Propose with a Blue Feather
Special marriage candidates (Bon Vivant, Harvest Goddess, Huang, and Kappa) have their own set of unique requirements before they'll agree to marry you.
After 90 days of being happily married, you'll have a new baby in your home one way or another.
Marrying an Opposite-sex Spouse
Exactly 30 days after your wedding ceremony, you (if you're playing as a girl) or your female spouse will wake up feeling sick.
You'll visit Doctor at Mineral Clinic together where he announces that you're expecting a baby.
The day after the pregnancy announcement, the Harvest Goddess will visit your home and ask if you want a boy, a girl, or a surprise.
The option you pick will determine the sex of your baby once they're born.
60 days after the visit to Doctor's clinic, you or your spouse will give birth in a special all-day event. You can choose the baby's name after the cutscene.
Marrying a Same-sex Spouse
In a same-sex marriage, neither of you will get pregnant. Instead the Harvest Goddess will visit you 90 days after the marriage ceremony and ask you for a favor.
You get to choose the gender of your child, and the Harvest Goddess will leave a new baby in your bed.
After this scene, your spouse will appear and is confused at first, but eventually agrees to raise the baby with you.
Together you'll choose a name and start to raise the child together.
Child Care Growth Stages
Your baby won't ever grow up into a full adult. But it will go through growth stages in the first 120 days of its life, and then ultimately it stays a toddler for the remainder of the game.
As your child grows up, they'll have different likes and dislikes when it comes to gifts. You can start earning Friendship Points (FP) with your baby when they enter the second growth stage after 60 days.
Growth Stage 1: Infant
During the first 60 days of your baby's life, they won't actually be able to do anything.
You will not be able to interact with them, either, as your spouse will usually have the role of taking care of them as you work on the farm.
60 days after they're born, an event will trigger and you wake up to find that the baby has fallen out of bed.
You have two dialogue responses to choose from:
Response
Consequence
Everything's fine.

-2,000 LP with spouse
-10 FP with baby

Quick, to the Clinic!

+3,000 LP with spouse
+20 FP with baby
+20 FP with Doctor
Either way, the baby will be taken to Mineral Clinic for a check-up and will be completely fine.
The following day, it will enter the second growth stage and start to crawl.
Growth Stage 2: Baby (Crawling)
Once the baby is 60 days old, it can start to move around the house and crawl on its own.
You're now able to interact with them and give them gifts.
Gift Preferences
Crawling Stage Gift Preferences
Loved (+9 FP)
Baumkuchen, Cake, Carbonara, Cheese Souffle, Cheesecake, Grape Juice, Apple, Ice Cream, Pancakes, Strawberry Milk (dish), Udon, Wild Grapes, Yarn
Liked (+3 FP)
Ajillo, Apple, Bagna Cauda, Baked Apple, Blue Magic Red Flower, Branch, Candied Peels, Carrot, Chocolate, Dorayaki, Fruit Juice, Fruit Smoothie, Mayonnaise, Milk, Mixed Juice, Mixed Smoothie, Moondrop Flower, Orange, Orange Juice, Orange Pastries, Orangette, Pet Ball, Pineapple, Pineapple Juice, Pink Cat Flower, Relax Tea Leaves, Rock, Soybeans, Strawberry, Strawberry Cake, Apple, Toy Flower, Vegetable Juice, Yam Dessert
Growth Stage 3: Toddler
Exactly 60 days after your baby starts to crawl (this will be 120 days after they're born), they will finally learn how to walk.
Nothing's really changed at this point, except that they can now stand upright and they have different gift preferences.
They'll stay at this growth stage for the rest of their lives in Mineral Town.
Gift Preferences
Toddler Gift Preferences
Loved (+9 FP)
Apple Pie, Baumkuchen, Bibimbap, Cake, Carbonara, Cheese Fondue, Cheesecake, Chocolate Cookies, Cookies, Fruit Smoothie, Grape Juice, Ice Cream, Madeleine, Moondrop Flower, Nasi Goreng, Omelet Rice, Pancakes, Pink Cat Flower, Strawberry Milk, Toy Flower, Wild Grapes
Liked (+3 FP)
AEPFE Apple, Ajillo, Apple, Bagna Cauda, Baked Apple, Blue Magic Red Flower, Branch, Candied Peels, Chocolate, Empty Can, French Fries, Apple, Letter in a Bottle, Matsutake, Mayonnaise, Milk, Mixed Juice, Mixed Smoothie, Orange, Orange Juice, Orange Pastries, Orangette, Pet Ball, Pineapple, Pineapple Juice, Relax Tea Leaves, Rock, Strawberry, Blue Magic Red Flower, Vegetable Juice, Wool, Yam Dessert, Yarn
Guide Navigation