Ultimate Guide to Cows & Milk (SoS: FoMT)
Cows are a staple barn animal that can be bought from Mugi's ranch for 5,000 G. If taken care of properly, they will give you Milk every day – one of the most profitable animal products in the game.
This guide will tell you all you need to know about taking care of cows, and the things you can do with Milk in Story of Seasons: Friends of Mineral Town.
Note: we'll be focused just on regular cows here, but there are 3 types of specialty cows that you might be interested in as well: coffee cows, fruit cows, and strawberry cows.
How To Get a Cow
There are actually two methods to obtaining your very own cow: buying one or breeding.
All barn animals and their breeding kits will be available at Yodel Ranch. You can buy them from Mugi here, or choose to breed one by yourself on the farm.
There are different prerequisites and benefits for both ways, though, so choose which method works for you.
1. Purchasing from Yodel Ranch
The only way you can get your first cow is by buying it at Yodel Ranch.
Yodel Ranch is located at the lower right portion of Mineral Town, easily accessible from any of the paths. Mugi is available at the shop from 10 AM to 3 PM, except for Mondays and holidays.
Upon entering, you'll see the owner Mugi at the counter.
Interact with him to open the shop's menu and select the cow you want to purchase.
Aside from the money needed to buy the cow, you don't need to accomplish anything else in the game to unlock access to cows.
The basic barn can hold a total of 8 animals, but you can buy a barn upgrade from Gotts to house up to 16.
Take note that you'll need the following before you can buy the cow:
5,000 G
Available space for a new animal in the barn
And once you've bought your new calf, you'll need these things to take care of it properly:
The Brush and Milker can be bought from Saibara's Forge at the start of the game.
Fodder can be purchased from Mugi's shop, or harvested from wild grass on your farm.
2. Breeding Cows
Mugi sells Cow Breeding Kits at Yodel Ranch for 3,000 G.
This is much cheaper compared to buying a new calf entirely. It also comes with a bunch of benefits you wouldn't be able to get if you just kept directly buying new animals.
The only requirement for this is that you need to have an adult cow living in your barn so you can use the Kit.
To use the Cow Breeding Kit, simply equip it as a tool and select any adult cow.
Remember that you should only use it on the same type of cow that you want to breed.
Regular cows will only give birth to regular calves, strawberry cows will only give birth to strawberry calves, and so on.
The following conditions should be met for the breeding to be successful:
There is available space in the barn for another animal
The cow you're breeding has fully matured (can produce milk)
The main purpose for breeding cows instead of buying them is to increase their maximum heart level.
Cows born directly on your farm are more inclined to like you!
Cow Heart Levels
Cows that are bought from Yodel Ranch can only reach a maximum of 5 hearts.
This heart level determines the quality of the products you can get from your cow.
Regular Milk Quality Guide
Size/Quality
Heart Level
S (Small) Milk
0-3 hearts
M (Medium) Milk
4-7 hearts
L (Large) Milk
8-10 hearts
G (Gold) Milk
P (Platinum) Milk
X Milk
For each generation of animals bred on your farm, the maximum heart level of the calf increases by one.
You can actually continue the cycle of breeding until you get cows that max out at 10 hearts.
Taking Care of your Cows
Once you bring your new calf home from Mugi's ranch, it won't be ready to give you milk yet.
You still have to raise them for 9-14 days until they are fully mature.
If you don't raise them properly, they won't be able to give you milk or other animal products.
If you leave your calf alone, it will mature into a fully grown cow after 14 days.
However you can also feed them daily and give them attention regularly. If you do this consistently, the calf can mature in as early as 9 days.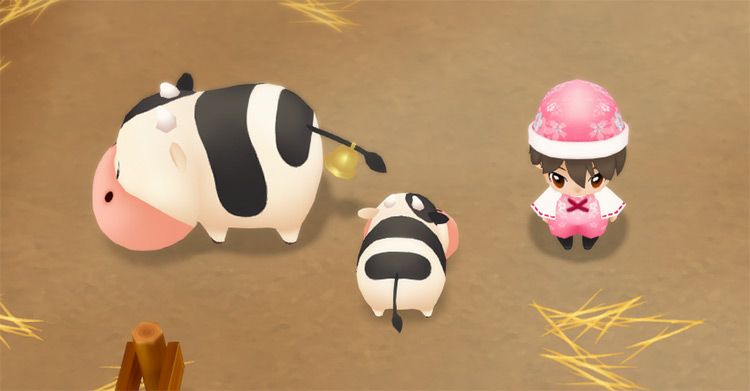 Your cow will only eat Fodder, which you can harvest from the wild grass growing on your farm.
Simply equip the sickle in the tools menu, and use it on the grass.
If you run out of grass, you can buy some fodder from Mugi at 20 G each. Jeff also offers grass seeds at the General Store for 500 G if you'd prefer to grow your own.
To feed them, place enough fodder in the trough to feed all the animals you have in the barn.
Each cow will only need one bundle per day.
If you give them too much food, it will just disappear the next day and waste the fodder.
There are also things you can do daily to steadily increase your friendship levels with your cow. Performing any of the following tasks will earn you +1 FP for each action:
1. Talking to your Cows
Talking to your cow once every day is actually a pretty effective way to earn their affection.
While you're feeding your cows, take the time to interact with each one to strengthen your relationship.
2. Brushing
The brush can be bought from Saibara at the Forge for 800 G.
Equip the Brush tool and interact with your cow to groom them for some extra love points.
3. Hand feeding
You can feed your cow in multiple ways, but hand feeding is the best for boosting friendship.
It's much more personal than letting your cow graze outside or just dropping some Fodder in the troughs.
4. Grazing outside
If you have some spare grass growing on your farm, you can take the cows outside and let them graze during sunny days.
To open the barn and let them outside, ring the bell located on the left side of the barn door.
The cows will head out of the barn and lounge around the farm while you work.
At 8 PM, the bell automatically rings again and the cows will make their way back inside on their own.
What To Do With Milk
After 9-14 days, you'll finally have an adult cow on your farm.
And to harvest their Milk, you'll need to buy the Milker.
This can be bought from Saibara at the Forge along with the Brush. It costs 3,000 G and can only be purchased once.
Selling Milk
The quality of the milk is dependent on the cow's heart level. This is why taking care of your cow is important, because higher friendship means a higher selling price.
You can also unlock better prices by completing certain in-game events, like the Moo Moo Festival.
Milk Selling Guide
Milk
Requirements
Sell Price
S (Small) Milk

0-3 hearts with any mature cow

100 G
M (Medium) Milk

4-7 hearts with any mature cow

220 G
L (Large) Milk

8-10 hearts with any mature cow

360 G
Gold (G) Milk

8-10 hearts with any mature cow
The farmer has previously won the Moo-Moo Festival

500 G
Platinum (P) Milk

8-10 hearts with any mature cow
The farmer has previously won the Moo-Moo Festival
The cow has spent a total of 1,000 hours outside

600 G
X Milk

There is a 1 in 255 chance that a cow producing (P) Milk will produce X Milk

800 G
Note: The prices listed above are for the Normal game mode. If you've chosen to play in Simple mode, they'll sell for a bit more (+20%) gold.
Milk Products
Milk from regular cows can be processed into Cheese or Butter.
These are both created using Maker Machines.
To unlock the Maker Machines, you'll need to upgrade your barn to a bigger size first. And to upgrade the barn, just head over to Gotts' Workshop south of Mineral Town with the following materials:
6,800 G
400 Lumber
250 Stone
After you upgrade the size of your barn, you'll receive a letter in the mail from Saibara telling you that his Maker Machines are finally available for purchase.
Each Machine will sell for 20,000 G and one piece of Adamantite.
You can only buy one Maker Machine at a time, and it will be installed in your barn one day after the purchase.
The Cheese Maker turns milk into cheese, while the Butter Maker turns milk into butter.
You can start adding stacks of Milk (up to 9 at a time) into either Maker Machine to process them into different animal products.
The Cheese will sell at different prices depending on the quality of Milk used.
Cheese Sell Price
Cheese
Milk Quality
Price
S Cheese
S Milk
250 G
M Cheese
M Milk
380 G
L Cheese
L Milk
540 G
G Cheese
G Milk
700 G
P Cheese
P Milk
820 G
X Cheese
X Milk
1500 G
The selling price of Butter isn't affected by the quality of the milk that you put in. Even if you process P or X Milk in the Butter Maker, you'll still get regular Butter, which only sells for 150 G.
Milk Recipes
SCROLL
| Dish | Ingredients | Equipment needed |
| --- | --- | --- |
| Fall Sun | X Egg, X Mayonnaise, X Milk, X Cheese, X Wool, X Yarn | None |
| Almond Tofu | Milk | Seasoning Set, Pot |
| Bagna Cauda | Milk, Mayonnaise, Oil, Turnip, Mushroom, Green Pepper | Mixer |
| Baumkuchen | Egg, Milk, Wheat Flour, Butter | Seasoning Set, Oven, Whisk |
| Butter | Milk | Mixer |
| Carbonara | Wheat Flour, Onion, Oil, Milk, Cheese | Pot, Knife |
| Cheese Risotto | Onigiri, Onion, Carrot, Cheese, Milk, Oil | Seasoning Set, Frying Pan |
| Cheese Souffle | Milk, Egg, Cheese, Wheat Flour | Seasoning Set, Oven, Rolling Pin |
| Cheesecake | Cheese, Egg, Milk | Pot, Whisk, Oven |
| Dorayaki | Wheat Flour, Adzuki Beans, Egg, Milk, Honey | Pot, Seasoning Set, Frying Pan |
| Fruit Smoothie | Milk, Fruit Juice | Mixer |
| Ice Cream | Egg, Milk | Whisk, Pot, Seasoning Set |
| Mashed Potatoes | Potato, Butter, Milk, Mayonnaise | Seasoning Set, Pot, Rolling Pin, Oven |
| Mixed Smoothie | Milk, Fruit Juice | Mixer |
| Mont Blanc | Wheat Flour, Milk, Egg, Chestnut | Pot, Whisk, Oven, Seasoning Set |
| Mushroom Gratin | Milk, Cheese, Butter, Mushroom, Matsutake | Seasoning Set, Oven |
| Omelet Rice | Egg, Milk, Onigiri, Oil | Frying Pan |
| Pancakes | Wheat Flour, Oil, Egg, Milk, Butter, Honey | Frying Pan |
| Pudding | Egg, Milk | Pot, Oven, Seasoning Set |
| Pumpkin Potage | Pumpkin, Onion, Milk, Butter, Wheat Flour | Pot, Mixer, Knife |
| Quiche | Milk, Egg, Mushroom, Onion, Cheese | Seasoning Set, Frying Pan |
| Stew | Wheat Flour, Milk | Pot, Seasoning Set |
| Strawberry Cake | Strawberries, Egg, Milk, Butter | Pot, Whisk, Oven, Seasoning Set |
| Strawberry Milk | Milk, Strawberries | Mixer |
Gifting Milk
SCROLL
Villager
Birthday
Type of Gift
Friendship/Love Points Earned
Marriage Candidates
Doctor
Autumn 19th
Favorite
+9 FP, +800 LP
Elly
Spring 16th
Loved
+9 FP, +500 LP
Harvest Goddess
Spring 8th
Liked
+3 FP, +300 LP
Popuri
Summer 3rd
Cliff
Summer 6th
Ran
Summer 17th
Kai
Summer 22nd
Brandon
Autumn 7th
Jennifer
Winter 2nd
Villagers
Lillia
Spring 19th
Loved
+9 FP
Manna
Autumn 11th
Carter
Autumn 20th
Anna
Autumn 23rd
Dudley
Winter 11th
Ellen
Winter 13th
Saibara
Spring 11th
Liked
+3 FP
Mugi
Spring 17th
Sasha
Spring 30th
Thomas
Summer 25th
Gotts
Autumn 2nd
Yu
Autumn 5th
Mei
Winter 26th
Jeff
Winter 29th
Lou
–
Van
–
Nature Sprites
Plum
Spring 4th
Loved
+9 FP
Sunny
Autumn 10th
Blueberry
Spring 15th
Liked
+3 FP
Aqua
Spring 26th
Cherry
Autumn 14th
Pumpkin
Winter 22nd
Guide Navigation