SoS: FoMT Horse Guide (Getting a Horse + How To Train)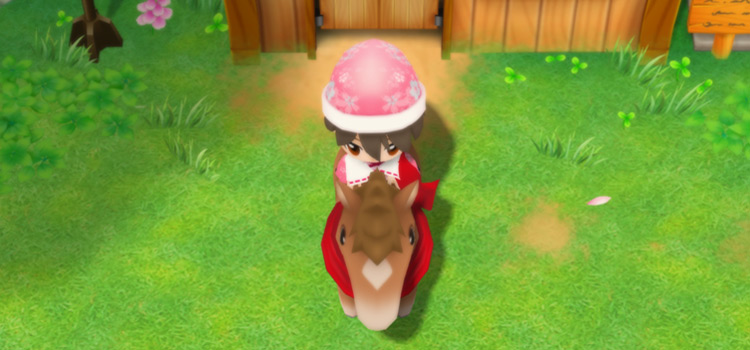 To get a Horse on your farm, you just need to wait for Mugi to show up at your house on Spring 4th of your first year in Mineral Town. He will ask if you want a pet baby horse, and if you say "Yes" then he'll give you the horse free of charge.
But unlike the other pets you can get in FoMT, you can actually take your horse outside of the farm and ride it once it's fully grown. This will help you can get around the map faster.
Your horse can also compete in the Derbies during Spring and Autumn 18th once it's an adult.
This guide will teach you everything you need to know about taking care of your horse and making sure it's happy and healthy to help you win the Horse Derbies.
How To Get the Horse
On Spring 4th of Year 1, Mugi will visit you on the farm and offer you a baby foal. If you say yes then you'll get your baby horse right away.
If you say no, he'll offer one more time the next day – but after that, he won't ask again. So this is your only chance to get a Horse in the game.
After adopting your new pony, it's all up to you to begin taking care of it.
Your baby horse will mature into a fully grown horse after 90 days. You'll know when this happens because your horse will start wearing a red bandana around his neck, and you can finally mount and ride him around town.
Horse Care Guide
Once your horse is fully grown (after 90 days), Mugi will come back to visit and check on him.
If he has less than 4 friendship hearts or less than 96 FP, Mugi will take him back for one year.
During this year, you can't visit or see the horse.
But Mugi will return him to you in Year 3, and he won't conduct any more routine checkups.
To avoid having your horse taken away, here are all the things you can do to boost your friendship with the horse:
Brushing
Talking/petting
Whistling
Giving Pet Treats (for ponies only)
The Brush is one of the best early tools you should invest into. You can buy the brush from Saibara for 800 G.
Alternatively, Pet Treats are available at Van's stall in Rose Plaza every 15th day of the season.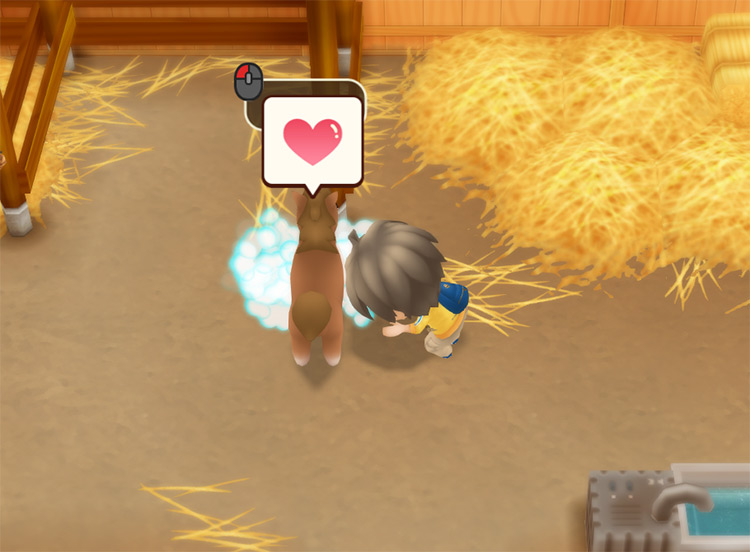 Your horse does not need to be fed or watered, so all they really need is regular attention to thrive on the farm.
So how do you win the Horse Race with your horse?
That mostly comes down to practice, but the biggest factor is your horse's affection level towards you.
The more you brush your horse & give them treats, the sooner your horse will hit 8+ friendship notes. That's the point where you'll have a much easier time winning the Horse Derbies.
Guide Navigation