Sandwich Walk Location Guide + All Chests (Spiritfarer)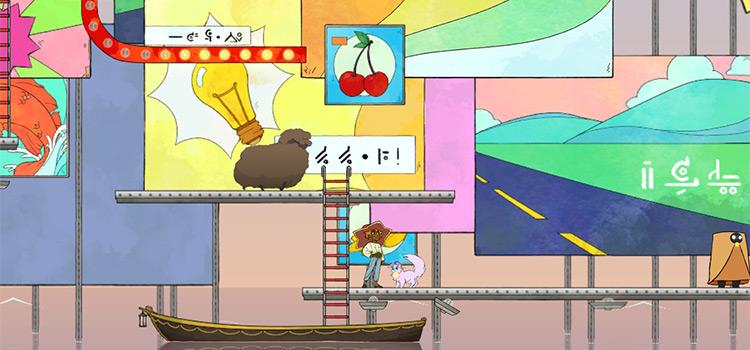 Sandwich Walk
Unlocked By
Rock Destroyer Boat Improvement
Coordinates
X: 141, Y: -54
Spirits to Recruit
None
Resources
Sandwich Walk is a small island found on the lower industrial district side of Spiritfarer's Furogawa region. Reaching it requires the Rock Destroyer boat improvement.
How To Unlock
To unlock access to this island, you'll need to visit Albert's Shipyard (X: 61, Y: 64) and purchase the Rock Destroyer upgrade under the boat improvements tab.
This upgrade needs:
10 Aluminum Ingots
8 Marbles
6 Fireglows
2 Spirit Flowers
1,700 Glims
And if you want to speed up this part of the process then we have a guide on all boat improvements that should give you a more thorough breakdown of where to get each item.
After getting the upgrade, you'll now have access to Sandwich Walk (along with the rest of the Furogawa region) as your ship breaks through the rock barrier.
Sandwich Walk Chests
While there are no natural resources to mine on this island, you can find 1 sheep that you can take to the ship with you.
Other than that, there are also a few chests you can easily find. Here are all of their locations:
Chest #1
Contains:
2 Garlic Seeds
1 Recipe for Garlic Bread
From the island's starting point, head left and climb up two sets of ladders to find a platform with a chest on the far-left side.
Chest #2
Contains:
1 Olive Seed
1 Valuable Ring
Step 1: From the location of the first chest, double jump towards the right to a couple of small platforms until you find one with a red spirit standing on it.
Step 2: Keep going right and look for a bit curved red arrow sign. Following the red arrow sign, double jump up to reach the platform up top. You'll find the treasure chest here on the right-hand edge.
Chest #3
Contains:
1 Mulberry Seed
1 Amethyst
Step 1: Climb up the ladder directly beside the 2nd treasure chest above. This will bring you up to a platform with two red arrow signs pointing towards the right.
Step 2: Following the sign, double jump and glide your way to the right, past the multi-colored billboard.
Step 3: Carefully land on a platform with giant exclamation points and stars on a sign behind it. This platform is where you'll find the 3rd treasure chest.
Guide Navigation
Spiritfarer

Sandwich Walk Location Guide + All Chests (Spiritfarer)