Where To Get Dawn Stones in Pokémon Platinum (All Methods)
Dawn Stone Acquisition Methods
#
Method
Repeatable?
1
Route 212—Near the dead end of a short length of marshland just west of Pastoria City (hidden)
No
2
Mt. Coronet—Southeast of the entrance from the Oreburgh City side (requires Surf)
No
3
Route 225—On a mountain to the west of the Survival Area (requires Rock Climb and the National Pokédex)
No
4
Using the Pickup Ability:

Level 51-70 (4% chance per battle)
Level 71-100 (10% chance per battle)

Yes
There are three Dawn Stones available in the overworld in Pokémon Platinum. All of them are generally easy to reach, but the earliest available Dawn Stone you can get is on Route 212.
Aside from the three overworld locations, the only repeatable way to get more Dawn Stones is via Pickup. For that method you'll want a Pokémon with the Pickup ability that's at level 51 or higher.
Getting Dawn Stones
Method 1: Route 212 (Step-by-Step)
The first available Dawn Stone is hidden in a self-contained stretch of marshland of Route 212, just a short distance west of Pastoria City.
To reach it, start by heading south from the Pastoria City Pokémon Center.
Curve around the houses as you make your way south.
Head southwest past the Poké Mart and toward Pastoria's western entrance.
Keep heading west until you exit Pastoria City and enter Route 212.
Then make a north turn immediately after the Pastoria City/Route 212 sign.
Look closely at the ground in this small stretch of marshland; the shallower land will appear slightly lighter.
The lighter areas form pathways you will be able to walk across – otherwise you will get stuck in the mud and have to wriggle free if you step in the darker sections. This doesn't harm you in any way, but it wastes time.
In the upper-left section of the marsh area here is a hidden Dawn Stone on the ground (marked in the image below).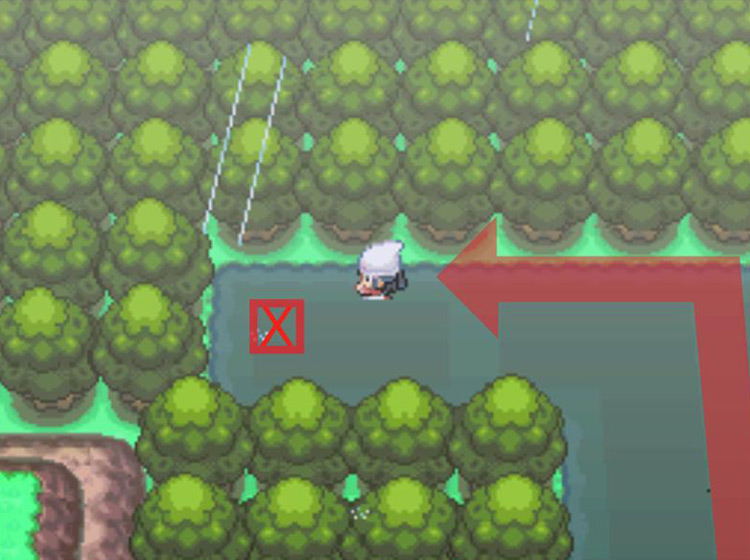 The invisible Dawn Stone is in the upper-left tile in the deep section at the dead end. You can use the Dowsing Machine Pokétch app if you need help finding it.
But if you just face the spot and press A you'll obtain the game's first Dawn Stone.
Method 2: Mt. Coronet (Step-by-Step)
You'll find another Dawn Stone inside Mt. Coronet, near the entrance closest to Oreburgh City. You'll need a Pokémon that can use Surf in order to reach it.
Once you have a Surf user in your party, Fly to Oreburgh City and head north toward the city's entrance.
Take the stairs to leave the city for Route 207.
Go down the small staircase leading to a pit, where there is a muddy slope in the middle of the north wall.
Ride your Bicycle in fourth gear to make it up the slope.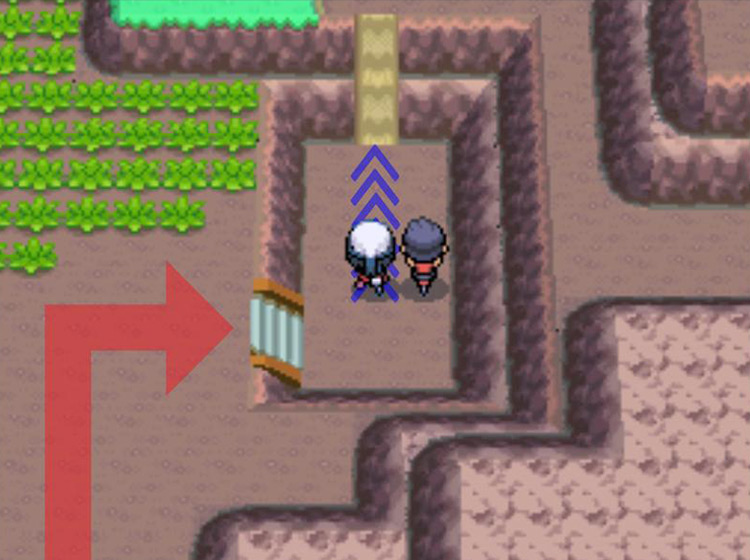 Make a right turn at the top of the slope to enter the canyon.
Travel eastward until you reach the entrance to Mt. Coronet.
Enter the cave and make an immediate turn southward.
Take the next turn east and you'll soon run into two staircases.
Climb the southern staircase, then use Surf to cross the lake to the east.
You'll see a Poké Ball item on the other end of the lake.
Pick the Poké Ball up to add another Dawn Stone to your Bag.
Method 3: Route 225 (Step-by-Step)
You can find a third Dawn Stone on Route 225, which is just a short walk to the west of the Survival Area.
But this can only be done after you've received the National Pokédex. You'll also need a Pokémon with Rock Climb in order to reach the stone's exact location.
When you're ready, Fly to the Survival Area and head west from the Pokémon Center.
Travel westward until you reach the tall grass on Route 225.
Then turn to the north and use Rock Climb to scale the rocky wall.
At the top of the mountain, an Ace Trainer will challenge you to a battle. Fight him to access the Poké Ball item behind his back.
Pick the Poké Ball up to acquire another Dawn Stone.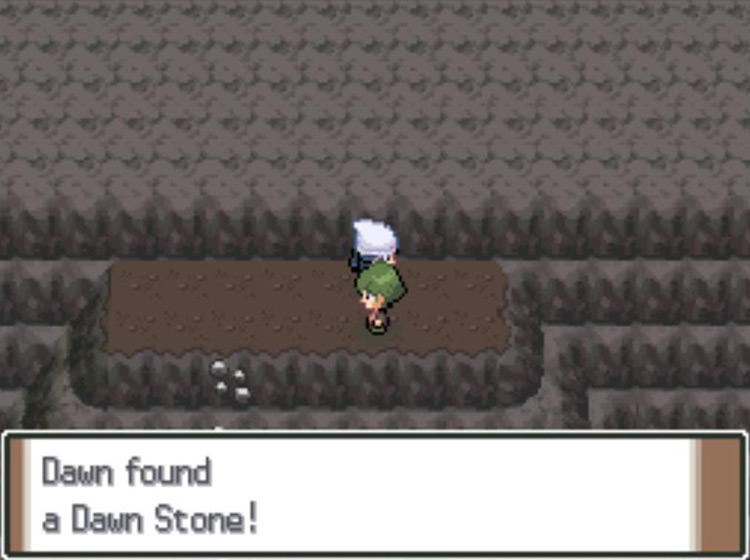 Method 4: The Pickup Ability (Repeatable)
A Pokémon can obtain unlimited Dawn Stones with the Pickup Ability.
This ability provides the Pokémon a 10% chance of obtaining a new item after each battle.
In Pokémon Platinum, some common Pokémon with Pickup include Aipom, Pachirisu, and Munchlax.
The exact item your Pokémon obtains depends on both the Pokémon's level and random chance.
In the case of Dawn Stones, there are two tiers that affect your chances based on the Pickup Pokemon's level:
A level 51-70 Pokémon has about a 4% chance
A level 71+ Pokémon has a 10% chance.
But after you factor in the initial 10% probability of Pickup even activating after each battle, this places your best odds of getting a Dawn Stone at 1% per encounter.
Keep in mind that there are no alerts when a Pokémon successfully picks up an item; you will need to check your party every so often to find out.
Pickup will take effect as long as the user is in the party, even if it doesn't participate in battle or has fainted.
This method is endlessly repeatable, but it can take a long time because of its low success rate.
Dawn Stone Details and Uses
In Pokémon Platinum, the Dawn Stone is used to evolve two Pokémon species who have multiple evolutionary paths:
Male Kirlia (into Gallade)
Female Snorunt (into Froslass)
To use a Dawn Stone, simply select "Use" from the Bag and choose a Pokémon to use it on.
Gallade
Use the Dawn Stone on a Kirlia to make it evolve into Gallade. Kirlia's gender must be male for this to work; a female Kirlia can only evolve into a Gardevoir, and only by bringing its level up to 30.
While Gardevoir has a weak Attack stat and a top-notch Special Attack, the opposite is true for Gallade, who has a stratospheric Attack but a poor Special Attack.
Other than Attack and Special Attack, both Pokémon's base stats are exactly the same; this means the evolution that works best depends on the individual's preferences and the needs of their team.
Froslass
To evolve a Snorunt into a Froslass, its gender must be female.
A male Snorunt can only evolve into a Glalie, and only by bringing its level up to 42.
Froslass vs. Glalie
The differences between Glalie and Froslass are a bit more pronounced.
Both Pokémon's base stats add up to the same number. But while all of Glalie's stats are uniform across the board, Froslass sacrifices HP and defenses to have a much higher Speed stat, making it more fragile than Glalie but much quicker.
Froslass compensates for its fragility by having the dual typing of Ice/Ghost.
While this gives Froslass five weaknesses (to Fire, Ghost, Dark, Steel, and Rock), it also has three resistances (to Poison, Bug, and Ice) and two complete immunities (to Normal and Fighting).
In comparison, Glalie has four weaknesses (Fire, Rock, Steel, and Fire), zero immunities, and just one resistance (Ice).
Froslass's unique is Snow Cloak Ability, which lowers the accuracy of the foe's moves in a hailstorm by 20%. This makes it a perfect Hail user.
In general, Froslass can be used effectively in more situations than Glalie, and is usually the better Pokémon to battle with.
Guide Navigation