How To Empty a Cemetery in Cities: Skylines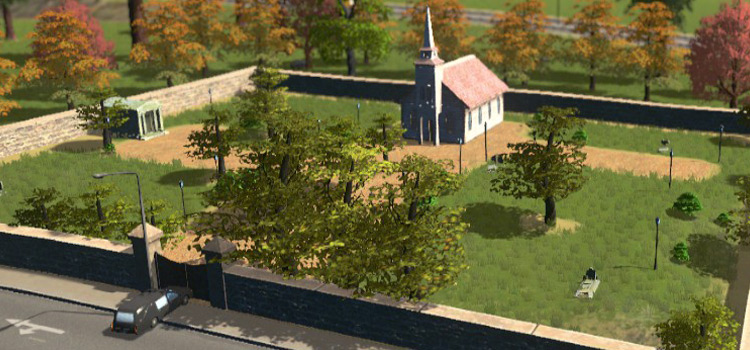 One way to empty a cemetery is to build another cemetery in your city to transfer the deceased into. Or alternatively you could build a crematorium to process the deceased and remove them from a filled-up cemetery that way.
We'll cover these options in a step-by-step process below.
Step 1: Build A New Cemetery or Crematorium
Before you can empty a cemetery, you'll need somewhere to transfer the deceased. This will either be a new cemetery or a crematorium.
A crematorium is a more efficient long-term option since it processes the remains instead of stores them, so they won't fill up. However, the crematorium isn't unlocked until the "Big City" milestone. So another cemetery will be your only option until then.
Ideally, you'd want the new cemetery or crematorium to not be too far away from the cemetery you need to empty.
This will facilitate a faster emptying process and prevent the hearses from causing traffic problems elsewhere in your city.
Make sure your new cemetery or crematorium has the water and power it needs to operate normally.
Step 2: Set the Building to Empty
Select the cemetery, then click on 'Empty building to another facility' (the icon with the up arrow).
This will start the process and soon you'll see hearses bringing the remains to the new facility.
The cemetery's info panel will also show you the decreasing number of remains stored in the old facility.
While the cemetery is emptying, it will not be operational; none of its hearses will be collecting the dead from your city.
Step 3: Resume Operations
Once your cemetery is done emptying, simply click on the button again (though this time it will say 'Stop emptying' and have a red cancel symbol across it).
This allows the hearses to resume normal operations and start collecting again.
You can also stop the transfer process even before the cemetery is completely empty. The hearses will resume collecting bodies as long as the cemetery has some space available.
Guide Navigation