Pokémon Crystal Game Corner Guide (All Prizes + Tips To Win)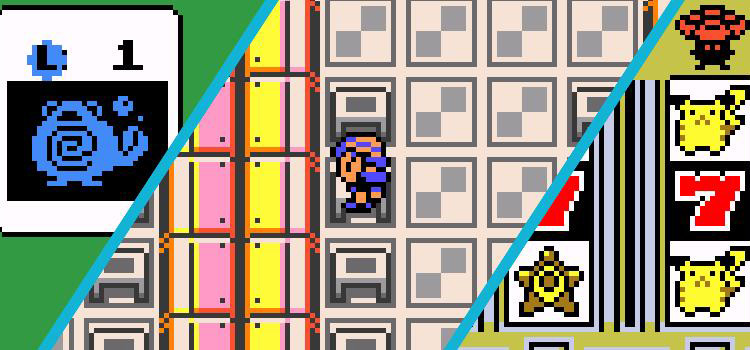 Pokémon Crystal features two Game Corners in different cities: Johto's Goldenrod City and Kanto's Celadon City.
Goldenrod Game Corner: North of the Pokémon Center.
Celadon Game Corner: Southwest of the Pokémon Center.
You can visit the Game Corners to play games and earn coins. These coins can be exchanged for prizes like powerful TMs and rare Pokémon.
Before playing, you'll need to get the Coin Case from the Goldenrod Underground tunnel. It allows you to store any coins you buy or earn.
You also need to buy some coins to get started. Get them at any Game Corner for 1,000 PokéDollars per 50 coins.
Where Are the Game Corners Located?
Goldenrod City Game Corner
The first Game Corner you'll come across is the one in Goldenrod City. It's right behind the Pokémon Center, to the north.
Celadon City Game Corner
After conquering the Pokémon League and sailing to Kanto, players can visit the Game Corner in Celadon City. This Game Corner is southwest of the Pokémon Center.
Start by going down the alley to the southwest.
And you'll find both the Game Corner and the (smaller) Prize Corner to the left.
Game Corner Layout
Each game corner has four main points of interest:
Coin Counter
Prize Corner
Slot Machines
Card Flip Machines
Here's where to find everything in each game corner:
Goldenrod Game Corner Map
Celadon Game Corner Map
Unlike the Goldenrod GC, the Celadon City GC location has its Prize Corner outside the main building. It's the smaller building to the right.
Game Corner Basics: Winning Coins
Getting the Coin Case
At the Game Corner, you can earn coins that can be exchanged for various prizes, such as TMs and rare Pokémon.
But first, you need to get a Coin Case to hold your earnings!
You'll find the Coin Case in the Goldenrod Underground tunnel, just south of an old lady that sells herbal remedies.
Buying Coins
You must buy your first few coins at the Coin Counter in each Game Corner. It's always located in the top left corner of the establishment.
At 1,000 PokéDollars per 50 coins, they're a bit pricey.
To put things into perspective:
The least expensive reward at the Prize Corner (Lv. 5 Abra) costs just 100 coins or 2,000 PokéDollars. That's not too bad!
But the most expensive one (Lv. 40 Larvitar) will cost you 8,888 coins. That's a whopping 177,760 PokéDollars.
Tip: Beating the Elite IV yields you around 22,000 PokéDollars. You'd have to do it eight times to get that Lv. 40 Larvitar.
You'll have to hit Card Flip and the Slot Machines if you don't want to spend the rest of the day grinding the Elite IV.
Game Corner Basics: All Games
You'll find two games at each Game Corner: Card Flip and Slot Machines.
Card Flip
Card Flip consists of guessing what a face-down card will be once flipped.
You can see the cards on the left side of the screen. On the right side, you'll find various ways to place your bet.
You can place bets on a specific card, the Pokémon on the card, or the number on the card. You can also choose two Pokémon or two numbers, with some limitations.
Payouts will be different depending on which one you choose. It goes like this:
Bet on a Pokémon (column): 4x
Bet on two Pokémon (columns): 2x
Bet on a number (row): 6x
Bet on two numbers (rows): 3x
Bet on a single card: 24x
The game will keep going for 12 rounds before reshuffling the 24-card deck.
Cards are removed from the deck when revealed, regardless of whether you won.
You can see how many cards are left on the vertical column of boxes in the middle of the screen. Each time a card is removed, one becomes white.
Slot Machines
Slot Machines provide a more exciting but less reliable way to acquire currency.
These work as expected:
Bet one to three coins to get the machine rolling.
Hit the A button to stop each column, one by one.
Get a payout if three of the same images line up.
The more coins you put into the machine, the more chances you have of three images lining up.
One coin: Only the middle row counts.
Two coins: All rows count.
Three coins: All rows + diagonals count.
Your total payout depends on which specific images line up, if any.
Cherries: 6c
Pikachu: 8c
Squirtle: 10c
Staryu: 15c
PokéBalls: 50c
Triple Seven (777): 300c
Game Corner Strategies + Tips to Win Big
You can do a few things to increase your earnings at the Game Corner, depending on what you choose to play.
Best Card Flip Strategy
There's a straightforward strategy to follow if you want guaranteed earnings.
You want to bet everything on just one card (x24) over and over.
It doesn't matter which one you choose as long as it's a single (x24) card.
The more rounds you play, the higher your odds of winning become. It starts at one in 24 but can go up to one in 13 by the last round before reshuffling.
Each round costs three coins, but you'll earn 72 coins every time you win. That means you'll get a net positive as long as you win at least once every 24 plays.
The cards aren't reshuffled on victory, so you can keep betting with higher odds immediately after a win. Based on my experience, you'll win approximately one of every 14 rounds.
Slot Machine Bias
Slot Machines aren't entirely skill-based, but they're not completely random.
On some rolls, the machine may become biased toward a specific symbol.
You might notice the machine keeps rolling a bit until a specific symbol shows up; this indicates a bias.
| Symbol | Base Bias Probability |
| --- | --- |
| Seven (7) | 2/256 |
| Pokéball | 2/256 |
| Staryu | 7/256 |
| Cherry | 8/256 |
| Squirtle | 10/256 |
| Pikachu | 20/256 |
This is useful when trying to line up a Triple Seven (777).
If you observe that the reel continues to spin for a moment after pressing the A button and a seven symbol appears, there may be a bias toward sevens.
Now is the time to try to line up those symbols!
Whenever you line up the first two seven symbols in a roll biased toward sevens, the game will help you line up the last reel.
A Chansey or some Golems might appear on the screen while this is happening. The Chansey guarantees a win, but the Golems may still go either way.
Regrettably, the opposite is also true. So if the game is biased toward another symbol, there's little chance to line up something else.
Best Slot Machines
The best thing you can do to influence your results is to pick the right machine to play at.
Specifically, you want a "lucky" machine.
These machines are slightly biased toward Cherries and Sevens (7), which should help you line up these symbols.
Lucky Slot Machine Odds
Symbol
Lucky Bias Probability
Pokéball
1/256
Seven (7)
3/256
Staryu
5/256
Squirtle
8/256
Pikachu
14/256
Cherry
50/256
All machines may become "lucky" spontaneously, but certain machines are always in "lucky mode."
In fact, there's always one Lucky Machine at each of the Game Corners. And these machines are in the same position every time:
Goldenrod GC: Second row of the second column of machines.
Celadon GC: Fifth row of the third column of machines.
An NPC usually occupies these machines, making them usually unavailable. But they're always available in the Morning (between 4 AM and 10 AM).
Goldenrod Lucky Machine
Celadon Lucky Machine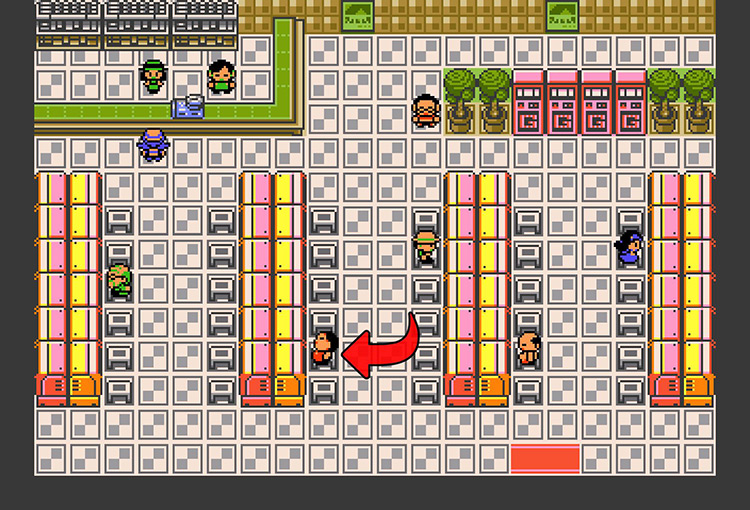 Fastest Way To Get Coins
The harsh truth about the Game Corner is that it's always quicker to get the coins by defeating the Elite IV & buying the coins repeatedly, rather than by playing Card Flip or the Slot Machines.
You'll get a nice 22,000 PokéDollars every time you beat the Elite IV, which you can exchange for 1,100 coins.
Tip: You can double your Elite IV earnings by making your main Pokémon hold an Amulet Coin.
The only caveat is that you have to clear the entirety of Johto before you can do this.
It might also be hard to keep doing repeatedly until you get a few powerful Pokémon (around Lv. 65).
Tip: Get some rewards in the early campaign by playing the games, then return to clear out the rest with cash later if you want 100% completion.
All Game Corner Prizes
Your coins can be exchanged for two kinds of rewards in both Game Corners: Technical Machines (TMs) and Pokémon.
Prizes vary substantially, and Celadon City's prizes tend to have higher rarity and usefulness.
Goldenrod Game Corner Prize List
You'll find the Prize exchange counter in the top right corner of the Goldenrod Game Corner.
The left woman handles TMs, and the right one handles Pokémon. Here's their catalog:
Right Clerk (Pokémon)
Prize
Cost (Coins)
Abra (Level 10)
100c
Cubone (Level 15)
800c
Wobbuffet (Level 15)
1,500c
Celadon Game Corner Prize List
The Celadon Prize Corner is a separate building from the Game Corner. You'll find it next to the Game Corner, to the right.
Inside, you'll find two windows.
The window on the left offers TMs, and the one on the right handles Pokémon exchanges.
Check out their prize catalog:
Right Window (Pokémon)
Prize
Cost (Coins)
Pikachu (Level 25)
2,222c
Porygon (Level 15)
5,555c
Larvitar (Level 15)
8,888c
Guide Navigation
Pokémon Crystal

Pokémon Crystal Game Corner Guide (All Prizes + Tips To Win)