Where To Get TM21 Frustration in Pokémon Crystal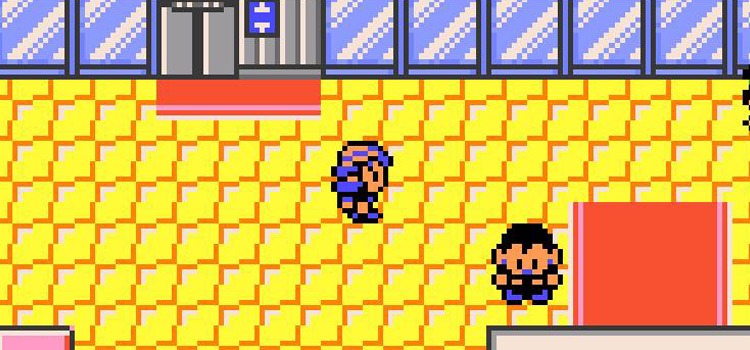 TM21 Frustration
#
Location
Repeatable?
1
Goldenrod Department Store. Find the woman in a red dress behind the counter on 5F and show her a Pokémon with low happiness (Sundays only).
Yes
In Pokémon Crystal, you'll get TM21 Frustration from a woman wearing a red hat in the Goldenrod City Department Store. She gives you the TM as a reward for showing her an unhappy Pokémon.
She will show up at the counter on the fifth floor (5F) when it's a Sunday in-game, so keep an eye on your PokéGear!
Note: You can't get TM21 Frustration on the same week you get TM27 Return.
Prerequisites
The woman in Goldenrod City's Department Store (known as the Friendship Rater) will give you TM21 Frustration if you show her an unhappy Pokémon.
Happiness here refers to Friendship, a hidden stat representing your relationship with your Pokémon. The less your Pokémon likes you, the lower it goes.
Ways of making a Pokémon like you less include:
Letting it faint in battle.
Using Energy Powder, Heal Powder, Energy Root, or Revival Herb on it.
Trading (resets it to 70).
Tip: You can get Energy Powder, Heal Powder, and Revival Herb from an old lady in the Goldenrod Underground.
Any Pokémon with a Friendship lower than 99 will prompt the Friendship Rater to give you TM21 Frustration.
Getting TM21 Frustration (Step-by-Step)
Step 1: Make sure it's Sunday.
Step 2: Visit Goldenrod City Department Store.
Step 3: Ride the elevator to the fifth floor (5F).
Once you've boarded the elevator, approach the controls in the upper right corner and choose "5F".
Exit the elevator when the screen stops moving.
Step 4: Talk to the Friendship Rater at the counter. She will be dressed in red and wearing a red hat.
She'll evaluate the happiness/friendship level of the first Pokémon in your party. Make sure it has a low Friendship value to get the TM.
Tip: If none of your Pokémon have low Friendship, catch a new one and give them lots of bitter herbs from the vendor in Goldenrod Underground. Five should be enough.
She will then give you the TM for Frustration.
Tip: This process can be repeated once every Sunday for more copies of TM21 Frustration.
TM21 Frustration Details + Uses
Frustration Move Details
Type
Normal
Category
Physical
Power
1-102 (decreases with happiness/friendship)
Accuracy
100%
PP
20 (max.32)
Frustration can be fairly powerful on the right Pokémon. Preferably one that hates your guts – which also can make this move fairly useless long-term, and it's far better to stick with Return over Frustration.
At the lowest possible Friendship, it has a power of 102, comparable to Earthquake, Thunderbolt, Ice Beam, and Flamethrower. In other words, it packs a punch.
Tip: The easiest way to keep Friendship low is to give your Pokémon lots of bitter herbs from the old lady in the Goldenrod Underground.
Almost every Pokémon can learn Frustration, but there are some exceptions. These are:
Weedle
Kakuna
Caterpie
Metapod
Magikarp
Ditto
Smeargle
Wobbuffet
Teach it to a Normal-type Pokémon with a high base Attack to benefit from the same-type attack bonus (STAB). Here are some great options:
| Pokémon | Location |
| --- | --- |
| Snorlax | Blocking Route 11 |
| Kangashkan | Rock Tunnel (Morning, Day) |
| Ursaring | Dark Cave (Blackthorn side), Mt. Silver |
| Tauros | Route 38 and 39 (Morning, Day) |
Guide Navigation