Where To Get TM47 Steel Wing in Pokémon FRLG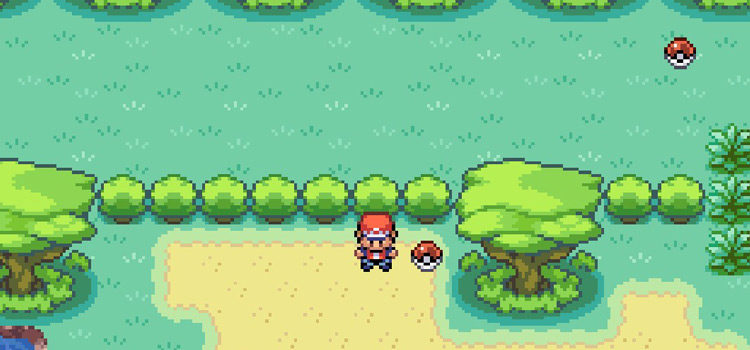 TM47 Steel Wing
#
Location
Repeatable?
1
Safari Zone – On the ground in Area 3, directly southwest of the Rest House
No
TM47 Steel Wing is located in Area 3 of the Safari Zone. It's sitting by a tree located near top-middle section of this area.
You can first access the Safari Zone immediately after you reach Fuchsia City. You'll only need $500 Poké Dollars to enter, so you can get this TM as soon as you enter the City.
TM47 Steel Wing Location (Step-by-Step)
Step 1: Starting from the Fuchsia City Pokémon Center, jump over the ledge on the right-hand side and head north.
Step 2: You'll find the Safari Zone building at the very north end of town. So you can either cut some cuttable trees and just go straight north, or you can wrap around the city by going to the right & following that path forward.
Step 3: Enter the Safari Zone when you find it & pay the $500 Poké Dollar entry fee to the park.
Step 4: Now inside the Safari Zone, head northeast above the nearby small house.
Step 5: Keep northeast through the tall grass and go towards the dirt path in the top-right corner of this area.
Step 6: Exit this area by taking that dirt path east, which leads to Area Two of the Safari Zone.
Step 7: Now in Area Two, head east to follow down this dirt path.
Step 8: Continue walking east through the tall grass.
Step 9: Just ahead is an elevated rock path. Head up the small stairs, then turn left and go down the next set of stairs.
Step 10: From the bottom of these stairs, head north past the body of water ahead.
Step 11: Continue onto the elevated rocky platform ahead, then following it along and take the stairs back down.
Step 12: From the bottom of the stairs, turn to go up & then go through the tall grass heading west.
Step 13: Continue walking west past the sign ahead.
Step 14: This path west leads to Area Three of the Safari Zone, which is where you'll find the Steel Wing TM.
Step 15: From the entrance of Area Three, keep west through the tall grass.
Step 16: You'll see two staircases ahead that lead to an elevated rocky platform.
Take the 2nd staircase (the left-most stairs) and follow that rocky platform southeast to go down another staircase.
Step 17: From the bottom of that rocky platform, head left a bit & then start traveling up past the body of water.
Step 18: Continue heading north, passing two bodies of water on your left.
Step 19: TM47 Steel Wing will be on the ground ahead lying next to a large tree. This tree is just a tad southwest from another rest house located in Area 3.
TM47 Steel Wing Details + Uses
Steel Wing Move Details
Type
Steel
Category
Physical
Power
70
Accuracy
90
PP
25
Steel Wing is a mediocre attack that doesn't have much use in FireRed & LeafGreen.
Part of the reason is because there are only four Steel-type Pokémon in the game:
Magneton
Scizor
Skarmory
Steelix
And each of these Steel-types have a limited moveset in general.
Plus it's worth adding that there aren't many Steel-type attacks to speak of in this gen, and not all of these steel-types can even learn TM47.
When you consider the limited options for using Steel-type attacks in general, it makes sense on the surface to actually use Steel Wing in your party.
But there are only two Steel-type Pokémon that can learn Steel Wing via TM47:
Skarmory and Scizor, with Skarmory actually being able to learn the attack via level-up.
While Steel Wing's base Power isn't terrible, it isn't great either. Its viability in battle is made worse by its less-than-perfect Accuracy, which should be much higher considering its other stats.
The 10% chance of a Defense boost is a nice bonus, but should ultimately be around a 30% chance to justify the use of Steel Wing in battle.
So is Steel Wing worth using?
It could be better than nothing, but it's worth comparing it against other attacks that you might have on your party's Flying-type Pokémon.
If you can find a use for this move in your team, then great!
If not, you might consider just selling the TM for cash instead.
Guide Navigation