Pokémon HGSS: Bill's Grandfather Side-Quest Guide + Rewards List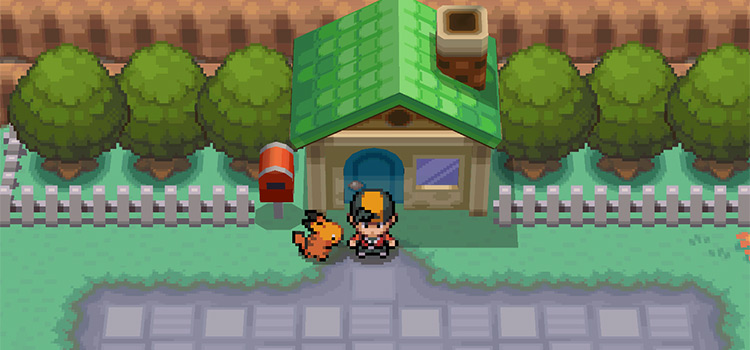 In Pokémon HeartGold and SoulSilver, Bill's grandfather will give you five Evolution stones if you show him a series of five Pokémon. You have to show him each Pokémon in a specific order, and you can only get each stone one time.
Bill's grandfather can be found housesitting for Bill at the Sea Cottage on Route 25, located just north of Cerulean City.
In this guide we'll cover exactly which Pokémon you need to show him, where to find those Pokémon, and which stones you'll get for all your hard work.
Bill's Grandfather Cheatsheet
Pokémon
Reward
Lickitung (SS)
Jigglypuff (HG)

Everstone
Vulpix (SS)
Growlithe (HG)

Fire Stone
Staryu (SS)
Marill (HG)

Water Stone
Pichu

Thunder Stone
Oddish

Leaf Stone
Where To Find Bill's Grandfather
Bill's grandfather is located in Bill's old house from the original Gen I games. This is the Sea Cottage on Route 25 in Kanto, directly northeast of Cerulean City.
So you'll need to go all the way up Nugget Bridge and walk to the end of Route 25.
But before any of this, you'll first need to beat the Elite Four in Johto and make your way through Kanto to reach Cerulean City.
Pokémon List for Bill's Grandfather
Once you've spoken to Bill's grandfather, he'll ask to see a certain Pokémon.
He won't tell you exactly which Pokémon, but he will give you clues. If you bring him the correct Pokémon, he'll present you with an Evolution Stone and request to see another.
Note: Some of Bill's grandfather's requests will be different depending on which version of the game you're playing. His requests also don't follow a particular order, so he might ask for a Pichu first, and then an Oddish.
There are a total of five stones that you can earn this way:
And here's a full list of the Pokémon you'll need to catch for each stone:
SCROLL
Dialogue
Pokémon
Stone Obtained
SoulSilver
"My grandson Bill told me about a Pokémon that has a long tongue. It has ringlike marks on the front of its legs, he said!"

Lickitung

---

Can be found on Route 44


Everstone
HeartGold
"Do you know that Pokémon with large, round eyes. The one that sings a lullaby with its cute voice!"

Jigglypuff

---

Can be found on Routes 3 & 4

SoulSilver & HeartGold
"Ah, my grandson mentioned a round, blue Pokémon that has leaves growing on its head."

Oddish

---

Can be found at Ilex Forest (Night)


Leaf Stone
SoulSilver
"Do you know of a sea Pokémon that has a red sphere on its body? You know, the one that's shaped like a star? I heard that it appears at night."

Staryu

---

Can be found on Route 47 (Surfing)


Water Stone
HeartGold
"I heard that there is a blue and round Pokémon in Johto. Bill told me that the end of its tail works like a float. Its belly is white. Just the belly."

Marill

---

Can be found at Mt. Mortar

SoulSilver
"I heard about a cute Pokémon that has six tails. I would love to hug a cute Pokémon like that."

Vulpix (SS)

---

Can be found on Route 7 & 8 (SoulSilver only)


Fire Stone
HeartGold
"Bill told me about a Pokémon that is very loyal to its Trainer. It's a Fire-type Pokémon that's supposed to Roar well."

Growlithe (HG)

---

Can be found on Route 7 & 8 (HeartGold only)

SoulSilver & HeartGold
"Do you know that hugely popular Pokémon? The Pokémon that has a yellow body and bright red cheeks… I would love to see what it looks like before it evolves."

Pichu

---

Breed Pikachu or Raichu


Thunder Stone
Guide Navigation
Pokémon HGSS

Pokémon HGSS: Bill's Grandfather Side-Quest Guide + Rewards List