Where To Get Thunderstones in Pokémon HGSS
All Thunderstone Locations
Method
How Often?
1
Buy one for 2,500 points at the Pokéathlon Dome on Wednesdays, Thursdays, and Saturdays
Repeatable
2
A phone call gift from Lass Dana on Route 38
Repeatable
3
A possible first prize for winning the Bug-Catching Contest in Johto's National Park, after unlocking the National Pokédex
Repeatable
4
A reward for bringing a Pichu to Bill's Grandfather, located in the Sea Cottage north of Cerulean City.
Once-only
If you're looking for the fastest early-game method for Thunderstones, then The Pokéathlon Dome is your first reliable opportunity. If you don't mind the minigames, this is also the quickest and most reliable way to farm most evolutionary stones.
But there are actually 4 different ways to obtain Thunderstones in HeartGold & SoulSilver, and we'll cover the details for each method in this guide.
Method 1: Buying Thunderstones at the Pokéathlon Dome
Your earliest chance to snag a Thunderstone comes after beating Gym Leader Whitney in Goldenrod City.
Once you've earned your third Gym Badge, you'll unlock the Pokéathlon Dome at the top of Route 35.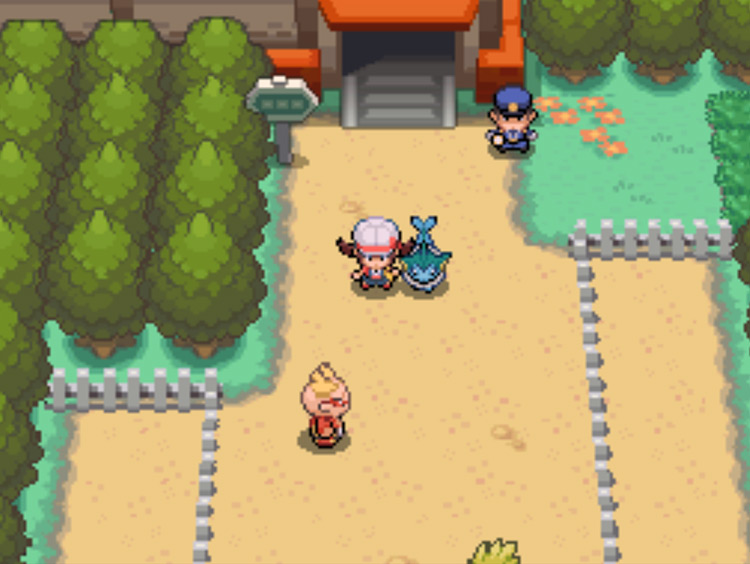 Enter the building shown above and go through the exit to the left. A path will take you to the Pokéathlon Dome.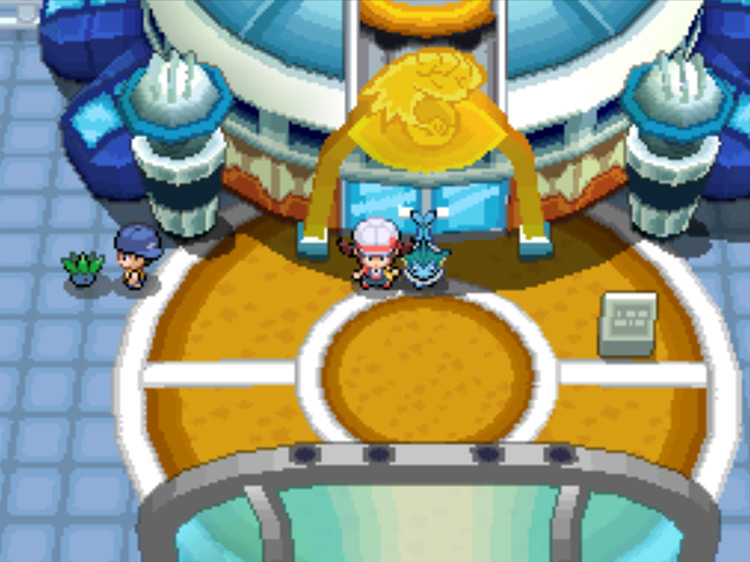 You can play minigames with your Pokémon here to earn Athlete Points. You'll need 2,500 points to buy a Thunderstone.
There's no set absolute best game for farming AP. It will depend on your skills, preferences, and which Pokémon you use. Try them all to find your best match.
Once you've won 2,500 points, come back on a Wednesday, Thursday, or Saturday. The Athlete Shop in the top-right corner of the building sells Thunderstones on these days.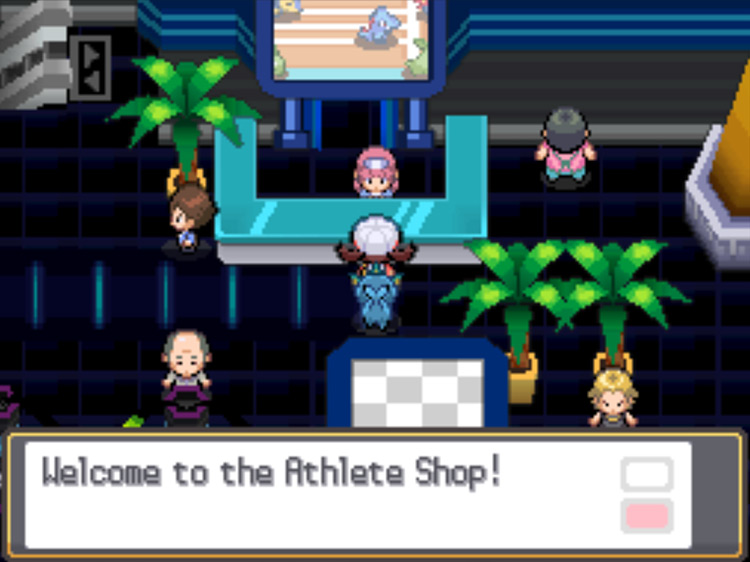 There's no limit to the number of Thunderstones you can purchase this way.
If you enjoy the Pokéathlon minigames, this is probably the most reliable way to farm them. The rest of the methods are much further into the game and/or require much more luck.
Method 2: As a Gift From Lass Dana
Your next chance to get a Thunderstone is also unlocked after earning your third Gym Badge, but it may require a lot of waiting/good fortune.
First, you need to battle Lass Dana on Route 38 and register her phone number in your Pokégear.
To find Dana, start at Ecruteak City's west gate.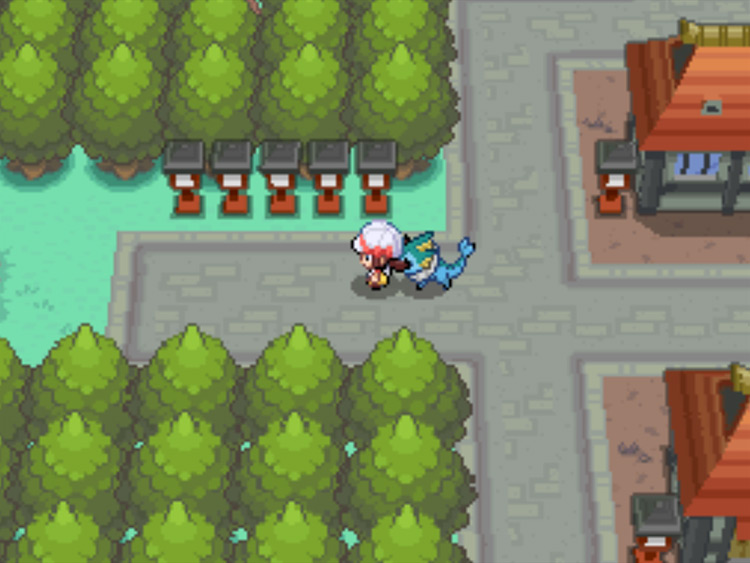 Pass through the gate. Once you've emerged onto Route 38, carry on going directly west.
You'll want to pass between the white picket fence and the tree line. If you see a Sailor, you're going the right way.
Once you've passed the sailor, walk a few paces north and then head west through the thin gap in the trees, pictured below.
Keep walking west from here. The next trainer you encounter will be Lass Dana.
Defeat her in battle and she'll offer to give you her phone number so she can share items with you that are given to her by boys. Rather ungrateful, but good news for you.
Now it's just a matter of waiting.
Keep an eye on your Pokégear and accept whenever she calls you. Sometimes she'll just call to shoot the breeze – but eventually she'll summon you to pick up a Thunderstone she's found.
You can receive multiple Thunderstones this way, so keep an eye on that Pokégear!
Method 3: Winning The Bug-Catching Contest After Unlocking The National Pokédex
You'll unlock the second-easiest way to farm Thunderstones after beating Lance and Johto's Elite Four for the first time and picking up your National Pokédex from Professor Oak in Olivine City.
Once your Pokédex has been upgraded, the Bug-Catching Contest will award a random evolution stone to the highest-scoring contestant. Thunderstones are among the possible prizes.
To compete, head to the National Park at the top of Route 35 on a Tuesday, Thursday, or Saturday. The entrance is the same building as the Pokéathlon Dome, pictured in Method 1.
Once inside, speak to the attendant to the left of the door.
Accept his invitation to join the contest. You now have 20 minutes to catch the most impressive Bug-type Pokémon and earn the most points to win.
Points are calculated by looking at:
The rarity of the Pokémon
The Pokémon's level
The percentage of HP the Pokémon has left when caught (the higher, the better)
The Pokémon's hidden IV stats
Scyther and Pinsir are the rarest Pokémon, worth the most points. To stand the best chance of winning, aim to catch one of the two at Level 28 while dealing the lowest possible amount of damage to it first.
Bring a Pokémon that can inflict a non-damaging status condition (Paralysis or Sleep) to make things easier.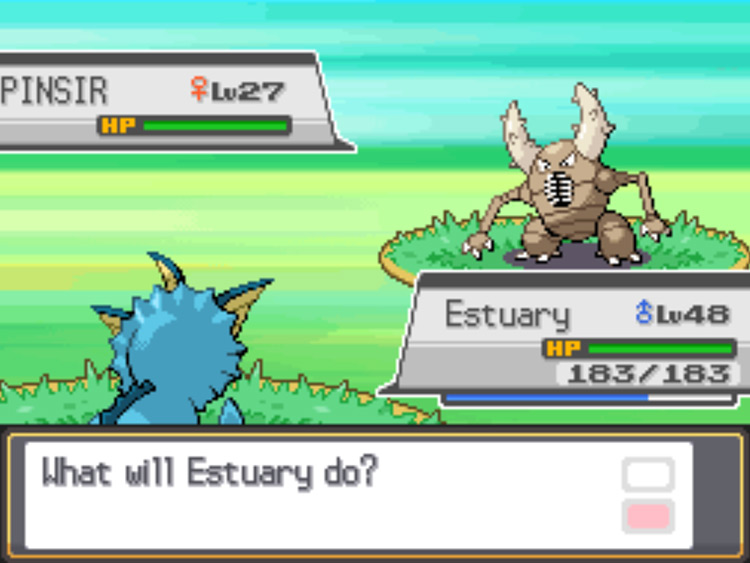 Once you've caught an impressive specimen, talk to the attendant again. The judging will now begin.
If you succeeded in coming 1st, you'll receive a random evolution stone as your reward.
The possible rewards include:
Thunderstones
Leaf Stones
Water Stones
Fire Stones
Sun Stones
Moon Stones
Shiny Stones
Dusk Stones
Dawn Stones
Oval Stones
You may have to win a few contests before getting the prize you seek.
Luckily, you can play three times each week.
Method 4: Showing Bill's Grandfather a Pichu
The final way to get a Thunderstone requires you to have beaten the Elite Four and unlocked the Kanto region.
You'll also need:
Oddish
Growlithe (HeartGold) or Vulpix (SoulSilver)
Jigglypuff (HeartGold) or Lickitung (SoulSilver)
And a Pichu
We actually have a separate guide explaining how to complete this side-quest, but we'll walk you through how to get these Pokémon here as well.
Oddish is easy. Just head to Ilex forest during the night time. They make up 60% of the wild encounters here when the sun goes down.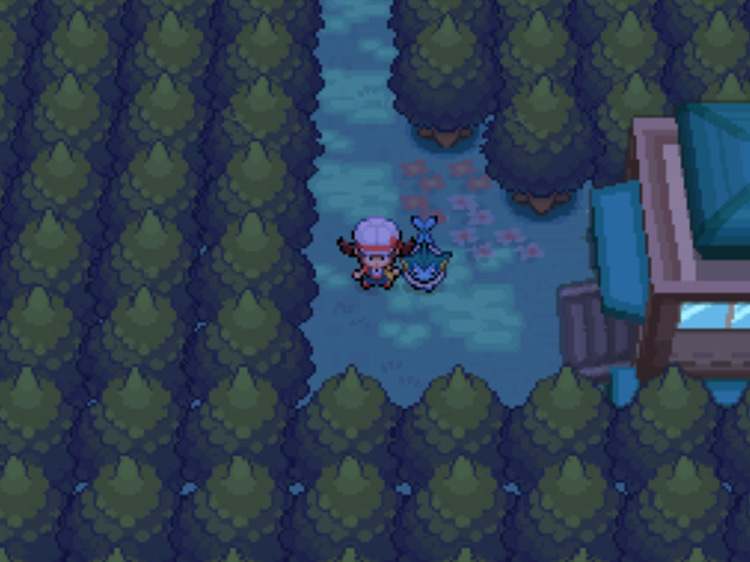 Next, you'll need either a Vulpix or a Growlithe. Luckily, they appear in exactly the same areas, depending on which game you're playing.
We'd advise heading to the patch of grass on Route 48, just south of the Safari Zone gates. You can catch either Pokémon during any time of the day here, but they're both twice as common during the night.
Next, you'll need a Lickitung if you're playing SoulSilver, or a Jigglypuff if you're playing HeartGold.
For Lickitung, Fly to Mahogany Town and take the east exit onto Route 44. Bring a Pokémon with Surf along with you.
Head to the part of the boardwalk pictured below and use Surf.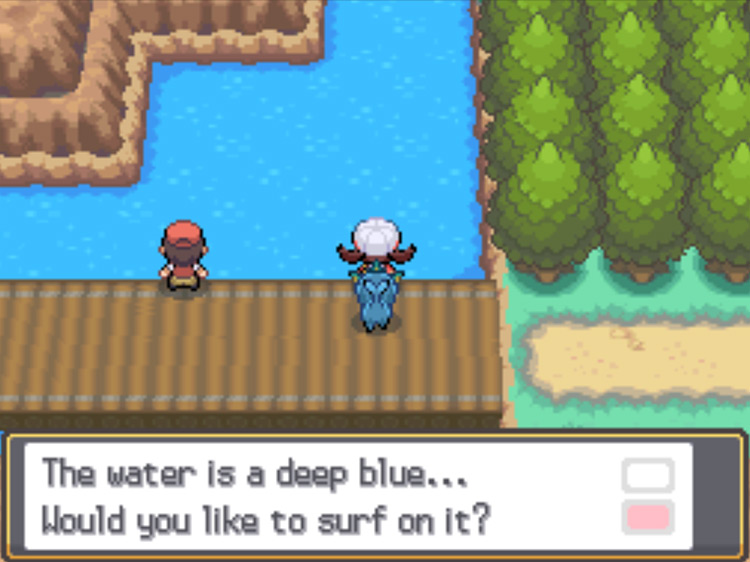 From here, Surf directly north and you'll see a patch of grass.
Disembark here and run through the long grass. Lickitung make up 15% of the wild encounters here.
For HeartGold players, you can pick up a Jigglypuff close to Cerulean City.
Leave the city through its west exit onto Route 4. Jigglypuff make up 10% of the wild encounters in the long grass here.
Finally, you'll need a Pichu.
Unfortunately, Pichu can't be found in the wild. You'll need to catch a Pikachu and breed it.
Pikachu can be found in Viridian Forest, between Route 2 and Pewter City. They make up 6% of the wild encounters in the morning and day time, and 5% of the wild encounters at night – so you've got slightly better chances if you come before dark.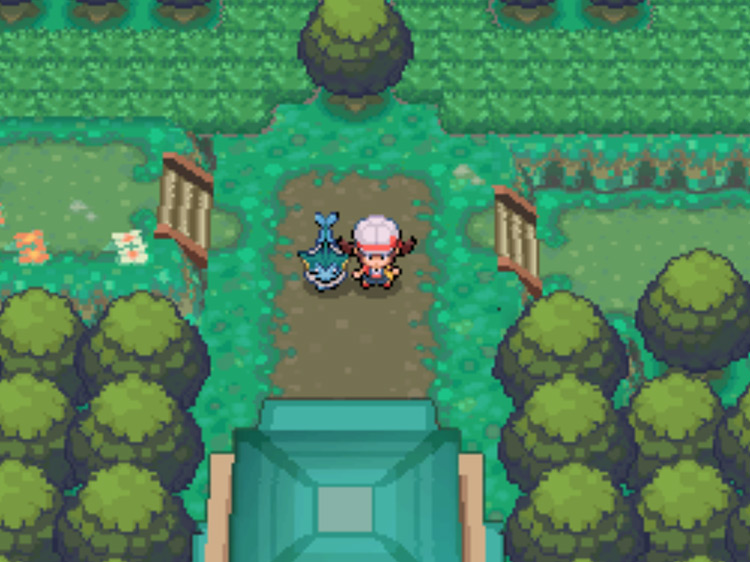 After you've caught a Pikachu, you'll need to breed it at the Pokémon Day Care to get a Pichu.
To breed it, place a female Pikachu in the Day Care with:
A male Pikachu or Raichu
A Ditto of any gender (your Pikachu can also be of any gender if you're using a Ditto)
Any male Pokémon from the Field or Fairy egg groups
Once you're in possession of all the Pokémon above, put them all into your party.
Then, Fly to Cerulean City and leave the city through the north exit onto Route 24 and the golden bridge.
If you haven't been this way before, there are quite a few tough trainers. Make sure the remaining two slots in your team contain Pokémon strong enough to handle some consecutive battles.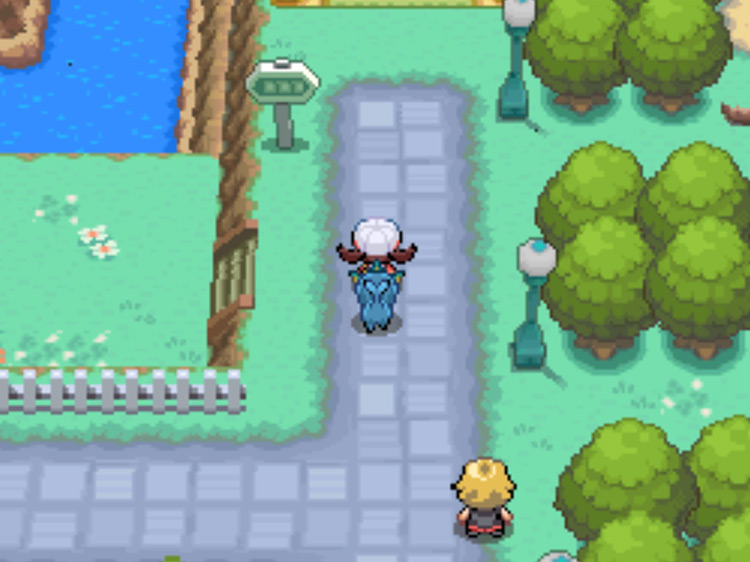 After you've crossed the bridge onto Route 25, take a right turn at the T-junction.
Now carry on east, winding your way through the trees and battling trainers as you go.
At the other end of the trees, you'll see a small house.
This is the Sea Cottage, where Bill's Grandfather lives.
Head inside the house and talk to the old man. He will describe a Pokémon in a slightly vague way.
Show him each Pokémon in the order you caught them, and you'll receive a variety of evolution stones for your effort.
When the time comes that Pichu is vaguely described, you'll be rewarded with a Thunderstone.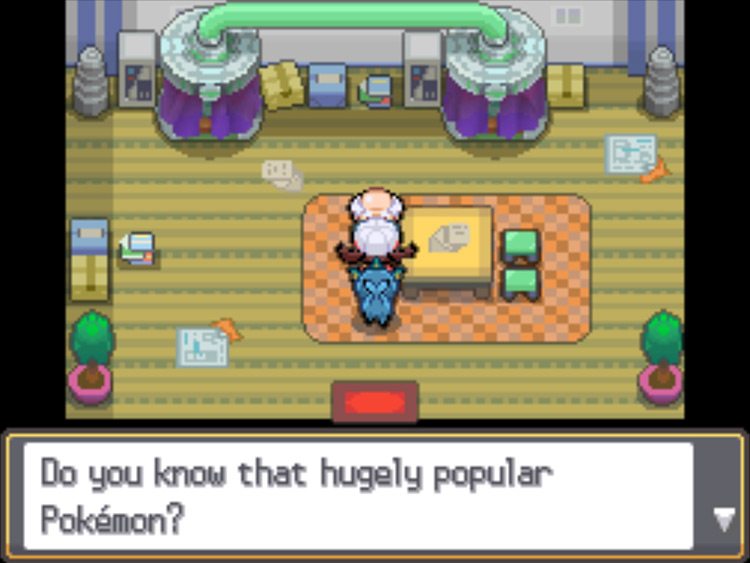 If you fancy snagging yourself a Water Stone after this, all you need to do is show Bill's Grandfather a Marill (HeartGold) or Staryu (SoulSilver).
Guide Navigation