Where To Get the Charizardite X in Pokémon ORAS
Charizardite X, one of Charizard's Mega Stones, can be found on the southwest side of Fiery Path. To reach the Mega Stone's exact location you'll need a Pokémon that knows HM04 Strength.
However the Mega Stone only appears after defeating/capturing Kyogre or Groudon in the Cave of Origin.
Charizardite X Location (Step-by-Step)
The Fiery Path is a cave that connects Route 112's top and bottom halves. It also has a side path that can only be explored with the move Strength.
So be sure to bring a Pokémon that knows HM04 Strength before leaving to get your Charizardite X.
If you're ready, you can return to Fiery Path by using HM02 Fly, or by Soaring.
Step 1: Enter Fiery Path's entrance from Route 112.
Step 2: Once you're inside, head north and then take the stairs to the left.
Step 3: Proceed up and to the west. You'll see a path that's blocked by a boulder.
Step 4: Use HM04 Strength on the first boulder to move it into the hole.
Then use Strength on the second boulder to push it all the way to the left-hand side (yes this will take many pushes to get it over there!)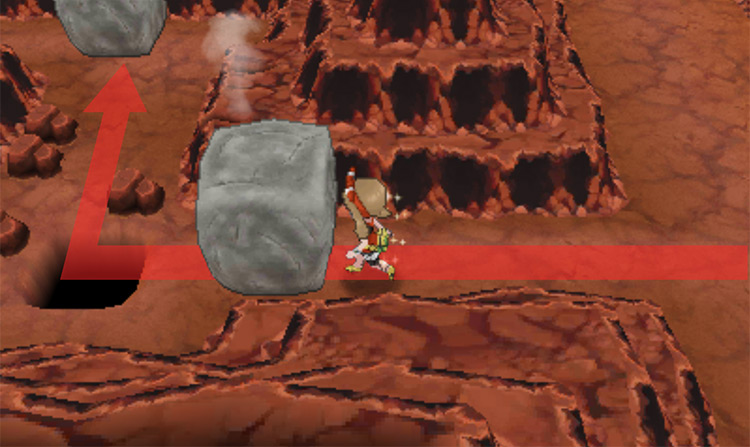 Step 5: Once you've moved the second boulder over to the left, you should see a path leading up north.
Follow that new path up a bit, and then turn left down the first turn you see.
Step 6: Follow this path along and take the linear path to the south.
Step 7: You'll need to curve to the right a bit, but after that just keep going south.
Step 8: As you keep moving south you'll eventually find yourself in a clearing with an overworld item.
To get the Charizardite X, interact with the sparkling object on the right-hand side of this little room (we've highlighted the exact spot below).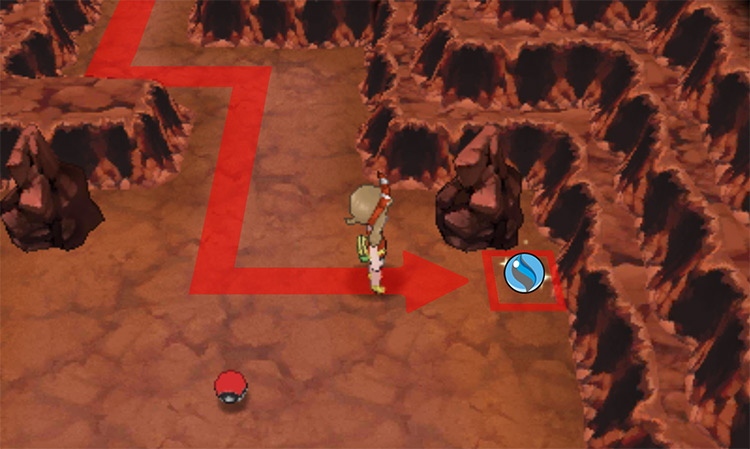 Is Mega Charizard X Worth Using?
Mega Charizard X is one of the game's most powerful Dragon Dance sweepers. Its substantial bulk allows it to set up once or twice with Dragon Dance.
With a base Attack of 130 and base Speed of 100, Mega Charizard X is absolutely worth using, and it can easily take care of most teams.
What Does Mega Charizard X Offer?
Unlike most Pokémon, Charizard can Mega Evolve using two different Mega Stones:
Charizardite X
Charizardite Y
Charizardite X allows Charizard to Mega Evolve to Mega Charizard X, granting it a massive boost to its base stats.
Mega Charizard X also changes types after Mega Evolving, becoming a Fire/Dragon-type Pokémon.
Mega Evolving also changes this Pokémon's ability, which lasts until the battle concludes. When Charizard Mega Evolves into Mega Charizard X, it changes its ability to Tough Claws, which increases the power of moves that make direct contact by 30%.
Tough Claws also gives it a significant power boost, allowing STAB (Same-Type Attack Bonus) moves like Flare Blitz and Dragon Claw to pack a powerful punch.
Mega Charizard X can utilize its unique Fire/Dragon typing and wide movepool to be fairly unpredictable.
Earthquake and Iron Tail are good coverage moves that can catch your opponent off guard.
Same goes for some defensive moves such as Will-O-Wisp and Roost.
So what are the downsides?
Mega Charizard X has a specific weakness against the entry hazard Stealth Rock. Especially if you haven't yet Mega Evolved Charizard yet.
Otherwise, this is one of the best Mega Evolutions you could be running in your team in Omega Ruby/Alpha Sapphire. Especially for a single-player playthrough of the game.
Guide Navigation
Pokémon ORAS

Where To Get the Charizardite X in Pokémon ORAS