Where To Get HM02 Fly in Pokémon Crystal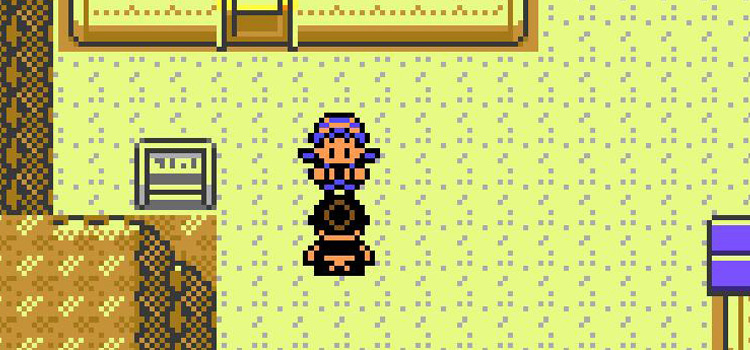 HM02 Fly
#
Location
Repeatable?
1
Cianwood City. Received from Chuck's wife standing outside the Cianwood Gym after defeating Gym Leader Chuck.
No
You get HM02 Fly as a reward from Gym Leader Chuck's wife in Cianwood City. After you defeat Chuck, leave the gym and speak to the woman with black hair – she will give you the Fly HM for free.
But you'll need to use Surf and Strength to access the Cianwood Gym, so make sure you've already obtained both of those HMs first.
The Storm Badge is needed to use Fly outside of battle, but you'll get that from Chuck anyways. So you'll be able to Fly around Johto right away after teaching it to a Pokémon.
Prerequisites
There are two things we need to reach Cianwood City and challenge Gym Leader Chuck:
1. A Pokémon that can Surf
Surf is necessary to cross the sea separating Olivine City from Cianwood City.
You can get HM03 Surf by defeating all five Kimono Girls at the Ecruteak City Dance Theater, then talking to the well-dressed man watching the show.
2. A Pokémon that can use Strength
Cianwood Gym presents a puzzle where your Pokémon will need to use Strength outside of battle to push boulders around.
You can get HM04 Strength by talking to a sailor eating alone at the Olivine Café, some steps west of Olivine City's Pokémon Center.
Getting HM02 Fly (Step-by-Step)
Step 1: Surf from Olivine City to Cianwood City.
The fastest way to get there is to exit Olivine toward Route 40 by heading west towards the coastline. Then just follow the western edge of the map down by Surfing.
First, Route 40 will take you south.
You'll see some trainers splashing around in the water, but you can avoid them as long as you stay at a safe distance of at least four steps.
Then you'll want to turn west as soon as you enter Route 41.
Keep going until the watery path turns south again.
You're almost at Cianwood City's coast!
Once the path turns down, just keep surfing until you see the coastline. Welcome to Cianwood City.
Step 2: Find the Cianwood Gym in the southwestern corner of the city. It's west of the Pokémon Center. You can't miss it!
Step 3: Defeat the Blackbelt Trainers and remove the boulders on the way to Gym Leader Chuck.
There's only one way through Cianwood Gym, and that's forward, through all of the trainers.
This straightforward approach is fitting for a Fighting-type Gym.
But you'll also have to remove a boulder barrier with a Pokémon that can use Strength outside of battle.
Don't just start moving them around at random, though.
Here are the steps to follow:
You need to move the two lateral boulders (1, 2) up one space.
Then move the boulder in the middle (3) to the side (either side)
This will open the way forward to reach Chuck.
Step 4: Defeat Gym Leader Chuck and receive the Storm Badge.
Chuck's Team
Gym Leader Chuck's Team

Pokémon
Primeape (Lvl. 27)
Poliwrath (Lvl. 30)
Type
Fighting
Water/Fighting
Held Item
None
None
Moves

Leer
Rage
Karate Chop
Fury Swipes

Hypnosis
Mind Reader
Surf
Dynamic Punch
Like the rest of the trainers in Cianwood Gym, Chuck is a Fighting-type specialist.
The addition of the Water/Fighting-type Poliwrath gives him a bit more coverage, but he only has two Pokémon, so he shouldn't prove too troublesome.
Psychic, Flying, and especially Ghost-type Pokémon are great options to tackle this challenge.
Tip: Stock up on Awakenings to deal with Poliwrath's Hypnosis in the PokéMarts at Cherrygrove, Violet, and Ecruteak City. They're also sold at Goldenrod Dept. Store.
You'll get the Storm Badge and TM01 Dynamic Punch from Chuck as a reward for conquering the Cianwood Gym.
After Beating Chuck
Exit the Gym and talk to the nearby lady dressed in black. This is Chuck's wife, and she will give you HM02 Fly as a reward for defeating her husband.
HM02 Fly Details + Uses
Fly Move Details
Type
Flying
Category
Physical
Power
70
Effect
The user flies away from the battlefield for one turn before diving down and dealing damage.
Accuracy
95%
PP
15 (max. 24)
Fly's most important function is serving as Pokémon Crystal's fast travel system.
A Pokémon that knows Fly can take you to previously-visited towns and cities around Johto and Kanto instantly. This makes it one of the most game-changing HMs you'll collect.
Note: In Pokémon Crystal you can't use Fly to cross between Johto and Kanto. So to get between these regions in the post-game you'll need to fly somewhere and cross the regions on foot, or use the Magnet Train.
Using Fly In Battle
But with regards to using Fly in battle, it's a rather situational move in combat.
Pros:
Flying away for a turn is useful when your opponent uses a charge-up move (Solar Beam, Razor Wind, etc.) You'll avoid the damage and hit back hard the next turn.
High-Speed Pokémon can use Fly to dodge whatever move your opponent chose for this turn. If your Spider-Sense is tingling, use Fly.
Cons:
The turn spent in the air usually feels like a waste of time.
There are stronger Flying-type moves that hit on the same turn, such as Drill Peck and Wing Attack.
Gust, Thunder, Twister, and Whirlwind will still connect against a flying Pokémon. Gust and Twister will even deal more damage this way!
Who To Teach Fly To
Here are some great early-game candidates to become your aerial taxi:
| Pokémon | Type | Location |
| --- | --- | --- |
| Pidgey | Normal/Flying | Routes 29-37, Ilex Forest, National Park (Morning, Day.) |
| Spearow | Normal/Flying | Routes 33, 42, and 46 (Morning, Day.) |
| Hoothoot | Normal/Flying | Routes 29-37, Ilex Forest, National Park (Night.) |
Guide Navigation