How To Get Lucky Eggs in Pokémon ORAS
All Lucky Egg Locations
#
Location
Repeatable?
1
Held item (5% chance) found on the following wild Pokémon:
Yes
You can only obtain Lucky Eggs by stealing them from wild Pelipper or wild Happiny. Both Pokémon have a 5% chance of holding one with each encounter.
Pelipper is a much more common Pokémon in Hoenn, usually found while surfing in the ocean. So typically wild Pelipper will be the best choice to farm for Lucky Eggs.
Happiny, on the other hand, can only be found at Mirage locations. These only appear in the post-game – but you can reference the table below for more details on where to farm these exact Pokémon:
Pokémon
Locations
Pelipper

Slateport City
Lilycove City
Mossdeep City
Pacifidlog Town
Ever Grande City
Magma/Aqua Hideout

Routes:
103-110
115
118
119
121-134

Happiny

Mirage Forest (West of Route 105)
Mirage Mountain (North of Route 125 & Mossdeep City)
Farming Lucky Eggs
To efficiently farm Lucky Eggs, you'll want a Pokémon that knows item-stealing moves like Thief or Covet.
And you should also utilize the Pokémon Abilities Compound Eyes and Frisk. These abilities each serve a valuable purpose when farming held items:
To increase the chances of encountering a Pokémon with a held item
And then identifying the Pokémon's held item at the beginning of a battle
Since both Pelipper and Happiny only have a 5% chance of carrying a Lucky Egg, you can use these abilities to quickly check if each encounter is holding a Lucky Egg or not.
Farming Wild Pelipper
Pelipper is your best choice for farming Lucky Eggs since you can find them on multiple routes stretching across Hoenn.
The highest encounter rates you'll get are 35% for Pelipper, so here's a list of all the best locations with a 35% Pelipper encounter rate. You will need Surf for all of them:
Routes 124-134 (every water route in the game except 122)
Mossdeep City
Ever Grande City
Note: Aside from a 5% chance of holding a Lucky Egg, Pelipper also has a 50% chance of holding a Pretty Wing.
While in combat with a Pelipper, use Thief to obtain the Lucky Egg if it's holding any.
Farming Wild Happiny (Post-Game)
After finishing the Delta Episode, you can encounter wild Happiny in a specific Mirage Forest and a specific Mirage Mountain. You can access all the Mirage locations by soaring with Latios/Latias using the Eon Flute.
While this is not the most efficient way to farm Lucky Eggs, Happiny has a 40% encounter rate in the Mirage Forest location.
But here are the specific mirage spots to look for:
Wild Happiny Locations
Location
Encounter Chance
Mirage Mountain – North of Mossdeep City
30%
Mirage Forest – West of Route 105 (above Dewford Town)
40%
Note: Aside from a 5% chance of holding a Lucky Egg, Happiny also has a 50% chance of carrying an Oval Stone.
How Do Lucky Eggs Work?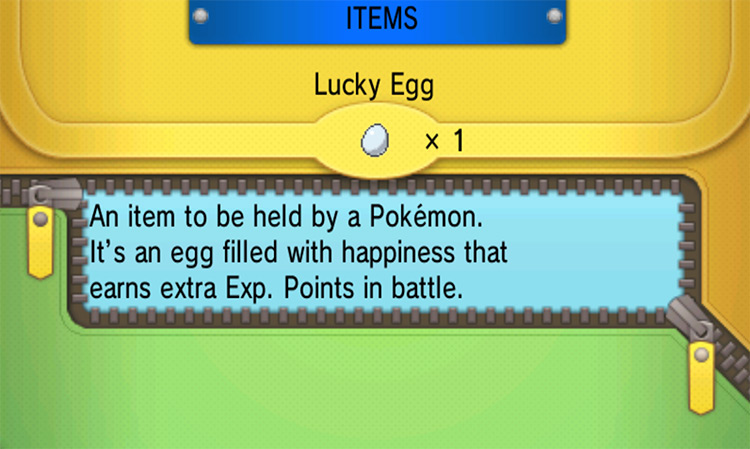 When held by a Pokémon, the Lucky Egg increases the EXP gained by its holder up to 150% after a battle.
Lucky Eggs also work with Exp. Share, so if a Pokémon holding a Lucky Egg doesn't participate in combat, it will gain 75% EXP instead of just 50%.
With these two items together, you can level up new party members quickly!
And since you can acquire multiple Lucky Eggs, it's possible to give this EXP bonus to multiple Pokémon too.
Guide Navigation