Best Vs. Seeker Spots for Money & EXP (Pokémon Platinum)
The Vs. Seeker is a Key Item that allows players to challenge previously-beaten trainers to rematches. These battles are usually more challenging than the original matches, and thus offer more potential for earning money and experience points.
This guide details the best spots to use the Vs. Seeker for accumulating wealth and leveling up your Pokémon.
Quick Tips on Using the Vs. Seeker
At the end of each section in this guide is a table listing the section's trainers, as well as the XP and money you can earn from battling them.
But there are a couple of things to remember as you use this information at any point in the game to farm XP/cash.
1. Trainers' Teams Grow Stronger Over Time
You can engage in unlimited rematches against any trainer that can be challenged with the Vs. Seeker.
However, many trainers' teams will change as you progress through the story by winning Gym Badges, beating the Elite Four, and so on.
This guide only focuses on trainers' teams as they are in their final forms. This is when the XP and money you can receive from them are at their highest levels.
For instance:
If the table at the end of a section is labeled "Third Rematch," that information pertains only to that trainer's team after it has improved three times since your original battle with them.
The only way to tell when a trainer has gotten stronger is to periodically challenge them to rematches over the course of the game. As a general rule, by the time you've completed the final quest in Stark Mountain, all the trainers in Sinnoh will be at their maximum strength.
2. You Can Use Held Items to Boost Your Earnings
A few held items will help you earn more money and XP if you give them to participating Pokémon in each battle. These items can reduce the time you spend grinding through rematches.
These items are:
The tables in this guide provide both the unboosted and boosted amounts as the first and second number, respectively (i.e. "1,008XP/1,512XP").
Using the Vs. Seeker to Earn Money
Monetary rewards differ greatly from trainer to trainer. How much money you earn in a battle isn't always reflected by how long or difficult the battle is.
For instance, you'll often earn less money from an Ace Trainer with six tough Pokémon than you will from a Rich Kid with one or two easy Pokémon. This makes it hard to tell who is worth battling for money alone.
Luckily, there is one money-making area that is the undisputable "best" in the game.
Best Money Farm: Gentleman Jeremy and Socialite Reina (Route 212)
When it comes to earning cash with the Vs. Seeker, the only trainers worth mentioning are the elderly couple on the northern (sunny) section of Route 212: Gentleman Jeremy and Socialite Reina.
Jeremy and Reina are the king and queen of cash payouts for the following reasons:
They offer the most money at every stage of the game—even early-game rematches with them will earn you vast amounts of wealth
They're laughably easy to defeat, with just one weak Pokémon apiece
They stand right next to each other on screen, so you can often challenge both trainers at once
Finding Gentleman Jeremy and Socialite Reina
To find Gentleman Jeremy and Socialite Reina, start by Flying to Hearthome City and heading south.
When you reach the white picket fences, head eastward.
Take the south turn by the fisherman NPC standing in the middle of the street's intersection, then turn west at the Hearthome City sign.
Travel westward until you reach the two city gates in the southwest corner of town.
Take the gate to the south—this will put you onto Route 212.
Pass through the gate and continue southward on Route 212.
Continue moving south, hugging the eastern edge when trees start to break up the path. Circle around the ponds you encounter along the way.
Continue going south until you reach the two elderly NPCs to the west of the Pokémon Mansion's front gate.
The man on the left is Gentleman Jeremy and the woman on the right is Socialite Reina.
With both of them on screen, go into your Bag and use the Vs. Seeker.
SCROLL
Gentleman Jeremy—Third Rematch
Pokémon
Level
XP
Money
Chatot

61
1,398XP / 2,097XP
12,200P/ 24,400P
SCROLL
Socialite Reina—Second Rematch
Pokémon
Level
XP
Money
Roselia

61
1,986XP / 2,979XP
12,200P / 24,400P
Using the Vs. Seeker to Farm Exp. Points
Trying to determine the best Vs. Seeker spots for racking up experience points is a little trickier.
Since trainers often change their Pokémon for rematches as you progress through the game, what is defined as a "superior" Vs. Seeker spot at one time might not suit your purposes later.
With that said, three spots stand out far apart from most others.
The following list considers factors such as game progress, battle difficulty, and how easy it is to access each location.
Best Early-Game XP: Collector Douglas (Route 214)
If you need to train your Pokémon at any point between Relic Badge in Hearthome City and the Icicle Badge in Snowpoint City, Collector Douglas on Route 214 is there to help.
Collector Douglas is a great asset for early leveling for a few reasons:
His Pokémon remain at level 24 throughout the whole game
All of his Pokémon supply a better-than-average number of Exp. Points
His team's typing is well-rounded enough to give most types of Pokémon at least one easy victory per battle
You can battle him early—any time after winning the Relic Badge from Leader Fantina
Finding Collector Douglas
The quickest way to get to Douglas is to start in Veilstone City and head south from the Pokémon Center.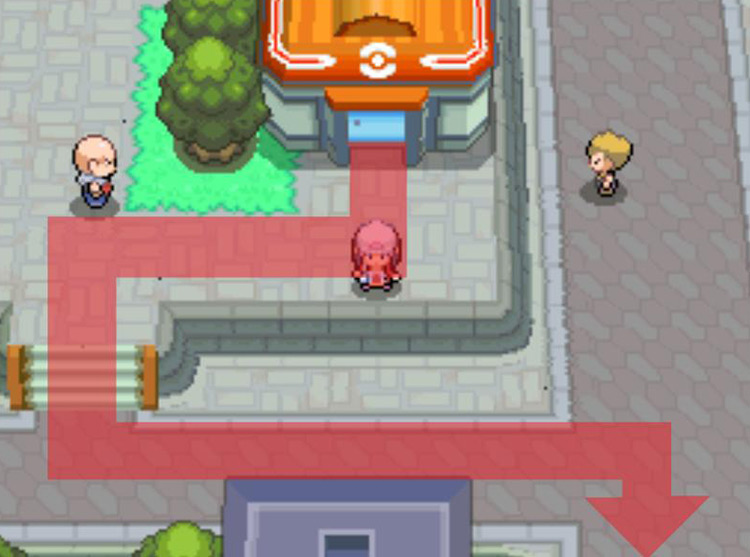 Leave Veilstone City through the southeastern entrance gate.
On the other side of the gate, continue southward on Route 214.
Pass Psychic Abigail and head east.
Turn south again when you reach the narrow aisles created by the picket fences.
Continue southward through the picket fence maze, passing all the wandering trainers.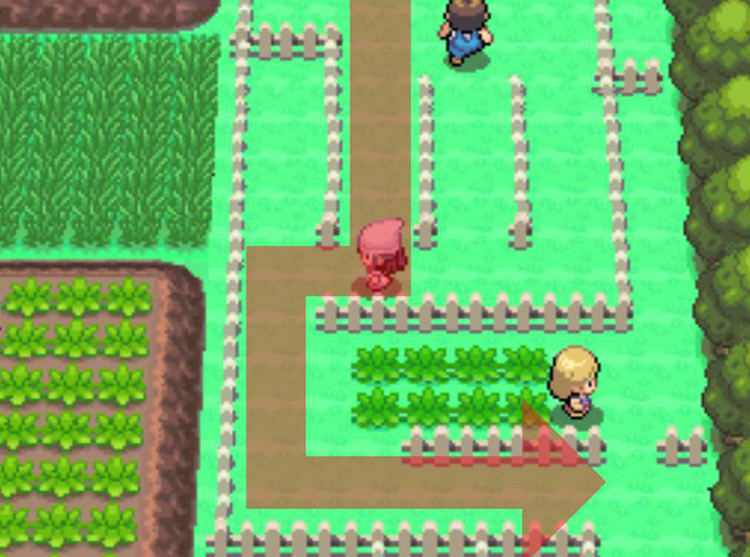 Pass Psychic Mitchell and keep moving southward.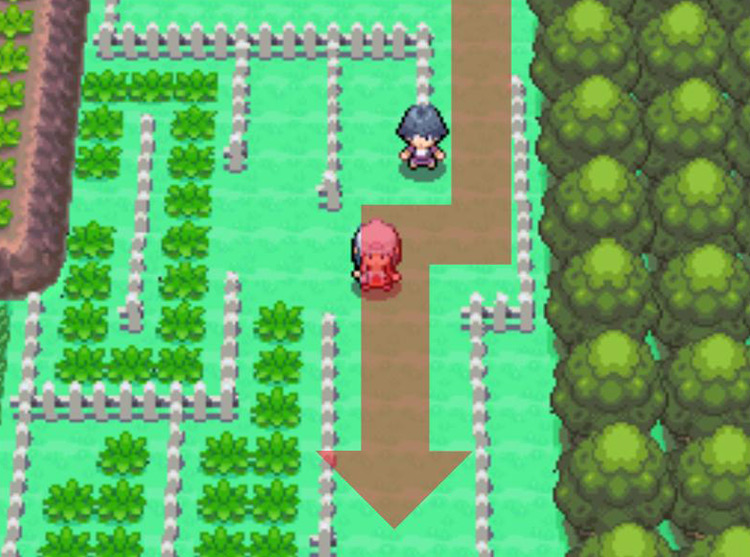 You'll find Collector Douglas at the southern end of the picket fence maze, just north of Lake Valor.
SCROLL
Collector Douglas—First Rematch
Pokémon
Level
Exp.
Money
Jolteon

24
1,012XP / 1,518XP
1,536P / 3,072P
Flareon


24
1,017XP / 1,525XP
Vaporeon

24
1,008XP / 1,512XP
Best Late-Game XP: Rancher Marco (Route 210)
When you first pass through Solaceon Town, the trainers aren't much to speak of. But one trainer—Rancher Marco—becomes a virtual XP dispenser by the time you're able to challenge him to a second rematch.
Rancher Marco is the best overall trainer for XP for several reasons:
His Pokémon are all relatively easy to take down
Defeating him earns you an absurd amount of experience, nearly as much as the much longer and far more difficult Battleground battles
Reaching him is extremely easy—he's fewer than 50 steps from the Solaceon Town Pokémon Center
He's standing next to a long road that makes recharging the Vs. Seeker fast and simple
Finding Rancher Marco
To challenge Marco, Fly to Solaceon Town and head north from the Pokémon Center.
Before you reach the first hill, turn left. You'll find Rancher Marco standing in the tall grass near the tree line.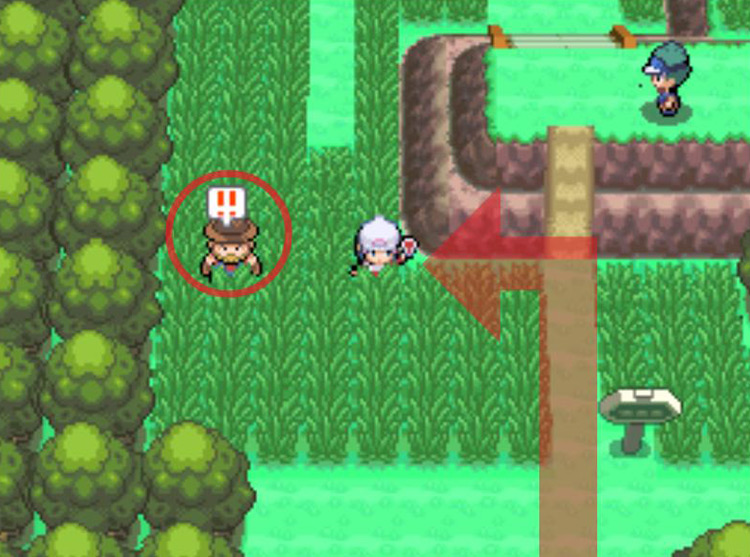 SCROLL
Rancher Marco—Second Rematch
Pokémon
Level
Exp.
Money
Ponyta

56
1,824XP / 2,736XP
2,320P / 4,640P
Miltank

57
2,442XP / 3,663XP
Tauros

57
2,577XP / 3,865XP
Rapidash

58
2,385XP / 3,577XP
Best XP/Money Combo: Rich Boy Trey & Fisherman Alec (Route 222)
If you want a nice combination of both XP and money, Rich Boy Trey and Fisherman Alec on Route 222 are excellent for both.
This Vs. Seeker spot is noteworthy because:
Trey and Alec have just three Pokémon between them, and they can all be beaten quickly
Both trainers are close enough that they can be challenged at the same time
Each Pokémon offers a higher-than-average XP amount
On top of the high XP, Rich Boy Trey will award you a substantial sum of money (although not nearly as much as Gentleman Jeremy and Socialite Reina)
You have a whole beach to run up and down, so charging the Vs. Seeker is an easy process
Finding Rich Boy Trey and Fisherman Alec
To find this lucrative spot, start by Flying to Sunyshore City and heading west from the Pokémon Center.
Exit Sunyshore through the gate in the southwestern corner of town.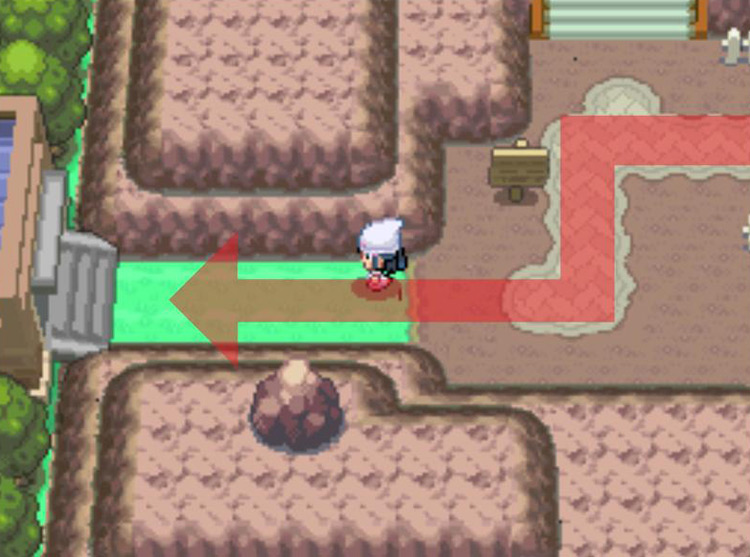 On Route 222, head up the staircase on the left.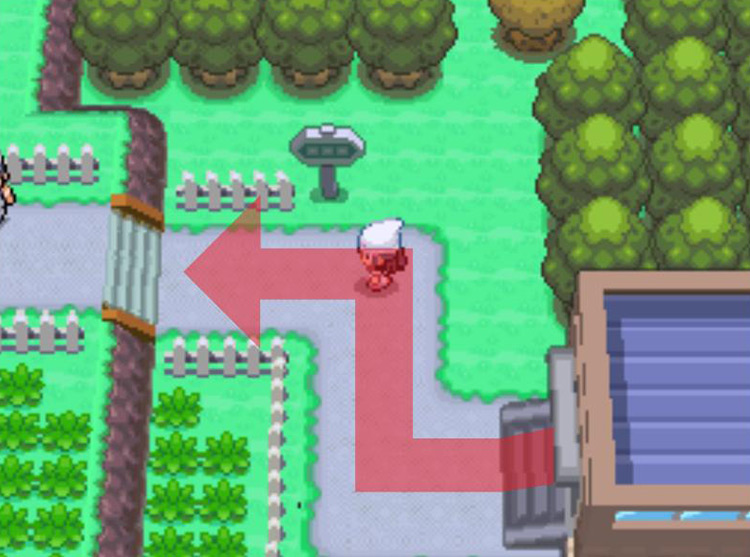 Cut straight across the road going west and step onto the beach.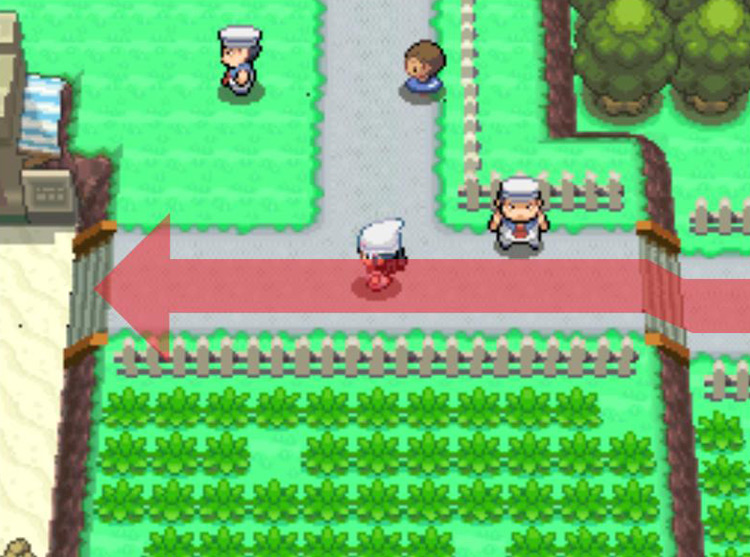 Head across the entire length of the beach going west until you reach the end.
Get both Rich Boy Trey (in the grass to the west) and Fisherman Alec (the nearby Fisherman on the coastline) in the same frame and use the Vs. Seeker.
If you're lucky, you'll be able to fight both of them on a single charge.
SCROLL
Rich Boy Trey—Second Rematch
Pokémon
Level
Exp.
Money
Luxray

61
2,535XP / 3,802XP
9,760P / 19,520P
SCROLL
Fisherman Alec—First Rematch
Pokémon
Level
Exp.
Money
Gyarados

50
2,292XP / 3,438XP
1,728P / 3,456P
Gyarados

54
2,475XP / 3,712XP
Honorable Mentions
The following groups of fighters actually have the potential to earn the most XP of all the entries, but they're listed as "honorable mentions" because they take considerably more effort to bring down than the others.
The experience they offer is also spread across a greater number of Pokémon.
For instance, while the trainers on Route 225 offer a bit more XP than Rancher Marco, that XP is earned by defeating 8 Pokémon (compared to Marco's 4). And that's only if you can get all three trainers to respond at once.
Keep in mind that there are tons of worthwhile trainers to fight beyond the ones mentioned in this guide. It's worth backtracking across Sinnoh and challenging more trainers to rematches, especially if you decide you want to EV train your Pokémon.
Ace Trainer Maya and Ace Trainer Dennis (Route 215)
Maya and Dennis are the two Ace Trainers you encounter directly west of Veilstone City on Route 215.
Their well-rounded teams get pretty tough by your second rematches with them. But with a Lucky Egg equipped you can earn over 20,000XP at once (if both trainers respond to your challenge at the same time).
SCROLL
Ace Trainer Maya—Second Rematch
Pokémon
Level
XP
Money
Roserade

59
2,578XP/3,867XP
3,660P/7,320P
Gardevoir

61
2,718XP/4,077XP
Lickilicky

61
2,521XP/3,781XP
SCROLL
Ace Trainer Dennis—Second Rematch
Pokémon
Level
XP
Money
Gliscor

61
2,509XP/3,763XP
3,540P/7,080P
Floatzel

61
2,326XP/3,489XP
Drifblim

59
2,578XP/3,867XP
Bird Keeper Audrey, Pokémon Ranger Ashlee, and Psychic Daisy (Route 225)
Audrey, Ashlee, and Daisy are the three trainers standing in a triangular formation at the first intersection on Route 225.
You might be able to fight all three at once if you're lucky.
This is an especially good location to train Electric-type Pokémon, as 6 of these trainers' 8 Pokémon have a weakness to electricity.
SCROLL
Bird Keeper Audrey—First Rematch
Pokémon
Level
XP
Money
Farfetch'd

57
1,147XP/1,720XP
3,540P/7,080P
Swellow

59
2,047XP/3,070XP
Pidgeot

61
2,247XP/3,370XP
SCROLL
Pokémon Ranger Ashlee—First Rematch
Pokémon
Level
XP
Money
Linoone

60
1,645XP/2,467XP
3,600P/7,080P
Arbok

60
1,890XP/2,835XP
Butterfree

60
2,056XP/3,087XP
SCROLL
Psychic Daisy—First Rematch
Pokémon
Level
XP
Money
Slowbro

58
2,037XP/3,055XP
1,984P/7,080P
Slowking

62
2,178XP/3,267XP
Guide Navigation