Where To Get the Super Rod in Pokémon Platinum
You'll receive the Super Rod by speaking to a Fisherman NPC in the Fight Area, which is just south of the gate to Route 225.
But since the Fight Area is in the Battle Zone, the Super Rod is only available in the post-game after you've entered the Pokémon League Hall of Fame.
Getting the Super Rod (Step-by-Step)
The Fisherman NPC who has the Super Rod is found in the Battle Zone's Fight Area. To find the Fisherman, start by heading to the Fight Area's Pokémon Center.
Then move left down the westward path from the Pokémon Center.
Go down until you see a small signpost near some shipping containers. Slip north through the gap and head past the blue shipping containers by the docks.
You'll find the fisherman NPC in the northwestern corner of this area, standing just south of the gate.
The fisherman will talk about what a joy fishing with a Super Rod is. When he asks if you agree, choose "Yes" and he will give you a Super Rod of your very own.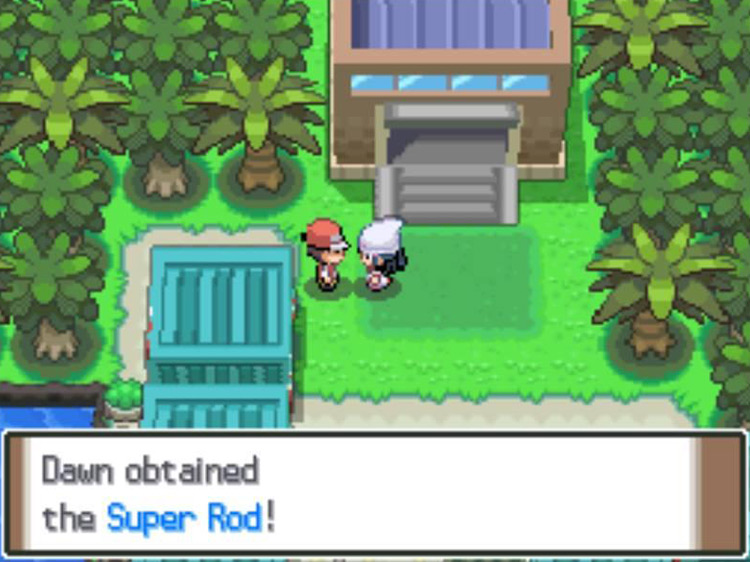 Super Rod Details and Uses
The Super Rod is a Key Item used for fishing Pokémon out of bodies of water.
This is the third and strongest of the Fishing Rods, with the others being the Old Rod and the Good Rod.
Pokémon To Catch with the Super Rod
The following table details rare or otherwise noteworthy Pokémon you can catch now that you have the most powerful fishing rod in the game.
Note that this is not a complete list of all Pokémon that can be caught with the Super Rod. Because many species (like Gyarados and Seaking) can be found in bodies of water all over Sinnoh, and are not relegated to a handful of locations.
SCROLL
Notable Super Rod Pokémon
Pokémon
Locations
Level
Rate
Shellder
Route 205, Valley Windworks, Fuego Ironworks
20-50
15%
Chinchou
Route 220
20-50
15%
Wailmer
Routes 223 and 230
30-40
40%
Wailord
Routes 223 and 230
40-55
5%
Staryu
Canalave City, Sunyshore City
20-50
15%
Luvdisc
Route 224, Pokémon League
20-30
15%
Seadra
Route 226
20-55
45%
Relicanth
Route 226
15-50
15%
Qwilfish
Iron Island
20-50
15%
Corphish
Celestic Town
30-40
40%
Crawdaunt
Celestic Town
40-55
15%
Dratini
Mt. Coronet, 4F 1 (waterfall chamber)
15-25
40%
Dragonair
Mt. Coronet, 4F 1 (waterfall chamber)
20-55
5%
Guide Navigation