Where To Get TM02 Headbutt in Pokémon Crystal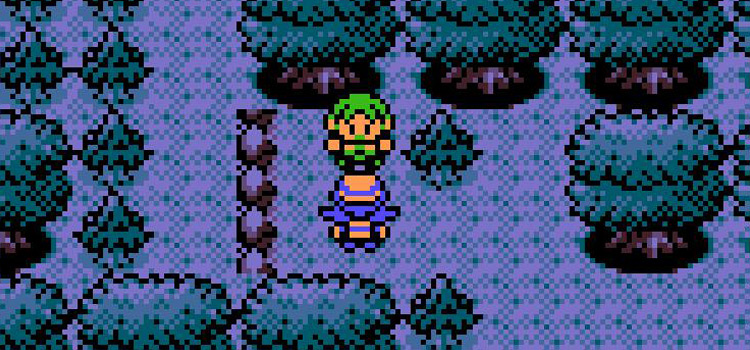 TM02 Headbutt
#
Location
Repeatable?
1
Ilex Forest – Given out by a green-haired NPC behind a small cuttable tree.
No
2
Goldenrod City Department Store, 5F (after getting it in Ilex Forest). Costs 2000 Pokédollars.
Yes
There are two ways to get TM02 in Pokémon Crystal.
You will first receive TM02 Headbutt from a green-haired NPC in Ilex Forest. You'll find them in the northern part of the forest, standing on a ledge next to a tree.
But you'll need to use Cut on a small tree to access this area of the forest. So TM02 is only accessible after you get HM01 and defeat the Azalea Town gym.
You can also buy unlimited copies of TM02 from the TM Corner at Goldenrod City Dept. Store's 5th Floor. The TM costs 2000 Pokédollars, but this is only possible after you've initially gotten Headbutt from the green-haired NPC.
Prerequisites
Ilex Forest is the first time you'll be able to get the Headbutt TM. But you must be able to use Cut outside of battle to reach the green-haired NPC's located to get the TM from him.
That means the prerequisites are:
Receiving HM01 Cut from the Charcoal Kiln master after retrieving the runaway Farfetch'd.
Teaching Cut to a Pokémon in your party.
Defeating Gym Leader Bugsy at Azalea Town to get the Hive Badge, which allows Pokémon to use Cut outside of battle.
Getting TM02 Headbutt (Step-by-Step)
Step 1: Enter Ilex Forest from Azalea Town's western exit.
Step 2: Follow the road until reaching a small tree next to where the Charcoal Kiln apprentice used to be.
Step 3: Use Cut to remove the small tree and cross into the newly opened area.
Step 4: Advance through the forest, passing by a small lake.
Step 5: Keep moving eastward to circle the trees and reach the green-haired NPC.
Keep hugging the right-side trees and follow that path down instead of continuing up.
You'll eventually make it to the green-haired NPC standing beside a ledge.
Step 6: Talk to this green-haired NPC to get TM02 Headbutt free of charge.
How To Get More Copies of TM02
Once you've obtained TM02 Headbutt from the green-haired NPC at Ilex Forest, you can acquire more copies of this Technical Machine at Goldenrod City's Dept. Store.
Just head to the fifth floor (5F, TM Corner) and talk to the NPC at the counter to browse their selection of TMs.
TM02 Headbutt can be bought here for 2000 Pokédollars.
Headbutt Details + Uses
Headbutt Move Details
Type
Normal
Category
Physical
Power
70
Effect
30% chance of the target flinching
Accuracy
100%
PP
15 (max.24)
Headbutt is a moderately powerful Normal-type move that deals a decent amount of damage in early to mid-game battles in Pokémon Crystal.
The 30% chance to make an enemy flinch – thus forcing it to skip a turn – helps it stand out among similar moves like Strength (80 base power).
Outside of battle, Headbutt can be used to shake trees in forests and routes around Johto and Kanto. This can help you run into wild Pokémon like Aipom and Heracross.
Best Pokémon To Teach Headbutt
Here are some relatively early-game Pokémon that can learn Headbutt:
| Pokémon | Type | Location |
| --- | --- | --- |
| Rattata | Normal | Routes 29, 30, 31, 32, and 46 |
| Sentret | Normal | Route 29 (morning and day) |
| Sandshrew | Ground | Union Cave |
| Teddiursa | Normal | Dark Cave |
| Aipom | Normal | Headbutt trees in Routes 33, 42, 44, and Azalea Town |
Tip: All Gen 2 starters and almost every other Pokémon with a head can also learn Headbutt via TM.
Guide Navigation