Pokémon ORAS Focus Bands: Locations + Uses
All Focus Band Locations
#
Method
Repeatable?
1
Shoal Cave (Low Tide) — B1F, Gift from Black Belt
No
2
Battle Maison's Exchange Service Corner – 48 BP
Yes
3
Held item (5% chance) from wild Machop
Yes
In Pokémon Omega Ruby and Alpha Sapphire there are three different ways to obtain Focus Bands.
Method #1: Visit Shoal Cave on Route 125, north from Mossdeep City. During Low Tide you can obtain a free Focus Band by talking to a Black Belt NPC inside the cave.
Method #2: At the Battle Maison's Exchange Service Corner you can trade 48 Battle Points (BP) for a Focus Band. This is a repeatable method.
Method #3: You can use Thief to steal Focus Bands as held items from wild Machop found on Route 112, Jagged Pass, and Fiery Path. Machop only has a small chance of holding a Focus Band, but you can use your DexNav to improve your odds.
Method 1: Shoal Cave (Low Tide)
Shoal Cave features a high tide and low tide mechanic, making certain areas accessible only at specific times of day based on your system's clock.
Here's what the cave looks like during low and high tides, along with a table listing the times when Shoal Cave is at low or high tide:
| Low Tide | High Tide |
| --- | --- |
| 3:00 AM – 8:59 AM | 9:00 AM – 2:59 PM |
| 3:00 PM – 8:59 PM | 9:00 PM – 2:59 AM |
Tip: Carry a Pokémon with Dig or an Escape Rope to exit Shoal Cave quickly after getting the Focus Band.
Once you're all set, fly back to Route 125 to get started with this method.
Step 1: Once you've flown back to Route 125, make your way northeast and Surf across the water to reach the entrance of Shoal Cave.
Step 2: If you've arrived during low tide, the water inside the cave will have receded.
Go down the nearby stairs and start heading north through the cave.
Step 3: Continue north until you discover a cave entrance in the north wall, then enter it to proceed deeper into Shoal Cave.
Step 4: In the next room you'll see another cave entrance on your left. Go through it.
Step 5: After you enter the next room, continue heading north until you come across a muddy slope on your right-hand side. Use your Mach Bike to climb up the slope.
Step 6: Once you've reached the top, slide down the slope on the right side. Next go north and turn left.
Step 7: Eventually you'll encounter a large boulder obstructing your path.
Use HM04 Strength to push the boulder towards the west.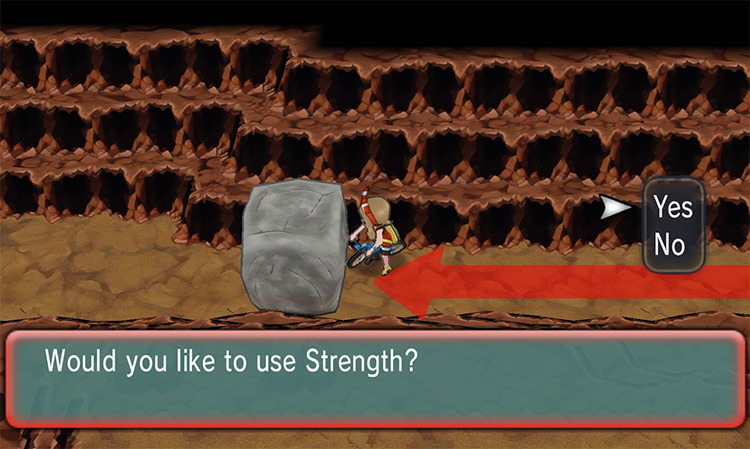 Step 8: Once you've cleared the path by moving the boulder, head around the boulder and then keep going left.
Step 9: Soon you'll stumble upon a Black Belt NPC. Talk to him to get yourself a free Focus Band.
Method 2: Battle Maison's BP Shop
The Battle Maison operates similarly to the Battle Tower from previous generations.
If you don't know where the Battle Maison is, just head over to the Battle Resort's Pokémon Center to get started.
Step 1: From the Battle Resort's Pokémon Center, proceed slightly east and then head up the staircase at the nearby intersection.
Step 2: After going up the stairs, just keep going north and enter the Battle Maison.
Step 3: Once you're inside, you'll see two staircases going upstairs. Head up the right one.
Step 4: On the second floor you'll find one of the Exchange Service Corner's attendants. If you've got at least 48 BP then you can purchase a Focus Band from her.
You can get unlimited copies of the item this way.
Method 3: Stealing from Wild Machop
If you're looking for an alternative method to obtain multiple Focus Bands, you can get them from wild Machop.
This Pokémon has a 5% chance to be holding a Focus Band.
Here are the encounter rates for Machop in every potential location where it can be found:
| Machop's Location | Encounter Chance | Levels |
| --- | --- | --- |
| Route 112 – Northern Side | 40% | 14-17 |
| Route 112 – Southern Side | 40% | 13-16 |
| Fiery Path | 5% | 15 |
| Jagged Pass | 40% | 18-21 |
When you encounter a wild Machop with a Focus Band, you can use TM46 Thief to steal the item from it.
Tip: We also created a detailed guide on how to optimize your party for held item farming, so check that out if you want to speed up this process.
To further increase the chances of finding a Focus Band, you can use your DexNav's Detector Mode. Here's how:
After catching a specific species of Pokémon, you can use the DexNav to track more of the same species in the wild.
Each encounter with this Pokémon, regardless of whether you catch it, will increase the DexNav's search level.
As this level rises, the likelihood of encountering Pokémon carrying items also increases.
How Focus Bands Work
The Focus Band is a held item that provides a 10% chance for the holder to survive any attack that would otherwise knock it out, leaving it with 1 HP.
While the effect can potentially activate multiple times, the chance of activation is relatively low – making it an unreliable item in battles.
Though the Focus Band could potentially prevent a Pokémon from fainting, its very low activation rate practically renders it useless.
Relying on such a slim chance of survival might not be the best strategy in a regular playthrough, and also likely not in competitive battles.
In most cases the Focus Sash is a better option, even though it's a one-time consumable item. It guarantees that the Pokémon survives one attack when they're at full HP, making it more dependable than the Focus Band.
Guide Navigation