How To Get the Master Ball in Pokémon Platinum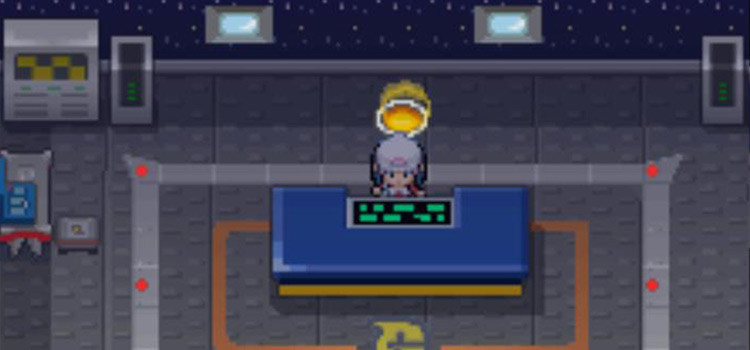 Master Ball Acquisition Methods
#
Methods
Repeatable?
1
Team Galactic HQ—Received from Cyrus after your second battle with him
No
2
Jubilife City—Won as the grand prize for matching all 5 numbers at the Pokémon Lottery Corner
Yes
The only Master Ball you're likely to get in Platinum is given to you after the showdown with Cyrus at Team Galactic's Veilstone headquarters. This occurs late in the game after you've won the Icicle Badge at the Snowpoint City Gym. But this Master Ball is a guaranteed part of the storyline so you can't miss it.
You also have a chance of obtaining more Master Balls by winning the grand prize at the Pokémon Lottery Corner, but the odds of matching all 5 Lottery Ticket numbers are astronomically low.
Acquiring Master Balls
Method 1: Cyrus (Second Battle)
You're guaranteed one Master Ball in Pokémon Platinum, which you'll receive in Veilstone City toward the end of the main game.
After defeating Leader Candice for the Icicle Badge at Snowpoint Gym, you'll head to Mt. Acuity for a short chat with Commander Jupiter about some diabolical scheme Team Galactic is planning in Veilstone City.
This will allow you to finally explore Team Galactic's Veilstone headquarters, which will ultimately lead to a second showdown with Cyrus in his office.
Tip: Make sure you heal and save before walking through the door to Cyrus's office.
Cyrus will turn and confront you when you walk through the security door to his office. After some villainous posturing, he will challenge you to a Pokémon battle.
Cyrus only has three Pokémon, and they shouldn't give you a ton of trouble if you have a couple of decent Fighting- and Electric- or Rock-type Pokémon on you.
But don't take them too lightly—each one of Cyrus's Pokémon is tricky in its own way. Crobat can be particularly frustrating with its high speed and its obsessive tendency to confuse your Pokémon with Supersonic.
SCROLL
Galactic Boss Cyrus—Second Battle
Pokémon
Level
XP
Money
Sneasel

44
1,243XP
8,280P
Crobat

44
1,923XP
Honchkrow

46
1,842XP
After you defeat Cyrus, he'll give another pompous speech before handing you a Master Ball and taking his leave.
Method 2: The Pokémon Lottery Corner (Repeatable)
Once per day, you can play the Pokémon Lottery at the Jubilife TV station to win a variety of prizes. The list of prizes includes an amazing grand prize: a Master Ball.
To play the Pokémon Lottery, Fly to Jubilife City and move northward up the street from the Pokémon Center.
Keep going north until you pass the Poké Mart, then take a left turn at the intersection.
Travel westward and head inside the Jubilife TV station (the building with the giant television screen mounted to the front).
Speak to the receptionist at the front desk.
Select Yes to participate in the lotto drawing, and the receptionist will tell you your 5-digit Lottery Ticket number.
This number is in reference to any of your Pokémon's ID numbers, which identifies the Pokémon's original trainer.
If any of your Pokémon have an ID similar to your Ticket number, you'll win prizes based on the number of digits that match, starting with the rightmost digit.
For instance:
If the winning Ticket number is "23456," a Pokémon with the ID number "00056" would count as matching two digits, whereas "23450" would count as matching none.
To win the grand prize of a Master Ball, your Ticket number will need to match all five digits of one of your Pokémon's IDs.
Keep in mind that this is an extremely rare occurrence. Here's why:
There are 65,536 possible ID numbers in the Pokémon games. So the odds of one particular ID number matching all five digits of a Lottery number are 1 in 65,536. This is effectively a 0% chance.
In Pokémon Platinum, the highest number of individual Pokémon you can have at one time—both in your party and your PC boxes—is 546. But if you catch all 546 of those Pokémon in your game only, they'll all have the exact same ID (because they all have the same original trainer).
This means you can only increase your chances of winning the Pokémon Lottery by obtaining Pokémon from other trainers. And even then the odds are abysmally low:
If you managed to obtain 546 Pokémon with 546 different ID numbers, you would still only have a 0.83% chance of winning a Master Ball per day.
The Pokémon Lottery offers several valuable prizes and is definitely worth playing—just don't expect to farm Master Balls this way.
Master Ball Details and Uses
The Master Ball is the most powerful Poké Ball in the game—it will catch any wild Pokémon you use it on without fail.
Because of the Master Ball's extreme rarity, you'll want to put careful consideration into which Pokémon you throw it at. Many players of Pokémon Platinum choose to use the Master Ball on Giratina, since it's one of the most difficult Pokémon to catch (as well as the game's signature legendary).
But a more appropriate Pokémon to use it on might be one of the "roaming" legendary Pokémon. These Pokémon have the same low catch rate as Giratina, but they also migrate randomly from place to place and flee every encounter on their first turn, even if they're sleeping (somehow).
The roaming legendary species of Pokémon Platinum are:
Cresselia
Mesprit
Articuno
Moltres
Zapdos
Bringing down a roaming Pokémon usually takes several encounters in order to lower its health and inflict status conditions.
And since these species change location every time you set foot in a different area, this can be a miserable process.
A Master Ball can make catching a roaming Pokémon a stress-free experience.
Guide Navigation