How To Get TM27 Return in Pokémon Platinum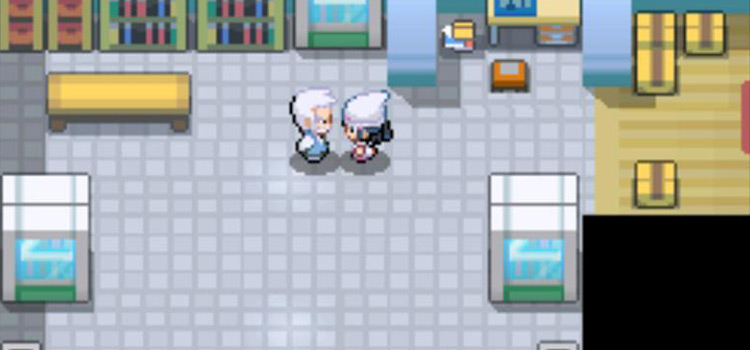 There are three ways to obtain TM27 Return in Pokémon Platinum, with one of them being a repeatable method:
You will receive one copy from Professor Rowan in the beginning of the game, after leaving his lab in Sandgem Town. This is the first TM you receive, and it is unavoidable.
There is one copy on the fourth floor of the Lost Tower, which is south of Solaceon Town.
You can also buy unlimited copies of TM27 from the Prize Exchange kiosk in Veilstone City. This method requires Coins that are won or bought at the Veilstone Game Corner.
Return is a Normal-type, damage-dealing physical move with variable base power. The damage it does depends on the user's friendship level.
All TM27 Return Locations
There are three locations where you can find TM27 Return.
Our guide will cover every location below, organized in the order you'll naturally reach them (first-available to last-available).
Location 1: Sandgem Town (Unavoidable)
You get TM27 automatically after leaving Professor Rowan's lab in Sandgem for the first time.
Visiting Sandgem Town for the first time will lead to a conversation with Professor Rowan.
He will ask if you want to give your Pokémon a nickname, and after you answer, he will provide you with a Pokédex to help document all the Pokémon you see on your travels.
When the conversation is over, head out the door to the south.
As soon as you set foot outside, Professor Rowan will call your name and follow behind you.
Rowan will then hand you your first Technical Machine, TM27 Return.
Location 2: The Lost Tower
The second copy of TM27 Return lies in the Lost Tower, south of Solaceon Town, on Route 209.
Note: It is recommended that you wait to do this until you've acquired HM05 Defog from the Solaceon Ruins. The upper levels of the Lost Tower are inundated with a thick fog that makes battling trainers and wild Pokémon a prolonged ordeal, due to fog's effect of severely dampening the accuracy of moves. You don't need Defog to get this copy of TM27, but it makes it easier.
From Solaceon Town, head south on the dirt road until you leave town and hit Route 209.
Turn east when you see the tall, obelisk-shaped structure. This is the Lost Tower, a sort of Pokémon cemetery (similar to Kanto's Lavender Town Pokémon Tower).
Head down the staircase and walk inside.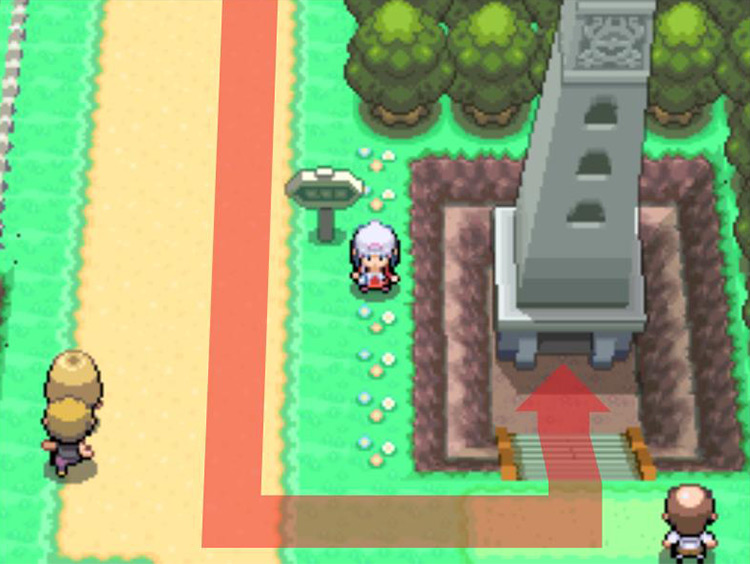 There are no trainers on the Lost Tower's first floor.
So just head up the stairs in the upper-left corner, battling or running away from any Ghost- or Poison-type Pokémon you encounter.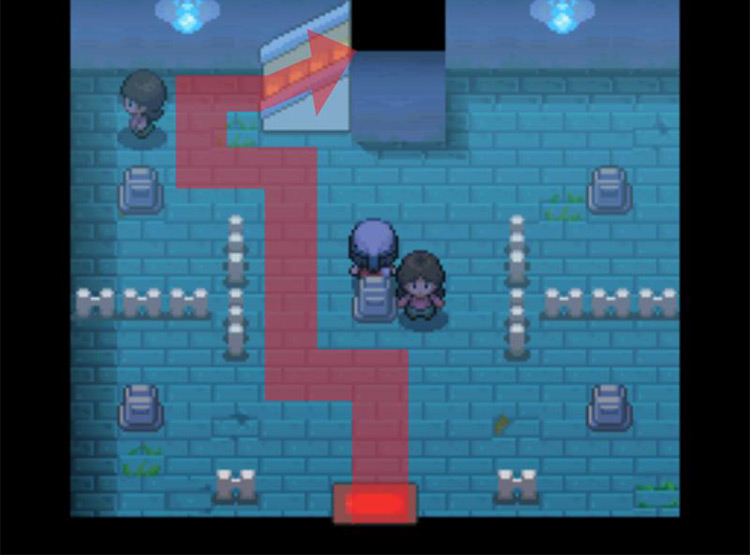 The second floor contains only one youngster trainer, so either battle him or go around him, and head up the stairs.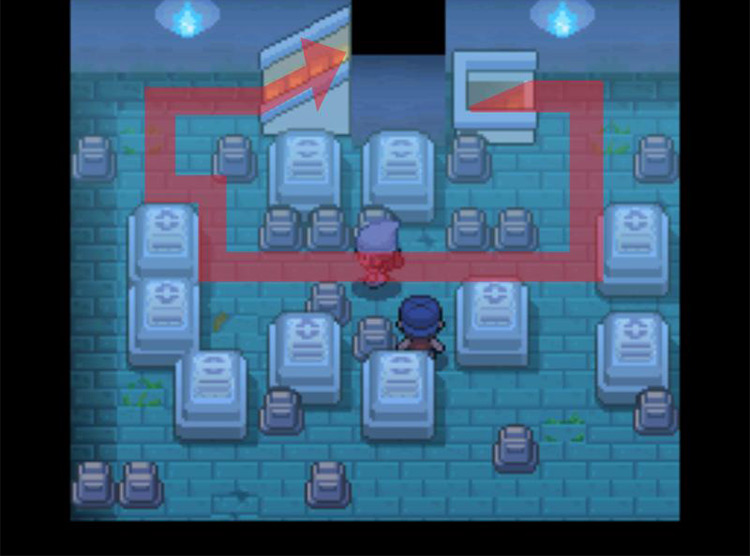 There are two trainers on the third floor.
The fog starts thickening on this level, which will reduce your accuracy significantly.
Use Defog to rid the floor of the fog if you'd like to, then take care of the trainers and head upstairs.
You will find TM27 on the fourth floor.
Use Defog to clear the field on 4F, and TM27 will be visible as a Pokéball item on the ground in the south end of the room.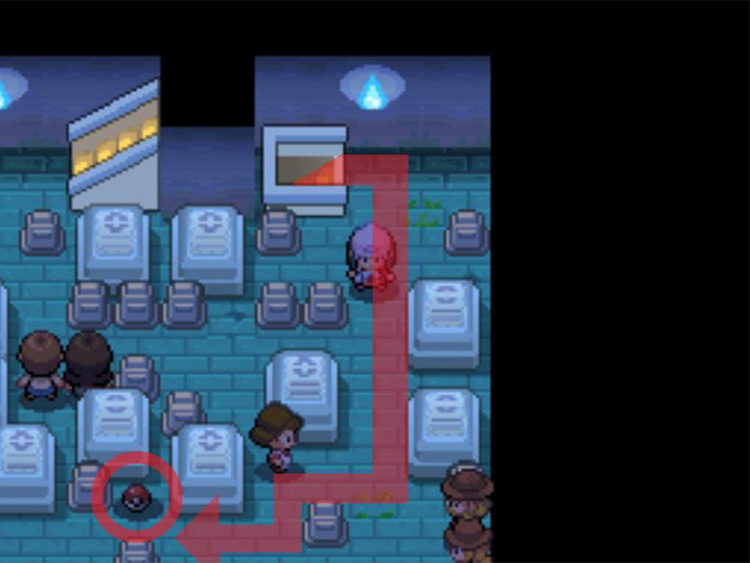 So just fight any trainers who are in your way to reach the Pokéball, and you'll soon be in possession of the second copy of TM27 Return.
Location 3: Veilstone City (Repeatable)
The third place you can find TM27 is in Veilstone City at the Prize Exchange kiosk adjacent to Veilstone Game Corner.
To find the Game Corner and Prize Exchange buildings, start by heading south from the Veilstone City's Pokémon Center.
After descending the staircase, circle around the blue-roofed building to your immediate south.
Then go up the set of stairs that leads to it.
The building with the blue roof here (on the right) is the Prize Exchange.
If you don't have enough Coins to purchase TM27, you will need to visit the Game Corner building to the left.
Note: Although this is an unlimited source of TM27 copies, this method can be highly expensive, tediously time-consuming, or both.
TM27 Return costs 8,000 Coins, which must either be won at the Game Corner slot machines, or purchased outright using Pokédollars.
Since the rate is 50 Coins for 1000 Pokédollars (or 500 for 10,000), if you didn't feel like spending time at the slot machines, it would cost 160,000 Pokédollars just to purchase one more copy of TM27.
If you haven't used the other two copies of TM27 Return, and you don't need more than two, there are plenty of TMs exclusive to the Prize Exchange you would be better off spending your time and money on.
Return Details + Uses
Return is a Normal-type, damage-dealing physical move that has no set base power. Instead, its base power is dependent on the friendship between the user and its trainer; the higher the Pokémon's friendship rating, the more damage Return will inflict.
Return Move Details
Type
Normal
Category
Physical
Power
Varies
Accuracy
100%
PP
20 (max. 32)
The equation for calculating the base power of Return looks like this:
In this equation, friendship can be any number from 0 (nonexistent friendship) to a maximum value of 255, which translates to a base power range from 0 to 102.
A Pokémon's friendship level can be increased by treating it kindly, such as by:
Grooming it
Keeping it in your party
Helping it gain levels and grow stronger
And using certain items on it
Friendship can also be decreased by letting it faint or by treating it with bitter-tasting medicines.
The base friendship of a Pokémon is usually set when the trainer first obtains it, but it can start at 120 if it is hatched from an egg, or at 200 if it is caught using a Friend Ball.
A Pokémon's friendship can be checked using the Friendship Checker Pokétch app (received from a woman inside the Eterna City Pokémon Center), or by speaking to the beauty NPC in the upper-left corner of Hearthome City's Pokémon Fan Club building.
Return's mechanics are opposite those of the move Frustration, in which the base power is higher depending on how low the user's friendship rating is.
Tip: In a Pokémon Contest, Return generates 2 appeal points, plus 2 bonus appeal points if the move is used first in a turn.
Guide Navigation