How To Get a Fishing Rod in Rune Factory 4
You can get your hands on a fishing rod through one of Eliza's requests called "Try fishing!"
Surprisingly, fishing has one of the most diverse functions in the game. When you catch a fish, you can use that fish in a recipe, give the fish as a present to a certain fish-liking resident, or simply sell them for profit!
There are also a handful of trophies that you can earn related to fishing on the second and third trophy room floors.
In this guide we'll cover how to complete the request "Try fishing!" to get your rod – as well as go over some basic fishing tips so that you can master fishing from the get-go.
Prerequisites
If you don't see "Try fishing!" as one of your available requests when you talk to Eliza, make sure you've already completed the following:
First Task!
How to place furniture!
Make Lumber!
Make a shipment!
Give an item!
Purchase Rice!
Make Material Stone!
Get The Fishing Rod (Step-by-Step)
Step 1: Accept the Request "Try fishing!"
After completing the prerequisites mentioned in the section above, talk to Eliza and select the option "May I check the requests?"
If you've already completed the maximum amount of requests you are allowed to in one day, after sleeping, return to Eliza and accept the quest the next day.
Vishnal is looking for a fish, any fish will do! Your task is to catch a fish with the cheap rod provided and deliver the fish to Vishnal. Sounds simple, right?
Step 2: Pick Up the Cheap Pole
After hearing Eliza's quick explanation of how to catch fish, your next step is to go put their words into action!
First, however, you'll need to pick up the Cheap Pole that's provided with the request.
To pick up the Cheap Pole, stand close enough to it that a red floating marker bobs up and down above it. Then press the "A" button and either "X" or "Y" to put it in your backpack, or "B" to equip it.
Since you're going to need it to catch a fish, I recommend equipping it right away.
Step 3: Find Some Fish
The best place to go to catch fish in Selphia is at Dragon Lake, which is located in the southwest-most part of town.
While Dragon Lake is not the only place to catch fish, the lake spawns plenty of fish and is a great spot for beginners to get a feel of how fishing really works.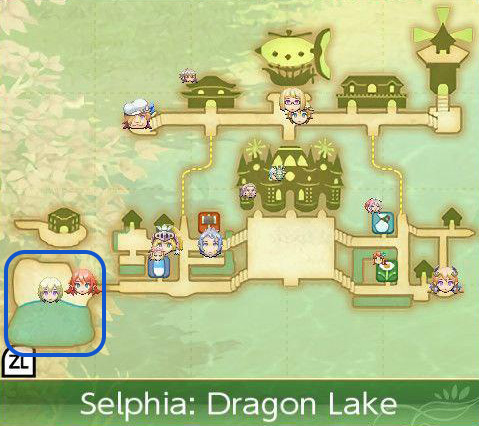 You can also catch fish in the rivers in Selphia. However, the experience is a bit more frustrating since you have less casting space than at the lake.
Step 4: Equip Your Cheap Rod
If you didn't equip the Cheap Pole when you got it after reading the request details, now's the time to do so!
Open your backpack by using the "L" trigger. Then go to the red watering can (the Farm Tools section) with your left joystick or the D-pad and press "A" to select it. Then move over to the Cheap Pole by and press "A" to select it again.
Finally, choose the "Equip" option by pressing the "A" button.
Now you're equipped and ready to fish!
Step 5: Cast Out & Catch a Fish
If you're fishing at Dragon Lake, a good rule of thumb is to stand inside of the brown, sandy area.
If you stand on the grass, most of the time your bobber will bounce off the shore instead of landing in the water.
The trickiest part of fishing is knowing where to cast out your line.
You need to be close enough that the fish will be attracted to the bobber, but not so close that you scare the fish away. If you do land on a fish, eventually it will notice your bobber again, but it will take longer to notice than undisturbed fish.
When a fish starts to take interest, a "beep" will play each time the fish goes in for a bite.
A fish can bite up to 5 times before it finally takes the bait, but when it does, don't hesitate!
Press the "A" button when you notice your bobber sink to reel in your catch – otherwise you might lose your fish!
If the beeps aren't helping you catch your fish, watch the bobber instead.
A good visual reference is to watch for the splash that only appears when you need to reel in.
If you've run out of fish to catch or all the fish are swimming outside of your casting range, leave the area and come back: there are plenty of fish in Dragon Lake.
Step 6: Find Vishnal
With a freshly caught fish in your hands (or backpack) it's now time to give it to Vishnal to complete his request.
Vishnal can usually be found in or around the castle.
Remember, you can always easily find his location by opening your map with the ZR trigger.
Note: If you can't spot his sprite easily, it might be hidden behind someone else's!
Once you find Vishnal, if your fish isn't already in your hands, take it out of your backpack by using the "L" trigger, navigate to the green hand icon (lower-left corner). Then find the fish you want to give him.
He's not looking for a specific fish so it's totally your choice.
Press "A" and then select "Hold" to take it out of your backpack, then press "A" when you're standing close enough to Vishnal that a yellow or white speech bubble is hovering over his head.
And that's it!
Now that you have a fishing rod, you can catch fish for profit, cooking, or achievement hunting, plus you can also participate in the annual Fishing Frenzy Contest.
Guide Navigation