How To Get a Lumber/Stone Box in RF4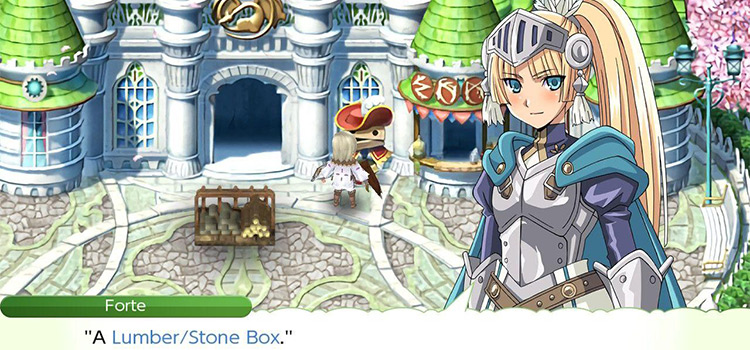 You can get the Lumber/Stone box by completing one of Eliza's quests called "Make Lumber!". This is the same quest where Forte gives you an axe.
Lumber and Stone are materials used for constructing buildings, building and upgrading furniture and extending the castle. However, you will first need to get a Lumber/Stone box to help with your lumber/stone management.
Prerequisites for the Lumber/Stone Box
To gain access to the "Make Lumber!" quest, you will need to have completed these two quests first:
First Task!
How to place furniture!
How to Get a Lumber/Stone Box
Step 1: Accept the Request "Make Lumber!"
After completing the prerequisites mentioned in the section above, talk to Eliza and select the option "May I check the requests?". If you have already completed the maximum amount of requests you are allowed to in one day, after sleeping, return to Eliza and accept the quest the next day.
Your task is from Forte.
She wants to make sure that you know how to create lumber and its use on your farm! She then asks you to chop a branch/stump and gives you an axe to help you get into the swing of things.
Step 2: Pick up the Axe
After you finish reading through the quest dialogue, a Cheap Axe will spawn on the ground.
Approach it and press "A" to pick it up and the "X" or "Y" buttons to "keep" it (in other words: put it in your backpack).
Step 3: Finding Lumber and Stumps
Broken stumps, stumps and branches regularly spawn on non-tilled plots of land in your field.
You can also find branches in dungeons – maybe you already have one in your backpack!
If you do have a branch in your backpack and want to use it for the quest, take it out and place it on the ground in front of you and continue following the steps below.
Step 4: Equip your Axe
After finding the branch or stump that you want to turn into lumber, make sure you have your axe equipped!
To equip your axe, open your backpack by pressing the "ZR" button.
Then navigate to the red watering can column (your farm tool tab) by moving the right joystick down. Press "A" to select the farm tool column and move the right joystick to the right to select the Cheap Axe. Press "A" to bring up the Hold/Equip menu and select the "Equip" option.
Step 5: Chop to it
When you have your axe equipped, a red square will show up in front of you.
This is a visual aid called the grid system, it helps you know exactly where you will swing your axe when you press the "B" button.
If you see this grid and a red cursor hovering over your chosen branch/stump, press the "B" button and a piece of lumber will spawn.
What If I Don't See a Red Square?
If you don't see the red square when you have your axe equipped, check your equipment!
If one of your equipment pieces says that it "disables the grid system", that's what's preventing the red square from appearing.
To get the red square to show up again, simply remove the piece of equipment from your character.
Step 6: Return to Eliza
Now that you have successfully chopped wood into lumber, you need a place to store it.
Luckily, when you return to Eliza to report that you know how to make lumber, Forte will give you a Lumber/Stone box.
Tip: Since you get most of your wood/lumber on your fields, it's recommended to put your Lumber/Stone box at Selphia Farm.
Want some more tips and tricks about placing furniture? Check out our guide on moving furniture.
What's a Lumber/Stone Box Used For?
The main purpose of the Stone/Lumber box is storage.
It keeps track of all the Lumber/Stone you have put into it and whenever you need Lumber/Stone for a larger project.
For example, building a Monster Hut, the materials will be taken from your Lumber/Stone box directly.
Warning: Once you put lumber or stone into the Lumber/Stone box, you cannot take it out. However, other than being used as a material for buildings, upgrades and furniture, lumber and stone don't have much use outside of being a construction resource.
An Introduction to Stone/Lumber
By now you might be wondering about all of the various resources related to stone and lumber:
Branches, Broken Stumps, Stumps, Stone, Clay Stones, Rocks… what are these?
The only difference between each material source is the number of swings it takes before the source disappears completely.
Each source below gives the following amount of lumber:
| Source | What You Get |
| --- | --- |
| Branch | 1 lumber |
| Broken Stump | 3 lumber |
| Stump | 9 lumber |
And the following table lists sources + the amount of material stone you get:
| Source | What You Get |
| --- | --- |
| Stone | 1 material stone |
| Clay Stone | 3 material stone |
| Rock | 9 material stone |
Unlike some of the former Rune Factory games, you don't need to upgrade your axe to be able to chop broken stumps and stumps.
Instead, you can do so from the beginning of the game.
Keep an eye out on your stamina, though! Chopping stumps is an easy way to drain your stamina quickly. If you aren't careful, you might faint and wake up with a pricey bill from the Tiny Bandage Clinic.
How Do I See How Much Lumber & Stone I Have?
You can check how much lumber/stone you have in many ways:
Checking the Lumber/Stone box
Picking up the Lumber/Stone box
Putting lumber/stone in the Lumber/Stone box
When not checking the Lumber/Stone box, the amount of lumber/stone you have will appear in the top right-hand corner of your screen like in the screenshot below.
Guide Navigation