Complete Stamina & Fatigue Guide (SoS: FoMT)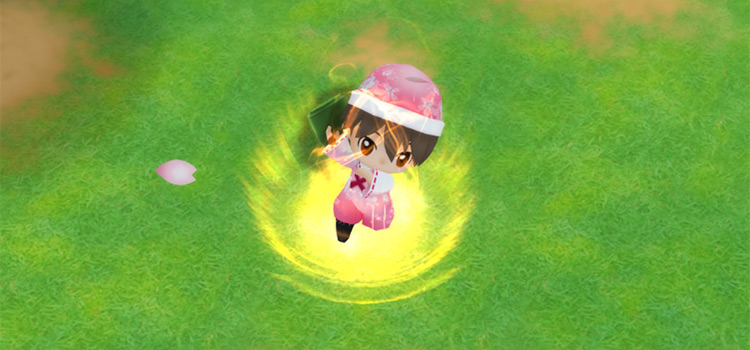 In Story of Seasons: Friends of Mineral Town, you'll see two UI elements in the upper left of your screen displaying stamina and fatigue points.
The red Power Berry bar corresponds to your stamina level, and is displayed with an exact numerical value at the top. The smiley face icon to the left of the stamina bar shows your current fatigue status.

This guide will teach you all about stamina and fatigue, how they work, and how to recover both of them.
How Stamina Works
At the very start of the game, your farmer will have a maximum stamina meter of 150. Each time you perform an action or use a tool, this will deplete stamina.
You can track your stamina levels by looking at the Power Berry menu. As stamina decreases, the value will go down from 150 and the Power Berries will be blacked out.

The farmer will not pass out when you deplete your stamina to 0.
Instead, using any of your tools with 0 STA will increase fatigue by 2 points.
How Fatigue Works
Your farmer's fatigue is a different indicator of health. Performing actions or using tools typically won't increase your fatigue unless certain conditions are met.
You'll start each day with no Fatigue, and then it can increase over the day (higher fatigue is bad, lower fatigue is good).
Doing any of the following will increase your fatigue until it maxes out at 100:
Action
Fatigue Increase
Using a tool when it's rainy/snowy
+1 FAT per use
Using a tool between 10:00 PM – 12:00 AM
Using a tool between 12:00 AM – 6:00 AM
+2 FAT per use
Using a tool at 0 STA
In-game clock is 12:00 AM
+3 FAT
In-game clock is 2:00 AM
+4 FAT
In-game clock is 4:00 AM
In-game clock is 6:00 AM
+10 FAT
Using a cursed tool
+10 FAT per use
There's no numerical value shown for your fatigue levels, but you can figure that out by looking at the color/expression of the fatigue icon.
Red, happy/singing face: 0 FAT
Yellow, smiling face: 1-49 FAT
Green, neutral face: 50-79 FAT
Blue, dizzy face: 80-100 FAT
How To Restore Stamina and Fatigue
Method #1: Sleep
Sleeping at the end of each day is the most consistent way to restore enough stamina for the next day's activities.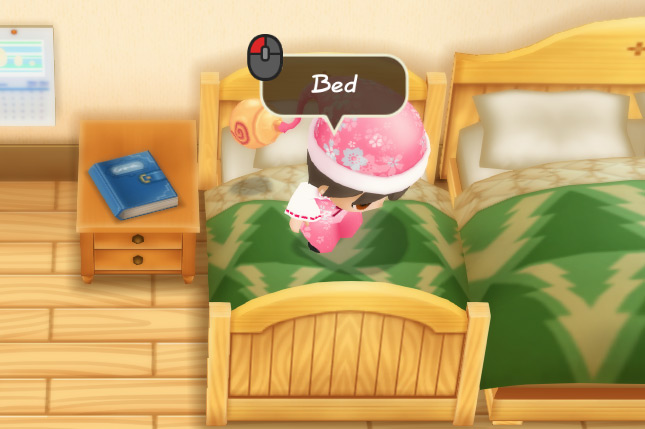 But the amount of sleep you get corresponds to how much stamina and fatigue restoration you get.
Your farmer wakes up at 6:00 AM every day no matter how late you went to sleep that night.
So if you go to bed at 5:00 AM, you can only get +57 STA and -7 FAT overnight.
This is how the game calculates stamina and fatigue restoration for sleep:
| | |
| --- | --- |
| Stamina | +50 STA, +7 STA per hour of sleep |
| Fatigue | -5 FAT, -2 FAT per hour of sleep |
Method #2: Hot Spring
Just in case you happen to wake up with a less than full stamina/fatigue meter, you can visit the Hot Spring first thing in the morning to get extra rest.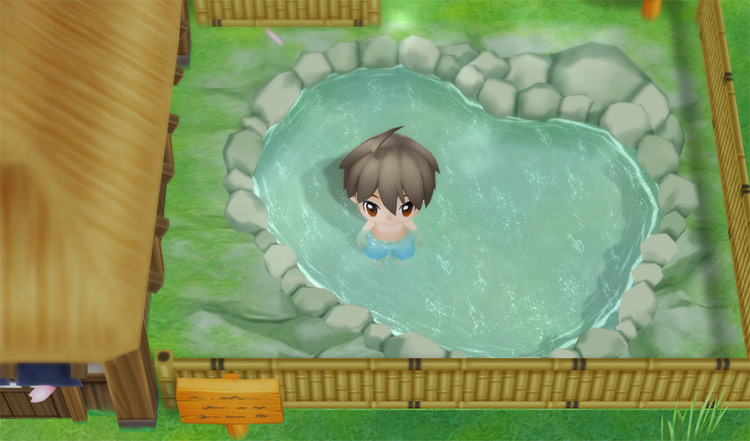 Enter the Hot Spring from the back and stay still in the water to restore both stamina and fatigue.
For each in-game minute you spend in the water, you'll get +1 STA and -1 FAT.
Best Food for Stamina & Fatigue Recovery
Food can be a great way to restore both stamina and fatigue on the go.
Not all food is equal, though. So be sure to check the recovery values using the table below.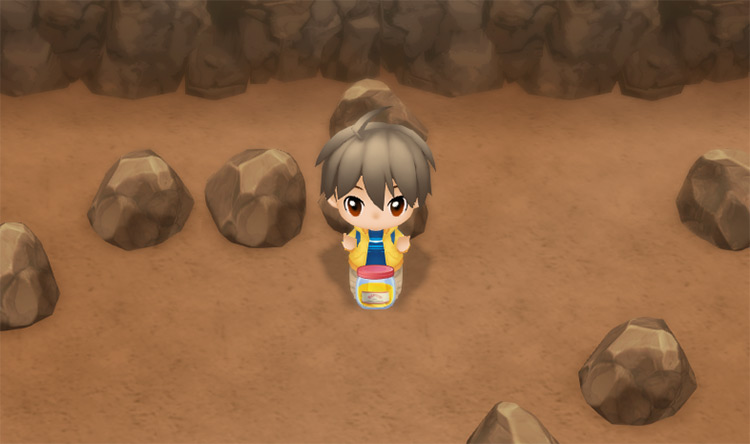 Dish
Stamina
Fatigue
Elli Leaves
+100
-50
Stamina Booster XL
+100
-0
Mixed Smoothie
+60
-20
Relax Tea
+50
-50
Mixed Juice
+50
-20
Spicy Vegetable Stir Fry
+40
-20
Spicy Sandwich
Ice Cream
+30
-20
Spicy Margherita
Veggie Juice
+20
-20
Spicy Pepper Steak
Spicy Ramen
Omelet Rice
+60
-0
Matsutake Rice
Curry Udon
Tempura Udon
Tempura Soba
Super Caffeine
+0
-50
Okonomiyaki
+50
-0
Stamina Booster
Cheesecake
Apple Pie
Strawberry Cake
+45
-0
Sandwich
+40
-0
Cake
Fried Rice
Yam Dessert
Baked Yam
Sushi
Seafood Rice Bowl
Udon
Moon Dumplings
Zaru Soba
Caffeine
+0
-20
So generally speaking:
The best foods for increasing stamina are:
Stamina Booster XL
Elli Leaves
Mixed Smoothies
Relax Tea
Mixed Juice
And the best foods for decreasing fatigue are:
Super Caffeine
Caffeine
Elli Leaves
Relax Tea
How To Increase Stamina
Using Power Berries (Permanent)
You start the game with only 150 total stamina, which may not be enough for a day's worth of farming, mining, and fishing.
Fortunately, you can search for magical Power Berries which permanently increase your maximum stamina meter by +10.
There are 10 hidden Power Berries, which means you can have a total of 250 STA after you find them all.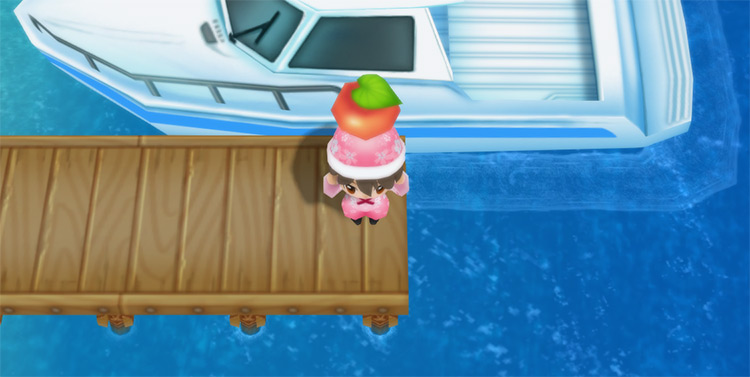 Here are all the ways to get the hidden Power Berries:
On the Farm – use the Hoe on the available ground plots to randomly dig up a Power Berry over time
Harvest Goddess – offer a total of 10 gifts to the Harvest Goddess
Derby Medal Shop – exchange 900 Medals for a Power Berry
Derby Race – win the third race in the Spring/Autumn Derby
Fetch Fest – win first place in frisbee with your pet
Ocean Fishing – fish on Mineral Beach using a Mithril fishing rod or higher
Spring Mine – hoe the ground on the 100th level of the Spring Mine
Lake Mine – hoe the ground on the 19th level of the Lake Mine
Kappa's Lake – walk behind the entrance of the Lake Mine to pick up a Power Berry
General Store – purchase a Power Berry for 10,000 G after upgrading to the Big House and buying the Rug and Big Bed
Kappa's Blue Berry for Fatigue
Kappa will give you a Blue Power Berry after you throw a total of 10 Cucumbers into his lake.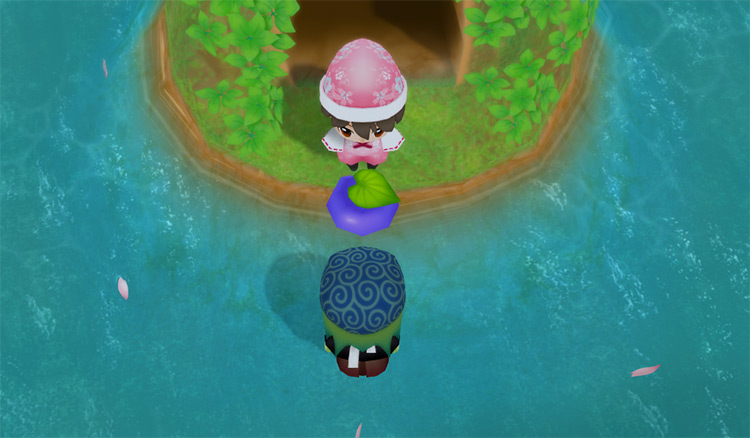 Unlike the regular Red Power Berries, this will not increase your maximum stamina level.
Consuming the Blue Power Berry will permanently decrease any fatigue points earned by 50%, forever. So it's absolutely worth getting this as soon as you can.
Upgrading Tools for Stamina
As you upgrade your tools, the stamina required to use them at max charge will increase.
You'll be able to perform actions with more efficiency and power, though, so you end up saving more stamina in the long run.
Upgrading your tools is simple:
Just visit Saibara at the Blacksmith's Forge and select an upgrade from his shop.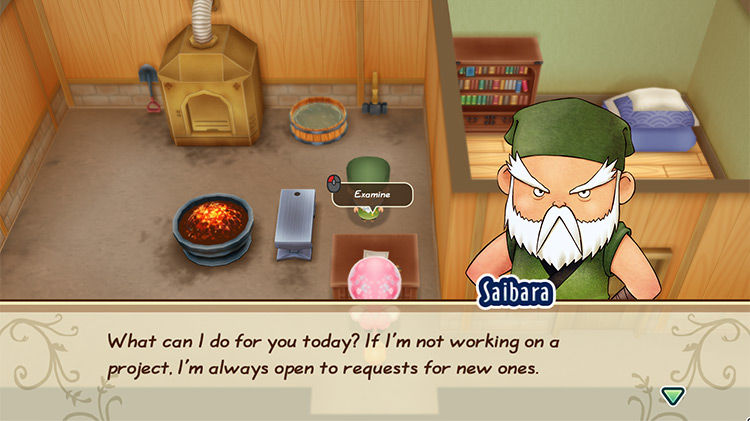 Here's a list of all the tool upgrades and how they affect your stamina levels:
SCROLL
Tool
Iron
Copper
Silver
Gold
Mithril
Cursed
Blessed
Mythic
Axe
-2 STA
-4 STA
-5 STA
-8 STA
-10 STA
-100 STA
-20 STA
-10 STA
Fishing Pole
-2 STA
Hammer
-4 STA
-5 STA
-8 STA
-10 STA
-75 STA
-15 STA
-20 STA
Hoe
-3 STA
-4 STA
-5 STA
-7 STA
-40 STA
Sickle
-5 STA
-7 STA
-10 STA
-20 STA
Watering Can
-4 STA
-6 STA
-8 STA
Getting the Flower Vase
Huang will visit you on Spring 11th of your first year in Mineral Town.
If you have more than 5,000 G in your wallet, he will ask you if you want to buy a Flower Vase.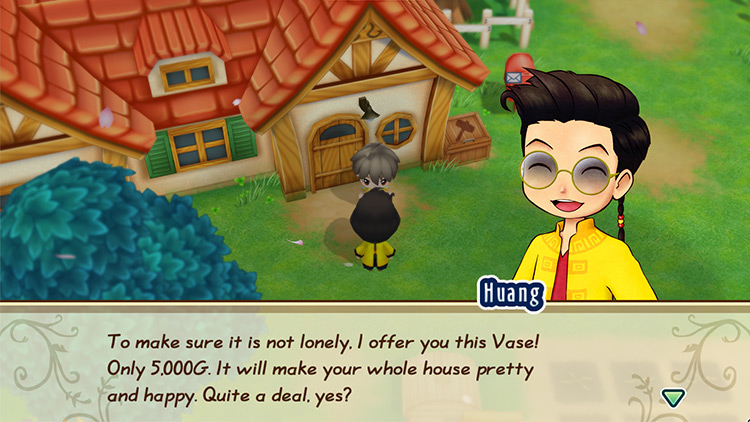 Purchasing this Flower Vase from Huang is one of his requirements for marriage, but it also has a special benefit.
Placing a specific flower into this vase before you sleep will restore additional fatigue or stamina when you wake up the next day.
Here's a list of all the flowers you can put into the vase & their corresponding changes to stamina/fatigue.
In the Lake and Spring Mines, you have a small chance of discovering Goddess or Kappa Orbs on specific levels.
The Goddess Orbs can be found on Levels 60, 102, 123, 152, 155, 171, 190, 202, and 222 of the Spring Mine.
The Kappa Orbs can be found on Levels 0, 40, 60, 80, 120, 140, 160, 180, and 255 of the Lake Mine.
Collecting all 9 orbs each for the Harvest Goddess or Kappa will cause them to combine and form the Goddess and Kappa Treasure.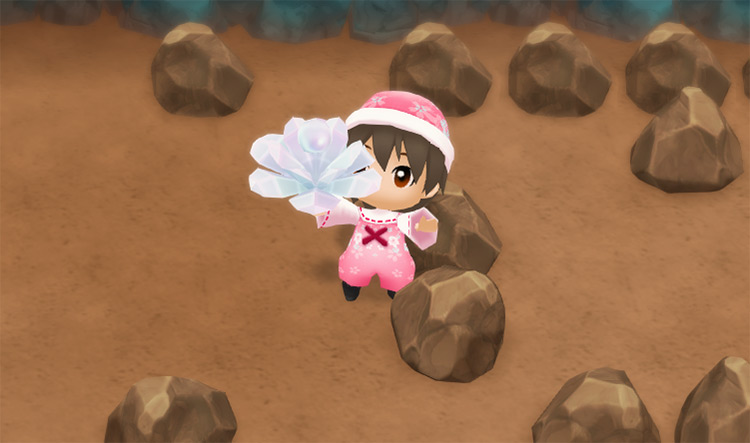 These are items that you can separately equip from your toolbox, and they will passively restore stamina and fatigue as you're doing other things outside.
The Goddess Treasure will restore +1 STA per minute
The Kappa Treasure will restore -1 FAT per minute
These are also definitely worth getting whenever you can find them.
Guide Navigation