SoS: FoMT Huang Gift Guide (Friendship + Marriage)
Huang is a merchant that lives on Mineral Beach. His birthday is on Winter 19th. If you set your farmer's birthday on the same day, his birthday will be on Winter 21st instead.
The requirements for marrying Huang are quite simple compared to the other special marriage candidates in Friends of Mineral Town. But you still need to meet some very specific parameters if you want to keep him eligible for a relationship.
Schedule
You can only visit Huang in Zack's House on Mineral Beach, when Zack is there from 11:10 AM to 4:40 PM. He also comes to visit your farmhouse in the morning on the 4th and 11th days of each season.
| Day | Location |
| --- | --- |
| Every day | Zack's House |
| 4th and 11th day of each season (after reaching 4 friendship notes) | Farmhouse |
Gift Preferences
Some easy items to get Huang earlier in the game are jewelry (Bracelet, Earring, or Necklace) from the Forge, along with Apples and Oranges. He also loves Gold Ore so if you have the patience to mine a lot of it then that works too.
But here's a full list of his favorite (and least favorite) gifts:
Type of Gift
Items
Loves
Animal Products: Golden Egg
Miscellaneous: Adamantite, Alexandrite, Ancient Fossil, Bracelet, Diamond, Dress, Earring, Emerald, Face Mask, Gold Ore, Mithril, Moonstone, Mythic Orb, Necklace, Orichalcum, Peridot, Pink Diamond, Pirate Treasure, Ruby, Sandrose, Skin Lotion, Sunblock, Topaz
Likes
Forage: Apple, Orange
Dishes: Candied Peels, Orange Pastries, Orangette
Miscellaneous: AEPFE Apple, Aquamarine, Garnet, HMSGB Apple, Perfume, Sapphire, SUGDW Apple
Dislikes
Miscellaneous: Copper, Scrap Ore, Silver
Hates
Forage: Poison Mushroom
Miscellaneous: Branch, Fodder, Gold Lumber, Letter in a Bottle, Lumber, Rock, Stone, Tomatosetta Stone
Trash: Empty Can, Fish Bones, Old Boot, Weed
Best Gifts for Each Season
Season
Item
Where to Find It
Year-round
Golden Egg
Harvest from a chicken with 8-10 hearts after winning the Chicken Festival
Spring
Bracelet
Buy from Saibara at the Forge for 1,000 G
Summer
Pirate Treasure
Catch in the Ocean using the Mithril Fishing Pole during the Summer
Autumn
Ancient Fossil
Catch in the Ocean using the Mithril Fishing Pole during Autumn
Winter
Orange

Harvest from the Orange Tree on your farm
The Orange Tree can be bought from Gotts for 1,000 G
Forage in the Secret Forest in the Winter
Marriage Requirements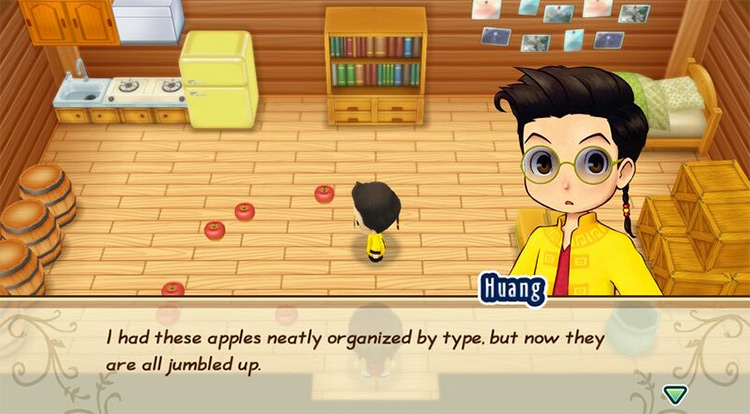 Huang is a special marriage candidate, meaning he doesn't have the regular heart events that the normal bachelors and bachelorettes have. He does have a total of three events that you need to participate in before he accepts a relationship with you.
But you can directly propose to him after you've completed all of his marriage requirements. Just talk to him while holding a Blue Feather, and you'll be able to get married from there.
Huang's marriage requirements expire after a while, meaning you can't marry him anymore after you've missed the chance to complete them.
So make sure that when the opportunity comes, you take it!
Below is a list of all marriage requirements and some additional tips to complete them faster.
Marriage Requirement
How To Complete
6,000 LP or more (Red Heart Level)

Give loved or liked gifts to Huang often when you visit Zack's house
Wrap your gifts for extra Love Points
Exchange Mystery Tickets for +10 bonus LP, or +1,000 LP if you win the jackpot prize

Upgraded house with the Big Bed

Buy the Big House upgrade from Gotts for 10,000 G
Materials needed: 600 Lumber, 250 Material Stone

Own the Flower Vase

Huang will visit your farm every 11th day of the season to sell you a Flower Vase for 5,000 G
Rejecting the Flower Vase 5 times will make Huang ineligible for marriage

Shopkeeper Event #1

Make sure it's between 11:10 AM and 4:00 PM on any day
The farmer has 10,000 LP or more with Huang
The farmer has at least one space available in the Bag

Shopkeeper Event #2

Make sure it's between 11:10 AM and 4:00 PM on any day
The farmer has at least 20,000 LP or 4 friendship notes with Huang
The farmer has seen Shopkeeper Event #1

Shopkeeper Event #3

Make sure it's between 11:10 AM and 4:00 PM on any day
The farmer has at least 30,000 LP or 6 friendship notes with Huang
The farmer has at least one space available in the Bag
The farmer has seen all previous Shopkeeper Events
Marriage/Friendship Perks
As you develop your relationship with Huang, you'll receive rare items during certain events.
Selling goods to Huang will also net you a higher price depending on the time and item being sold. And he can also buy items that can't normally be shipped, such as the Sun Stones and other miscellaneous items.
Below are the rates of Huang's shop after you see his second Shopkeeper Event.
Item
Season Sold
Price Increase
Spring Crops
Winter
+20%
Fall
+10%
Summer Crops
Spring
+20%
Winter
+10%
Fall Crops
Spring
+12.5%
Summer
+10%
Winter
+10%
Orange Grass
White Grass
Fall
+20%
Summer
+10%
Guide Navigation